The Disaster Chart du Jour
Lucent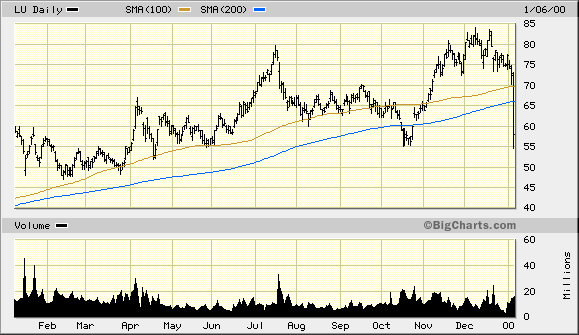 The chart above is as of late "after hours trading" Thursday evening.
As one can see, the head and shoulders topping pattern that had been developing on the daily chart was a classic one. After it broke its neckline in Wednesday trading (a nice early warning sign that something was afoot), Lucent's after-hours earnings warning has now sent its shares tumbling to levels well below both the 100 and 200 day moving averages. Longer term, this is of course singularly bearish.
Shorter term however, note below that on the weekly chart, the 200-week moving average comes in right around $51-52 a share.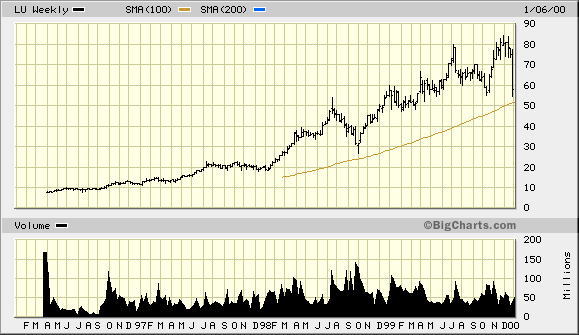 This suggests that a substantive bounce from current levels is likely first. We would look for this stock to rebound toward $65 in the very short term, before coming under severe pressure thereafter. In Elliott terms, $51-$52 could mark the end of a iii of 3 of a I wave down. $65 or so would then be a logical iv of 3 of I or perhaps the eventual (II) wave bounce itself.
Too many more high cap stocks doing this type of thing should finally shake the public misconception to buy every dip, but we're probably not quite there yet. We'll leave that realization to some later date and probably some other high cap such as Cisco, Microsoft, or Dell.
---
Take me back to the Sand Spring Home Page
---
Comments or Problems
Thank you for visiting Sand Spring Advisors LLC, Inc. We hope to hear from you again soon. For more information on Sand Spring Advisors actual programs, services, or to request a copy of a Disclosure Document, please phone us at 973 451 0016, FAX your request to 973-451-0016, or e-mail us at
SandSpringAdv@AOL.com
Corporate Office:
10 Jenks Road,
Morristown, NJ 07960
Phone: 973 451 0016
Facsimile: 973 451 0016
Best Experienced with


Click here to start.
The material located on this website is also the copyrighted work of Sand Spring Advisors LLC.  No party may copy, distribute or prepare derivative works based on this material in any manner without the expressed permission of Sand Spring Advisors LLC
This page and all contents are Copyright © 1999 by Sand Spring Advisors, LLC, Morristown, NJ