The Chart du Jour
British Pound: Clues Amidst the Chop
When a market chops as trendlessly as the British Pound has now done for over two years (see the weekly chart below) one would not typically expect to see a particularly clean Elliott wave count. Even though the price decline in the pound was substantial back during the period between Jan 1999 and July 1999, there was too much overlap in this decline to yield a clean five wave structure. At the same time, every rally to date, some of which have also been substantial, have taken an A-B-C form as opposed to a more bullish five wave structure.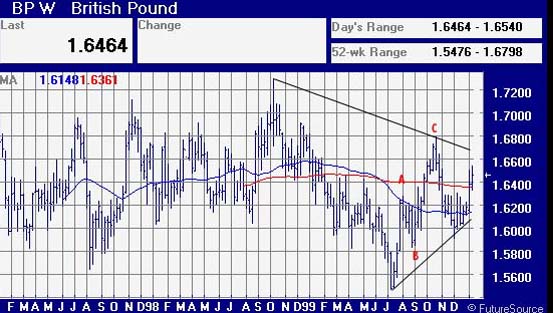 Nonetheless, when one zooms in at the daily picture, it is quite clear that the descent that transpired between mid-October 1999 and late November 1999 was an impulsive 5 waves DOWN. This was followed by what to date looks like another a-b-c rally that on a minuette level is likely to have just completed yesterday, January 11th.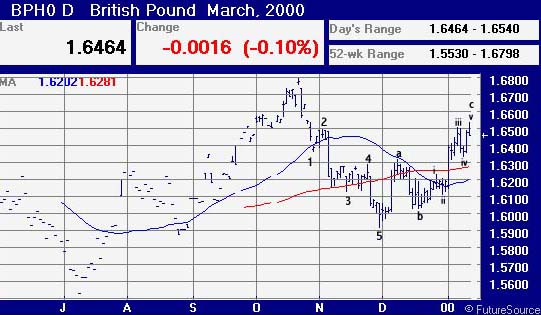 On an overall basis, therefore, this is NOT A BULLISH STRUCTURE at present. The trendline resistance pictured on the weekly chart would need to be abrogated to turn it into one. With sentiment numbers on the British pound also groping into slightly overbought territory at present, we doubt that this will occur. Instead, we would expect the market to embark on a decline which should test the moving average support between 1.6200 and 1.6270. If these levels are broken, then it is highly likely that the late November low just above 1.5900 will break as well. The July 1999 lows would then be next.
The British pound may have been a big snooze for a long time, but it certainly looks to FINALLY be setting itself up for a breakout. The odds currently favor such a move to be something of a drubbing. Time to ship in a few puts?
Thank you for visiting Sand Spring Advisors LLC, Inc. We hope to hear from you again soon. For more information on Sand Spring Advisors actual programs, services, or to request a copy of a Disclosure Document, please phone us at 973 451 0016, FAX your request to 973-451-0016, or e-mail us at
The material located on this website is also the copyrighted work of Sand Spring Advisors LLC.  No party may copy, distribute or prepare derivative works based on this material in any manner without the expressed permission of Sand Spring Advisors LLC
This page and all contents are Copyright © 1999 by Sand Spring Advisors, LLC, Morristown, NJ