The Chart du Jour
Crude and the CRB
When we wrote about crude oil last December in the article entitled "Crude Oil and Ed Yardeni: A Technical Perspective" (see Articles), we suggested that crude most likely had two new highs left in its inexhorable advance before a V wave count from the 1998 lows would be complete. The rollover of the January contract to the February contract gave us one new high with a little help from the positive contango. This most likely completed the III wave. Most recently we have been experiencing quite normal IV wave chop. One more new high in a substantive V wave should still be in the offing.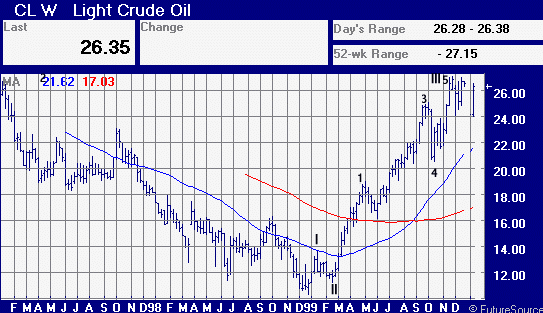 Where might such a rally lead us? Crude has already basically retraced 61.8% of the decline which transpired between 1991 and 1998, but a final V wave blow-off could easily lead us to a full 73.6% retracement. Such a level comes in just above $32, which also marks the bottom side of an old trendline that we spy on the monthly chart.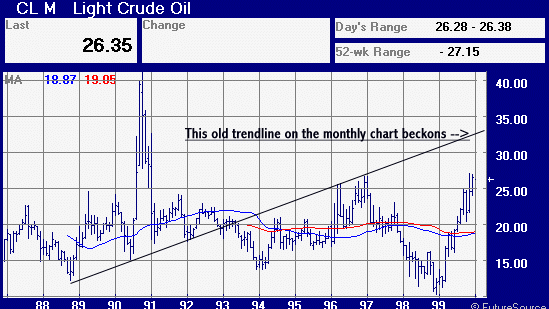 Meanwhile look how nicely the CRB behaved today, rallying off of the cluster of longer-term (100 and 200 day) moving averages. In general, after what was clearly and impulsive rally late last summer, the CRB has been backing and filling ever since (pulled up by the energy sector and down by the grains) in a shallow retracement that could easily be a II wave. If the trendline resistance depicted below is broken, then this market will truly be looking very healthy. For the first time in a long while, commodity markets might have some unity to the upside as opposed to all the disjointed price action that we saw in the late 1990's.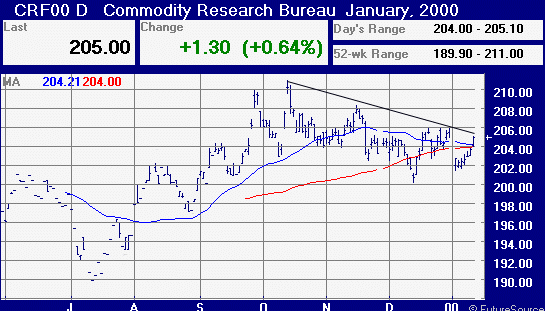 Ah, but for a III wave rally in the CRB while crude finishes up with a fifth wave push. Now that would clearly set a new tone to global capital markets for the new millennium: "out with the tech sector and in with the grains." Or am I just dreaming this? Watch the CRB particularly carefully to tell.
Thank you for visiting Sand Spring Advisors LLC, Inc. We hope to hear from you again soon. For more information on Sand Spring Advisors actual programs, services, or to request a copy of a Disclosure Document, please phone us at 973 451 0016, FAX your request to 973-451-0016, or e-mail us at
The material located on this website is also the copyrighted work of Sand Spring Advisors LLC. No party may copy, distribute or prepare derivative works based on this material in any manner without the expressed permission of Sand Spring Advisors LLC
This page and all contents are Copyright © 1999 by Sand Spring Advisors, LLC, Morristown, NJ