The Chart du Jour
Lessons from Lucent:
Particularly Concerning the S&P
January 23, 2000
When the most widely held stock in America recently shed over 25% of its market value in a matter of hours, CNBC shuffled the story into the background. But we continue to see the collapse of Lucent to be a fascinating and important chart pattern -- a chart pattern that by its very structure may hold a lesson for the broader market.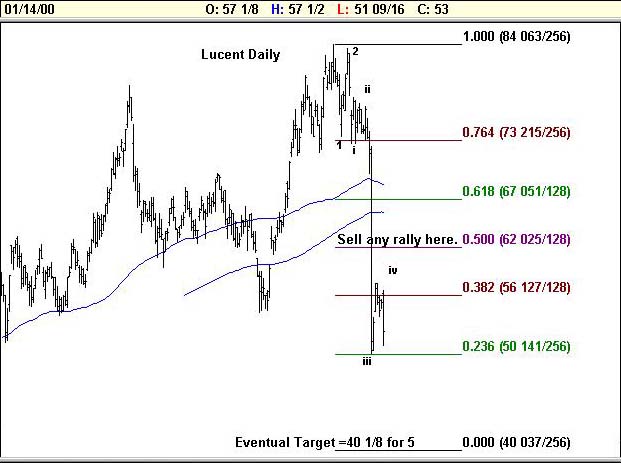 When we last wrote about Lucent, we suggested that a bounce off of 51 was likely to transpire in a 4th. wave. Ideally we suggested that one might have a chance to resell it toward 62. As the picture above shows, we have obtained a small bounce, but have yet to achieve a rally higher than 58. Whether we get to a further "bounce" to our original 62 objective or not, this stock remains in overall trouble, with the Fibonacci rhythm of the decline to date suggesting an ultimate target of 40 1/8 to complete 5 waves down. Regardless of its immediate short term path, Lucent is likely to eventually achieve at least two more new lows (v of 3, and then wave V itself).
But away from Lucent itself, what if anything can we learn from this chart's overall price pattern? Well, we think that it may be a leading indicator for the broader S&P index itself. Note in the side-by-side weekly chart comparison below, how Lucent made three thrusts -- each of diminished momentum -- to a final high, before collapsing. The current position of the S&P is not dissimilar in structure. If the S&P were now to follow a similar path as did Lucent, a daily price decline in a 1-2-i-ii fashion will transpire, before a 3 wave finally emerges that will break through the October 1999 S&P low. We can't wait to see how CNBC avoids talking about that one.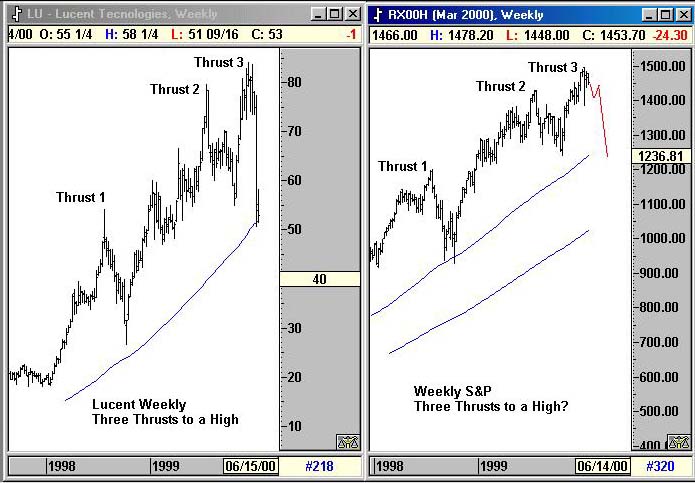 Am I wrong about this? Please post your comments in the Sandspring.com chatroom.
Thank you for visiting Sand Spring Advisors LLC, Inc. We hope to hear from you again soon. For more information on Sand Spring Advisors actual programs, services, or to request a copy of a Disclosure Document, please phone us at 973 451 0016, FAX your request to 973-451-0016, or e-mail us at
The material located on this website is also the copyrighted work of Sand Spring Advisors LLC.  No party may copy, distribute or prepare derivative works based on this material in any manner without the expressed permission of Sand Spring Advisors LLC
This page and all contents are Copyright © 1999 by Sand Spring Advisors, LLC, Morristown, NJ