The Chart du Jour
From Here TVX Should knock the "SOX" off of Overpriced Chip Stocks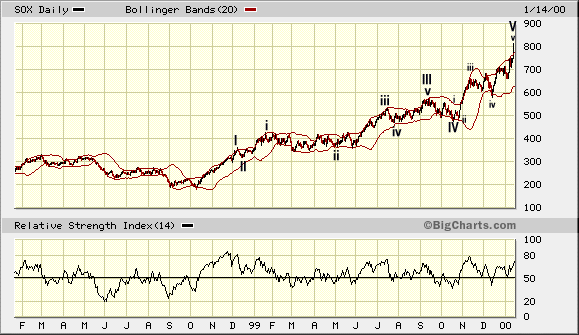 The SOX semiconductor index tacked on another 8+% last week, courtesy in part of course to that indefaticable stock Intel. Although venture capitalists on Sand Hill Road already consider new hardware and chip stocks a big "no-no," the American populous is still having something of a love affair with this ever-volatile sector.
Yet at least from the 1998 lows, we should be getting pretty close to "five wave up." We note with interest that last week's rally pushed us above the top end of the Bollinger bands for only the fourth time since February 1998 -- and that in each prior instance, the SOX failed to remain there for more than a day or two. Precise timing is, of course, always critical to trading success, but to our eye, this market is a sale.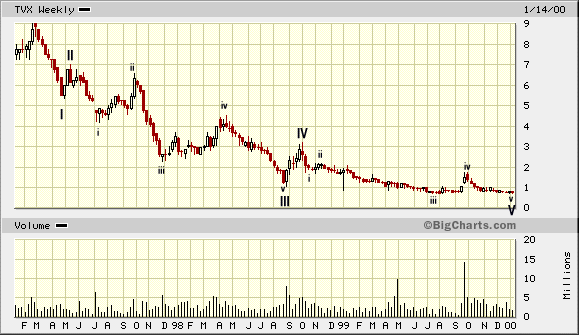 On the other end of the spectrum, the chart above charts what used to be an $8 NYSE stock, now trading at 75 cents. TVX Gold is a real company that despite various cash flow problems in recent years, still owns a major gold mine in Greece and controls other gold mining assets in conjunction with the Australian entity Normandy Mining (which provided an infusion of cash by investing in TVX last year). For purposes of full disclosure the principal of Sand Spring owns this stock and has for several months now. Although TVX has been a boring and disappointing laggard within all the equity froth of late, we think the wave count here couldn't be more compelling opposite to that of the SOX index.
Few realize that boring is often better than exciting -- at least longer term. Keeping a contrarian perspective on both these situations from this point forward should be a preferable path to following the obvious path of the herd.
Thank you for visiting Sand Spring Advisors LLC, Inc. We hope to hear from you again soon. For more information on Sand Spring Advisors actual programs, services, or to request a copy of a Disclosure Document, please phone us at 973 451 0016, FAX your request to 973-451-0016, or e-mail us at
The material located on this website is also the copyrighted work of Sand Spring Advisors LLC.  No party may copy, distribute or prepare derivative works based on this material in any manner without the expressed permission of Sand Spring Advisors LLC
This page and all contents are Copyright © 1999 by Sand Spring Advisors, LLC, Morristown, NJ