The Chart du Jour
A Broadening Formation
January 31, 2000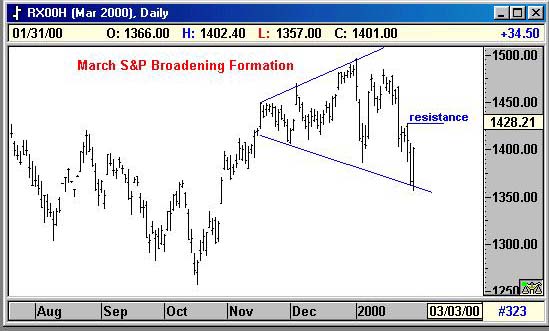 The inability of the March S&P futures to maintain a close for the month of January below 1389 leaves the bear case a bit half-baked, but certainly not abrogated. As the graph above shows, this market has been sketching out a broadening formation -- higher highs and lower lows since mid-December -- typically indicative of even higher volatility to come (Is that possible?) and often, but not always, indicative of a a topping formation. Most Ellioticians would probably migrate to a A-B-C interpretation of this pattern at this point, but on an intermediate term basis, we still like our analysis outlined in Three Peaks and a Domed House, and see a final right-side "cupula" in the process of forming. The key between the two interpretations will be the behavior of this market back at the previous 4th. wave high at 1428. Unless we penetrate back through this level on a closing basis, the bear case is alive and well per the extrapolated hourly chart below.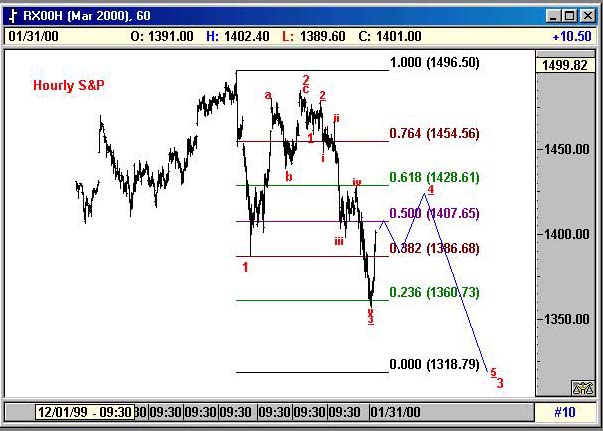 In 1981 we had to live with days in the bullion market when gold moved "limit down" and "limit up" within the same trading day. Today's equity market behavior is little different. It may be exciting to see one's stocks rebound from the dead, but the mere fact that we are getting so much volatility does not improve the longer term picture here. Remember: it is usually better from an investment perspective to buy something that is boring and tranquil but has lasting value, rather than something that is doing a non-stop wild dance.
Am I wrong about this? Please post your comments in the Sandspring.com chatroom.
Thank you for visiting Sand Spring Advisors LLC, Inc. We hope to hear from you again soon. For more information on Sand Spring Advisors actual programs, services, or to request a copy of a Disclosure Document, please phone us at 973 829 1962, FAX your request to 973 829 1962, or e-mail us at
The material located on this website is also the copyrighted work of Sand Spring Advisors LLC. No party may copy, distribute or prepare derivative works based on this material in any manner without the expressed permission of Sand Spring Advisors LLC
This page and all contents are Copyright © 1999 by Sand Spring Advisors, LLC, Morristown, NJ