The Chart du Jour

Out of Control

February 10, 2000

If you visited any bearish chatrooms Tuesday evening, there was a certain sense of capitulation, frustration, and outright anger. This author was certainly one of them, having been forced for the first time -- courtesy in particular to an upside breakout in Global Crossing upon which we were focused -- to seriously reevaluate our bearish equity view, at least for the short term.

Our frustration with the markets was not alone. At the otherwise lovely academic site Longwaves.csf.colorado.edu, bears seemed to be at each other's throats on some picyune issue, causing one respondant to write:
The Bull is over when the last Bear's dead. What I've read today seems like two great Bears, mauling, in a window three weeks from the all time top and a mere 40 days or so from a crash. Imagine it! Bears fighting while their prey is standing just over there dying...with enough meat to soon feed all.
And on the PrudentBear.com website all that one participant could seemingly do was to write bold-lettered blasphemous obscenities in three subsequent postings. We gathered that he too had had a bad day on the short side.

Maybe it was all too obvious that the despondency of the bears had reached such a trough that, in a contrarian fashion, Wednesday was actually guaranteed to be a down day. Overall the volatility of these markets is playing havoc with any reasonable analysis, and in all likelihood will continue to do so. The scene pictured below is very much what this bull market is likely to do to both bears and bulls alike -- bears having already suffered the preponderance of their pain and bulls who overstay their welcome likely to suffer a similar fate in the future.
What from here? We will stick by our analysis that the Dow Jones Transportation Average should be near important support (see the chart at the bottom of the page). The Dow Jones Industrials similarly should find buyers in the 10,388 region. The Nasdaq is so overbought we want to cry, but cannot rule out further highs given the look of Cisco and Intel discussed in yesterday's Chart du Jour. Global Crossing is yelling "buy" as well.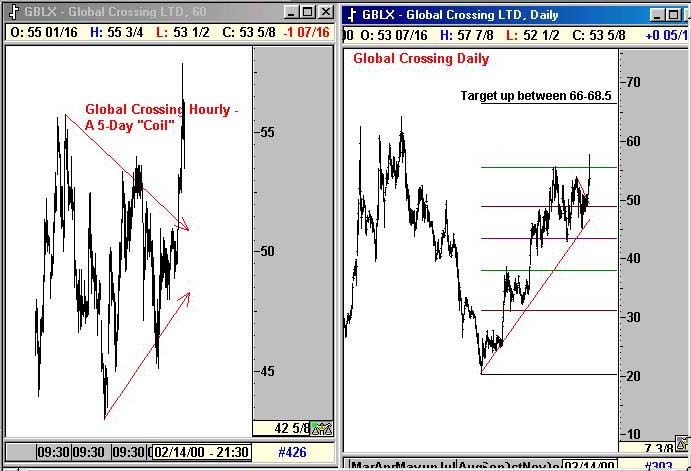 Perhaps in the ever twisting sector shifts of today's equity market, the ratio chart below (whereby we have divided the March Nasdaq 100 futures by the Dow Jones Inustrial Average) suggests that a Nasdaq up over 8% year-to-date with a DJIA down over 7% year-to-date has almost gone about far enough -- at least for now. The Fibonacci rhythm of this chart suggests resistance at the Nasdaq 100 futures reaching approximately 37.86% of the Dow Jones value. On an overshoot maybe we could get 38.2% to keep Fibonacci fans happy, before a reversal in this ratio would occur.
The financial markets are truly dizzying at the moment, extremely security specific in their movements, and quickly moving more and more out of control. The only stocks yet to suffer the wrath of an increasingly powerful bear lurking behind the scenes are the high cap high techs. Their time of duress will surely come soon, but for our better health, we will avoid from this point onward predicting with any conviction exactly when. All we will say is that from current levels, we like the DJTA stocks far better.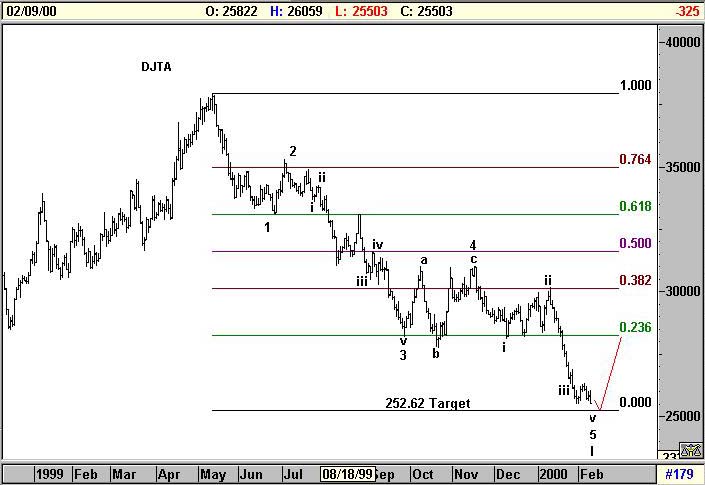 Am I wrong about this? Please post your comments in the Sandspring.com chatroom.
Thank you for visiting Sand Spring Advisors LLC, Inc. We hope to hear from you again soon. For more information on Sand Spring Advisors actual programs, services, or to request a copy of a Disclosure Document, please phone us at 973 829 1962, FAX your request to 973 829 1962, or e-mail us at
The material located on this website is also the copyrighted work of Sand Spring Advisors LLC.  No party may copy, distribute or prepare derivative works based on this material in any manner without the expressed permission of Sand Spring Advisors LLC
This page and all contents are Copyright © 1999 by Sand Spring Advisors, LLC, Morristown, NJ