The Chart du Jour
The Message From Pets.com
February 14, 2000
Something changed in the "dot com" world late last week, and at least one regulator might be a bit happy about it.
When Pets.com rolled off of the underwriter's shelf Friday, it went up for a nano-second, and then straight back down. The chart below is not the usual one we have grown accustomed to for "dot com" IPOs. Indeed, the chart is odd enough that we would not be surprised if Pets.com lead underwriter Merrill Lynch was forced to defend the stock just above its $11 IPO price in free market trading. After all, Merrill may have had stock to buy anyway from over-allotments, and one would not want an internet IPO closing below its initial offering price on the first day of free trading. That would be bad for the market and also bad for any future deals that Merrill may currently be negotiating to manage.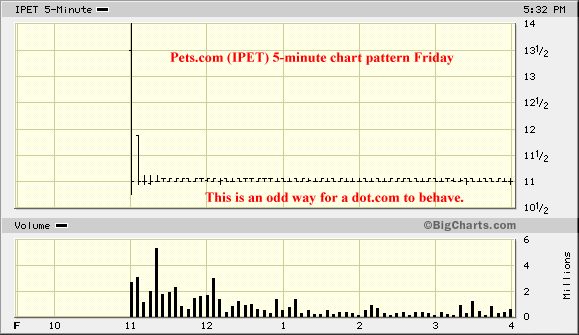 Pets.com is the Amazon.com bretheren in whom Amazon has previously purchased a 54% stake. Amazon borrowed the money for this investment (as well as for its purchase of assorted other small "dot com" wannabees) via a 10-year convertible bond offering in early 1999. That bond offering left Amazon with over $59 million in real interest to pay for each of the next ten years. Amazon is already finding this interest burden a difficult one to bear, and of late is once again looking for added financing via the issuance of more convertible bonds over in Europe.
Now none of this is a problem if the shares of Pets.com and other Amazon-owned companies, fly off the shelf -- but at least in this instance, they didn't. Sure, the market has still given Pets.com a ridiculous total market cap of $325 million (making Amazon's investment look momentarily shrewd), but the point is, it wasn't an instant $1 billion market capitalization that has happened with these types of stocks so often previously. We would also like to see how Amazon is ever going to realize this profit without sending Pets.com stock down to $2 a share. Perhaps Friday's relatively lackluster reception was finally a sign that the "La-La days" of Internet investing are now behind us, and that payback time will soon be here for companies such as Amazon that have previously abused the market's misplaced enthusiam.
Arthur Levitt, Chairman of the SEC, for one, may have smiled a bit at the Pets.com fizzle. In a speech a few days ago, he stated:
My sense is that many investors have become more emotional than intellectual about their investment decisions, and this is the time to point out to them the importance of analyzing carefully rather than impulsively...I am not saying that the sky is falling down. But it is fair to say that the biggest threat to future prosperity is when people lose perspective.
And so it is, a grain of rationality may be sneaking back into the market, and the regulators want it this way. Some investors may still look at Pets.com and see an Internet company with powerful AOL and Amazon alliances. But other investors now see a company that offers a bale of timothy hay for the discounted price of $1.99, but with $4.95 in minimum shipping charges. These investpors now see a company that just raised $82.5 million dollars, but paid over 16% of that immediately to their investment bankers. They see a company that blew almost half of their subsequent IPO revenues on Super Bowl commercials featuring a sock puppet. Yes, Pets.com actually had 4th. quarter revenues of $5.2 million, but no, this company is far from ever being profitable. After expenses, their 4th. Quarter net loss still came in at a whopping $42.2 million.
So it is that Wall Street just facilitated Pets.com surviving a few calendar quarters longer and getting its management well paid in allocated stock that the principals of Pets.com will undoubtably strive to cash out. But at the current "cash burn rate" of this company, can there ever be a golden rainbow here? We think not.
Friday's mediocre response to this IPO reflects this, and marks the first step toward the ultimate demise of Amazon.com as well. Who knows? Maybe someday the government will step in to keep Amazon.com out of bankruptcy (under the "too big to fail" concept), but if and when they do, our financial world will have dropped to new lows of condoning reckless financial engineering without immediate moral hazard.
I for one will continue to buy my family's pet rabbit his timothy hay at the local pet store where at least I can stare at the relative tranquility of the fish tanks for a moment or two. I not only avoid all that postage, but I actually enjoy the visit.
---
If you liked the short discussion above, you are sure to enjoy some of our longer more in-depth articles offered for sale below. Please support Sand Spring Advisors by subscribing either on a pay-per-view basis or on an annual basis. Upon the proper processing of your credit card you will be provided with an immediate receipt, and your article will follow by e-mail within several hours.
Disclosure Statement
Sand Spring Advisors provides information and analysis from sources and using methods it believes reliable, but cannot accept responsibility for any trading losses that may be incurred as a result of our analysis. Individuals should consult with their broker and personal financial advisors before engaging in any trading activities, and should always trade at a position size level well within their financial condition. Principals of Sand Spring Advisors may carry positions in securities or futures discussed, but as a matter of policy will always so disclose this if it is the case, and will specifically not trade in any described security or futures for a period 5 business days prior to or subsequent to a commentary being released on a given security or futures.
Order our second article as well, and get a 20% discount on both.