The Chart du Jour
Society Reflecting Itself
February 25, 2000
Remember how uncanny it was that the movie "Wag the Dog" was released just as President Clinton fell into the morass of Monica Lewinsky problems? Well something similar just happened. Just as equities were being jolted by a sudden and broad down swing last Friday, February 18th, the movie "Boiler Room" was being released, depicting some of the shadier practices of slick penny stock salesmen on the fast track to getting rich. The reviews of this movie since last Friday have been uniformly good, with descriptions such as "hot stuff, potent and raucous" appearing, while the New York Times calls the movie "awfully good." They do so with the statement:
"Boiler Room" avoids the thumping moralism that has made Oliver Stone the least misunderstood director in Hollywood. It's less about selling your soul than about feeling your oats....[The movie] reflects the sensibilities of the generation it holds up to critical scrutiny, and it's a cunningly ambiguous act of self-portraiture. [The Director] presents a world ruled by a gang of lawless, soulless children, like the island of lost boys in "Peter Pan."
In other words, "Boiler Room" shows us what we have become, and although it is not a pretty picture, we remain nonetheless fascinated by it. To a certain extent we now accept this world in a somewhat fatalistic fashion. Greed is still not necessarily good. It is simply inevitable.

"Boiler Room" represents of course a latter-day version of the 1987 film "Wall Street" that also looked at financial market practices. Pre-"Wall Street," one has to go back to 1981 to find another movie about the canyons of finance, the poorly done film "Rollover" starring Kris Kristopherson and Jane Fonda. Movies about Wall Street have historically been difficult to execute without having the end version appear tinny, trite, and over-dramatic. Indeed, "Rollover" was a disappointing flop because of this; "Wall Street" appeared silly and unbelievable in parts; now "Boiler Room" simply shows us the way it is, and we largely accept that this is the way the world works for better or for worse. The cinematic process may have steadily improved at each step, but so too has our willingness to believe in the picture that we see.

Perhaps the mere issuance of "Boiler Room" represents another anecdotal sign that an equity top is either in place or near (depending upon which index one looks at). After all, it is only the third movie in almost 20-years to try to tackle a Wall Street topic, the other two of which both appeared in down equity market years -- 1981 and 1987. In both prior instances, the Fed was tightening rates to squelch inflationary fears, just as they are now.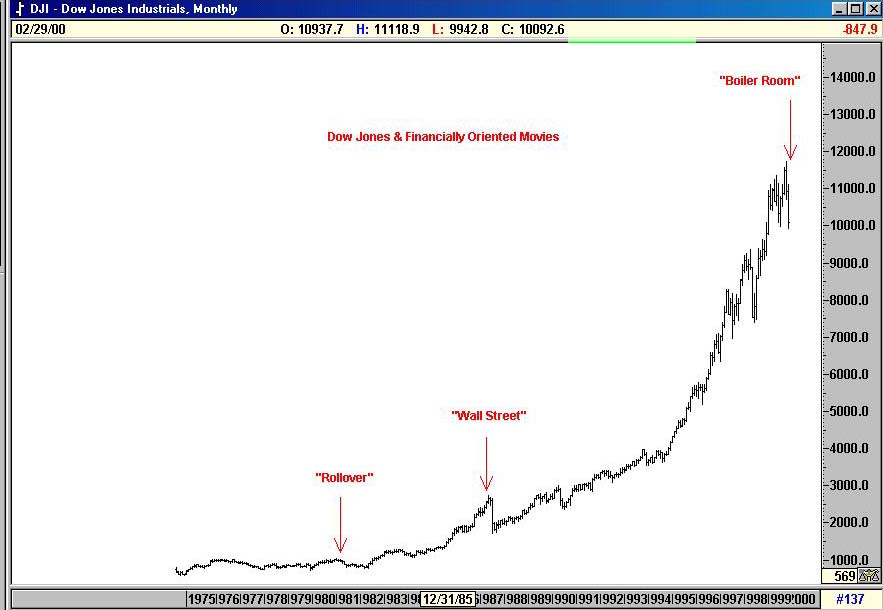 We may giggle and laugh at the raucous behavior of the "Boiler Room" characters, but the movie also ends far too abruptly to be left with any true sense of closure. Everyone may want to be a millionaire now -- often at any price to their spiritual well-being -- but we still do not know for sure where this is leading us as a society. Perhaps off a cliff.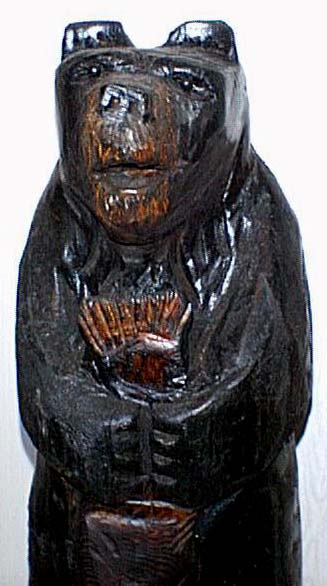 We have just finished an in-depth analysis of the longer term risks to equities that is eight pages in length and examines the Elliott wave pattern of the Nasdaq's Price-Earnings Ratio since 1995, as well as various analog pattern matches involving the Nasdaq. The report looks at mutual fund cash levels, mutual fund positioning, and changes in the monetary base. It sketches out a possible path for the Nasdaq that may prove a valuable "roadmap" for trading over the balance of the year. The article offers some powerful evidence that a crash scenario is most certainly possible and perhaps closer than most realize. The article is available for purchase below via credit card at $25. One may also subscribe on a quarterly basis to ALL articles past and present for just $55.
---
Disclosure Statement
Sand Spring Advisors provides information and analysis from sources and using methods it believes reliable, but cannot accept responsibility for any trading losses that may be incurred as a result of our analysis. Individuals should consult with their broker and personal financial advisors before engaging in any trading activities, and should always trade at a position size level well within their financial condition. Principals of Sand Spring Advisors may carry positions in securities or futures discussed, but as a matter of policy will always so disclose this if it is the case, and will specifically not trade in any described security or futures for a period 5 business days prior to or subsequent to a commentary being released on a given security or futures.
---
Take me back to the Sand Spring Home Page
---
Comments or Problems
---
Thank you for visiting Sand Spring Advisors LLC, Inc. We hope to hear from you again soon. For more information on Sand Spring Advisors actual programs, services, or to request a copy of a Disclosure Document, please phone us at 973 829 1962, FAX your request to 973 829 1962, or e-mail us at information@Sandspring.com

Corporate Office:
10 Jenks Road,
Morristown, NJ 07960
Phone: 973 829 1962
Facsimile: 973 829 1962

Best Experienced with



Click here to start.
The material located on this website is also the copyrighted work of Sand Spring Advisors LLC. No party may copy, distribute or prepare derivative works based on this material in any manner without the expressed permission of Sand Spring Advisors LLC
This page and all contents are Copyright © 2000 by Sand Spring Advisors, LLC, Morristown, NJ