The Chart du Jour
Outside Day Down: Intel
March 15, 2000
Back on February 9th, we suggested that Intel would likely see 128 3/4 before the Nasdaq froth would abate. In Tuesday's trading we touched 125 5/8 before reversing dramatically lower in an "outside day down formation" (a pattern that we have seen much of in different indices and stocks recently). Perhaps Intel is "complete" to the topside, perhaps not. An unbiased examination of the daily chart below would probably suggest that in Elliott wave terms we just finished a Wave 3 of V, and not a 5 of V advance (even if that would be somewhat more satisfying). Such an interpretation would of course allow for a nasty correction now, with still marginal new highs later. A lasting collapse would still be in the offing down the road, but just a minor one for now.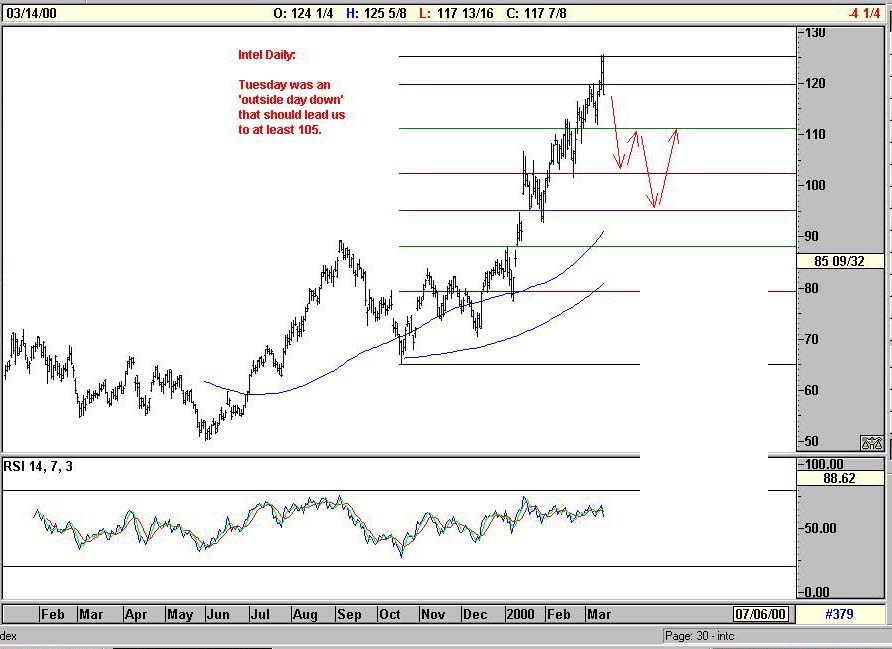 Chart produced using Advanced GET End of Day
On the chart above we have sketched a possible 4th wave path, with a minimum objective toward 105 for the first leg down, and a possible descent all the way to 95 in the c wave of an anticipated a-b-c formation.
"But surely not Intel," the bull pundits will shout. Intel is supposed to be on the upswing, their 1-gig chip now in hand, Microsoft 2000 in the stores, and all well and happy in the "new economy" Silicon Valley.
Well, we are not fundamentalists at Sand Spring Advisors, but we do like to combine our technical thoughts within a fundamental context. From 1988 through 1996, Intel's average annual P/E ratio averaged around 13 while their sales growth was running closer to 35% per annum. By comparison, over the past three years, Intel's sales growth has plunged to just 5.4% and their operating earnings have barely budged. But now Intel's P/E stands north of 50. Are the various internet investments that Intel has been cashing out of over the last eighteen months (in part to disguise their earnings problems) deserving of such a lofty P/E ratio? We think not. It's just the left-over perception by neophyte American investors that Intel is forever a great monopolistic company -- even as AMD so clearly eats away at that very monopoly. For now, we'd look for a deep and choppy retracement down in Intel as complacent high tech investors take another warning shot across their bow.
Please support Sand Spring Advisors and purchase one of our more in-depth articles below.
---
What our Subscription Only Articles Contain
We recently finished two in-depth articles on the equity world, one looking at some of the psychological signs of a mania entitled "A Certain Fixation," and the other focusing specifically on the Nasdaq. The former article discusses two specific equity situations, while the latter article examines the Elliott wave pattern of the Nasdaq's Price-Earnings Ratio since 1995, as well as various analog pattern matches involving the Nasdaq. "Nasdaq Crash and First Stopping Point" also looks at mutual fund cash levels, mutual fund positioning, and changes in the monetary base. It sketches out a possible path for the Nasdaq that may prove a valuable "roadmap" for trading over the balance of the year. Both articles offer some powerful evidence that a crash scenario is most certainly possible and perhaps closer than most realize. The articles are available for purchase below via credit card at $25 apiece. One may also subscribe on a quarterly basis to ALL articles past and present for just $65.
How Your Articles Are Delivered
Upon the processing of your credit card or the receipt of a personal check, Sand Spring will e-mail you the articles requested as a Word attachment, and also provide you with a WWW address and password to view the article on the web without using Word should you so desire. Confirmation of your order will be immediate, and the actual article will follow by e-mail typically within a few hours and in all cases before the opening of NYSE trading on the following day.>
Ordering by Credit Card:
Our shopping cart is designed for both physical and subscription products, so do not be confused too much when it asks you for a shipping address. A correct address is important only for credit card authorization purposes. Your e-mail information is the most important piece of information to us for proper delivery of your article(s).
Disclosure Statement
Sand Spring Advisors provides information and analysis from sources and using methods it believes reliable, but cannot accept responsibility for any trading losses that may be incurred as a result of our analysis. Individuals should consult with their broker and personal financial advisors before engaging in any trading activities, and should always trade at a position size level well within their financial condition. Principals of Sand Spring Advisors may carry positions in securities or futures discussed, but as a matter of policy will always so disclose this if it is the case, and will specifically not trade in any described security or futures for a period 5 business days prior to or subsequent to a commentary being released on a given security or futures.
---
Order both articles at the same time, and get a 20% discount on both.

Should you have any ordering problems, please contact us at
973-829-1962 or by email at the address below:




information@Sandspring.com
---
Take me back to the Sand Spring Home Page
---
Comments or Problems
---
Thank you for visiting Sand Spring Advisors LLC, Inc. We hope to hear from you again soon. For more information on Sand Spring Advisors actual programs, services, or to request a copy of a Disclosure Document, please phone us at 973 829 1962, FAX your request to 973 829 1962, or e-mail us at information@Sandspring.com
Corporate Office:
10 Jenks Road,
Morristown, NJ 07960
Phone: 973 829 1962
Facsimile: 973 829 1962
Best Experienced with



Click here to start.
The material located on this website is also the copyrighted work of Sand Spring Advisors LLC. No party may copy, distribute or prepare derivative works based on this material in any manner without the expressed permission of Sand Spring Advisors LLC
This page and all contents are Copyright © 2000 by Sand Spring Advisors, LLC, Morristown, NJ