The Chart du Jour
Intel: Will It Be a "C" or a III Wave Down?
April 11, 2000
By, Barclay T. Leib
If Intel and some of the other high tech large caps just finished an extended 5th. wave as we expect may be the case given their longer term Fibonacci rhythm (even overshooting a bit basis Intel and Cisco, the two yet-to-be broken darlings), then a typical tendency of Elliott analysis is that the extended 5th. wave will get retraced twice. Basis Intel, this would mean a move all the way back down to around the 89-93 region, before a fierce bounce back to approximately 128, before ongoing weakness thereafter. We depict such a path below basis the monthly chart.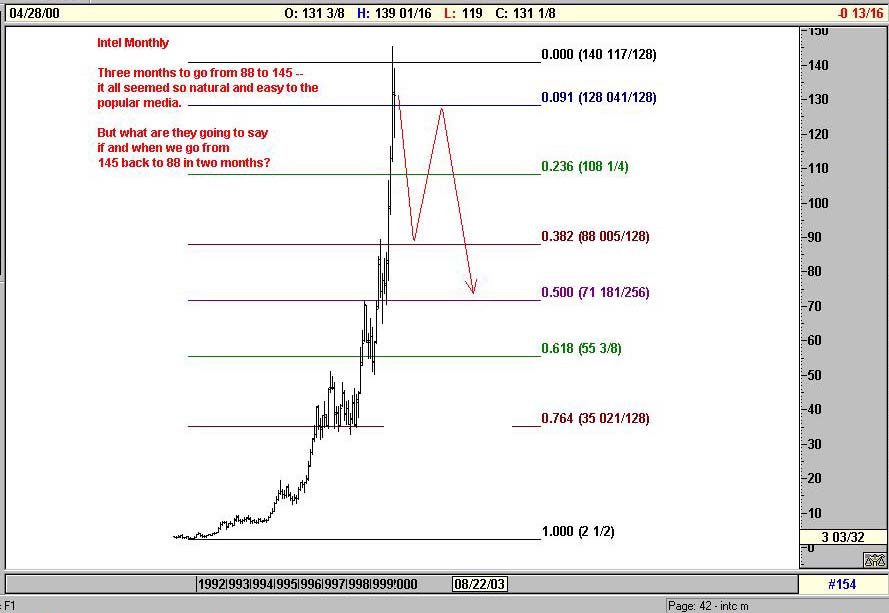 Graph produced with Advanced GET End-of-Day,
If however, we are simply doing a sloppy 4th wave retracement (a possibility to be sure, although not our favoured count), then we should still decline in a Wave C to approximately 116, depicted below basis an hourly chart.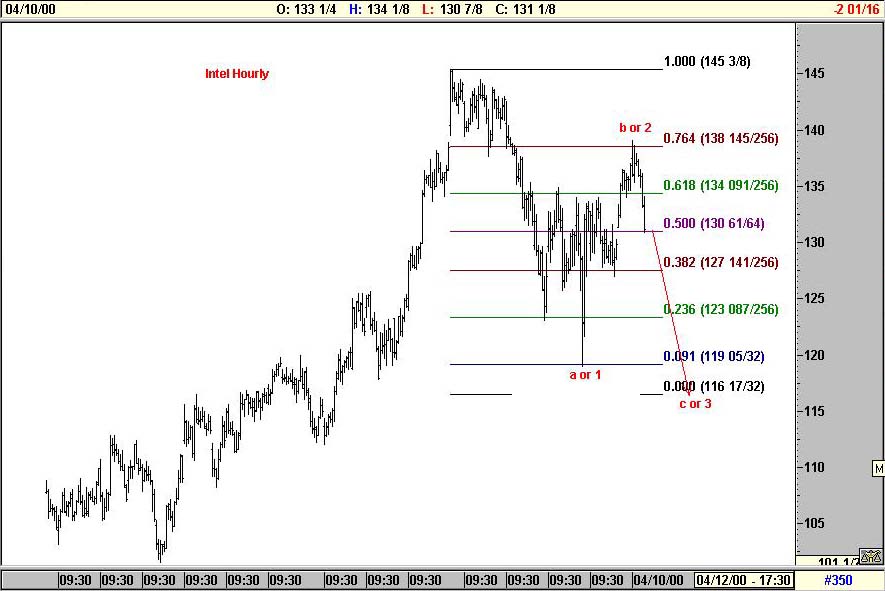 Graph produced with Advanced GET End-of-Day,
Either way, Intel is likely to experience an ugly move down from here, and we will simply wait to see how the price action plays out toward 116 before labeling more definitively which count it will be.
The high tech large caps are the last of this bull market's darlings to fall, but their time appears to have arrived to at least test the complacency of the American public. Last week's Internet decline was not enough to do so thoroughly, but between now and mid-May we are likely to do so in a more definitive fashion.
Intel's ascent in December-January-February all seemed so easy and natural to the popular media of course, but CNBC is likely to soon be shouting Armageddon when we get two months down. Needless to say, ours is now a society of constant media hype. The true bear market will only be upon us when the lawsuits of tomorrow start coming at CNBC a la the Tobacco company cancer suits of today.
Please support Sand Spring Advisors and purchase one of our more in-depth articles below.
---
How Your Articles Are Delivered
Upon the processing of your credit card or the receipt of a personal check, Sand Spring will e-mail you the articles requested as a Word attachment, and also provide you with a WWW address and password to view the article on the web without using Word should you so desire. Confirmation of your order will be immediate, and the actual article will follow by e-mail typically within a few hours and in all cases before the opening of NYSE trading on the following day.>
Ordering by Credit Card:
Our shopping cart is designed for both physical and subscription products, so do not be confused too much when it asks you for a shipping address. A correct address is important only for credit card authorization purposes. Your e-mail information is the most important piece of information to us for proper delivery of your article(s).
Disclosure Statement
Sand Spring Advisors provides information and analysis from sources and using methods it believes reliable, but cannot accept responsibility for any trading losses that may be incurred as a result of our analysis. Individuals should consult with their broker and personal financial advisors before engaging in any trading activities, and should always trade at a position size level well within their financial condition. Principals of Sand Spring Advisors may carry positions in securities or futures discussed, but as a matter of policy will always so disclose this if it is the case, and will specifically not trade in any described security or futures for a period 5 business days prior to or subsequent to a commentary being released on a given security or futures.
---
Order multiple articles at the same time, and get a 20% discount on each.

Should you have any ordering problems, please contact us at
973-829-1962 or by email at the address below:




information@Sandspring.com
---
Take me back to the Sand Spring Home Page
---
Comments or Problems
---
Thank you for visiting Sand Spring Advisors LLC, Inc. We hope to hear from you again soon. For more information on Sand Spring Advisors actual programs, services, or to request a copy of a Disclosure Document, please phone us at 973 829 1962, FAX your request to 973 829 1962, or e-mail us at information@Sandspring.com
Corporate Office:
10 Jenks Road,
Morristown, NJ 07960
Phone: 973 829 1962
Facsimile: 973 829 1962
Best Experienced with



Click here to start.
The material located on this website is also the copyrighted work of Sand Spring Advisors LLC. No party may copy, distribute or prepare derivative works based on this material in any manner without the expressed permission of Sand Spring Advisors LLC
This page and all contents are Copyright © 2000 by Sand Spring Advisors, LLC, Morristown, NJ