The Chart du Jour
Something Smells: REL
June 8, 2000
By, Barclay T. Leib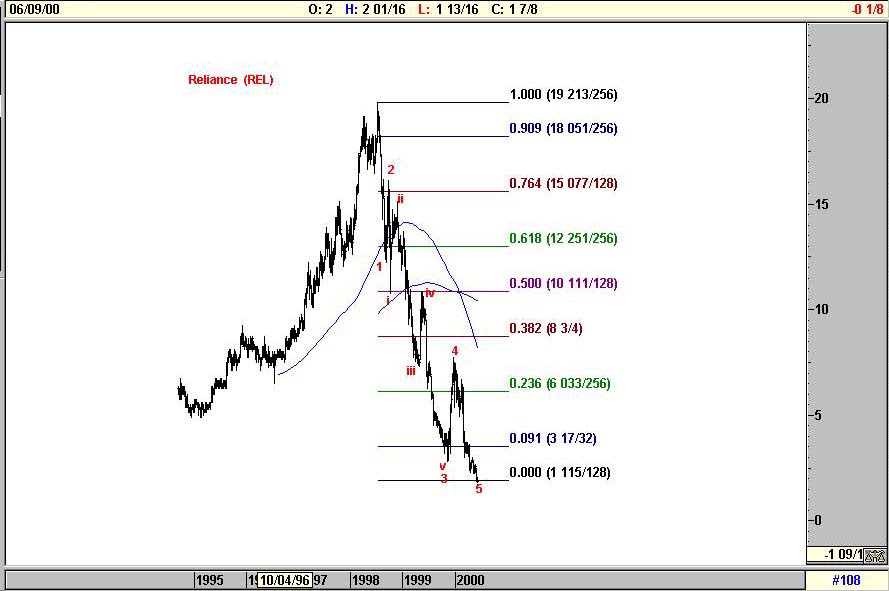 Chart produced using Advanced GET End-of-Day
Several months ago, at approximately $5 3/8 we mistakingly suggested that Reliance Group Holdings (REL), a Philadelphia-based property and causualty insurer, was unlikely to fold after 181 years in business. Rumors had it that Travellers was in the wings ready to take them over for $9-$11 a share, just above the company's theoretical book value. In addition, we thought the Elliott Wave pattern looked constructive at the time. We took a long position, and after a few days of brilliance to the upside, were promptly stopped out when the company fell below our suggested stop-loss level at 4 3/8.
Shortly later, Reliance's Chairman Saul Steinberg resigned. Bits and pieces of the company were put up for sale. Most recently, on May 26th. the company announced that they were in fact letting themselves get taken over, but not for $11 a share or even $9, but the equivalent of $2.55 a share in stock of Leucadia (LUK-NYSE). Since then the stock of Reliance has sunk even further, fretful about what, we don't know. Perhaps they have Indonesian earthquake exposure of some sort. The major earthquake in Turkey a few years helped start this whole mess.
All that we do know is that something smells in this deal. How can a stock with a theoretical book value of $9 a share, be sold for less than a third of that value? Moreover Reliance was sold to a company, Leucadia, in which Saul Steinberg has a sizeable stock investment -- a company known for its quick wit in past years buying assets on the cheap and doing something with them (Baldwin United being one of their well-known great all-time steals). Did Steinberg step down from the Board of Reliance simply for appearances sake, and then let his former company dwindle into oblivion just to set up an even better coup/rebound? Someone clearly thought this deal was a steal for Leucadia since that stock has jumped $4 since its announcement. Isn't it usually the other way around in most normal takeovers? The acquiring stock -- because of dilution effects of issuing more stock -- normally drops.
On top of everything, REL has obligated itself to pay a $12.5 million fine plus other Leucadia costs if it for some reason backs out of this deal and accepts another offer.
We admittedly do not know the inside poop here, but simply basis the chart pattern above, is REL a buy at 1 7/8 - more than 25% below its theoretical value in Leucadia stock (1 share of REL now being transferable into slightly more than .11 shares of Leucadia)? Is Reliance really in that bad of shape that people think even this deal will fall through? Or perhaps Steinberg has now put himself in a more powerful position that if another buyer comes along - great, Leucadia will still reap the deal break-up fee. And if no deal comes along, Leucadia has stolen his own former company, and via that latter entity, he can now live to fight another day.
These type of machinations are why stock investing from the outside is basically a suckers game -- always at the mercy of insider wheeler-dealing, stock dilution and the like. But if you weren't hurt too badly by the first dive in Reliance shares, how much worse can it get from here? If you can't beat them, join these sheisters, and root for the successor company, Leucadia, to reap the true value of Reliance over time -- probably after most Reliance shareholders have long since given up.
Please support Sand Spring Advisors and purchase one of our more in-depth articles below.
---
How Your Articles Are Delivered
Upon the processing of your credit card or the receipt of a personal check, Sand Spring will e-mail you the articles requested as a Word attachment, and also provide you with a WWW address and password to view the article on the web without using Word should you so desire. Confirmation of your order will be immediate, and the actual article will follow by e-mail typically within a few hours and in all cases before the opening of NYSE trading on the following day.>
Ordering by Credit Card:
Our shopping cart is designed for both physical and subscription products, so do not be confused too much when it asks you for a shipping address. A correct address is important only for credit card authorization purposes. Your e-mail information is the most important piece of information to us for proper delivery of your article(s).
Disclosure Statement
Sand Spring Advisors provides information and analysis from sources and using methods it believes reliable, but cannot accept responsibility for any trading losses that may be incurred as a result of our analysis. Individuals should consult with their broker and personal financial advisors before engaging in any trading activities, and should always trade at a position size level well within their financial condition. Principals of Sand Spring Advisors may carry positions in securities or futures discussed, but as a matter of policy will always so disclose this if it is the case, and will specifically not trade in any described security or futures for a period 5 business days prior to or subsequent to a commentary being released on a given security or futures.
If you order by credit card, your credit card will be billed as "Sand Spring Advisors LLC"
Should you have any ordering problems, please contact us at
973-829-1962 or by email at the address below:

information@Sandspring.com
---
Take me back to the Sand Spring Home Page
---
Comments or Problems
---
Thank you for visiting Sand Spring Advisors LLC, Inc. We hope to hear from you again soon. For more information on Sand Spring Advisors actual programs, services, or to request a copy of a Disclosure Document, please phone us at 973 829 1962, FAX your request to 973 829 1962, or e-mail us at information@Sandspring.com
Corporate Office:
10 Jenks Road,
Morristown, NJ 07960
Phone: 973 829 1962
Facsimile: 973 829 1962
Best Experienced with



Click here to start.
The material located on this website is also the copyrighted work of Sand Spring Advisors LLC. No party may copy, distribute or prepare derivative works based on this material in any manner without the expressed permission of Sand Spring Advisors LLC
This page and all contents are Copyright © 2000 by Sand Spring Advisors, LLC, Morristown, NJ