The Chart du Jour
If This Chart Was a Stock,
Would You Buy It?
September 28, 2000
By, Barclay T. Leib
Look back at 1973-74, 1979-80, or 1987...and you will see on each occasion the following 'Late Cycle' phenomenon: Oil and oil stocks are not the last sector of the market to rally; they are only the second to last. Gold and gold stocks have repeatedly been the last.
So it is today that we ask you to take a look at the two chart pictures below, and ask yourself in each case: if this chart was a stock, would you buy it?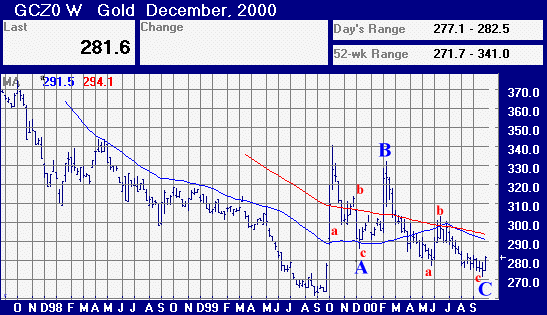 Chart courtesy of FutureSource.com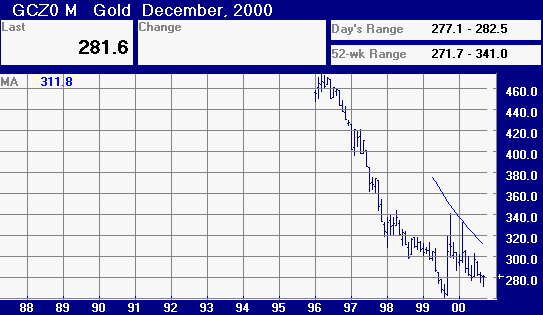 Chart courtesy of FutureSource.com
The two charts are of course not a stock, but a weekly and monthly look at the price action of December 2000 Comex gold. They have taken their sweet time lulling people to sleep, but they are turning.
It is hard to reproduce here, but if you have a copy of the traditional bible of technical analysis, Edwards & Magee's Technical Analysis of Stock Trends turn to page 80, Figure 38, and ask yourself if the weekly chart of gold above does not resemble Edwards & Magee's classic rounding bottom formation pictured on that page. The Aug-Sep 1999 burst of volume and spike up represents a first shot of strength described by Edwards & Magee as "a few days of almost vertical price movement....almost always denoting a change in Primary trend and an extensive advance yet to come. The advance, however, seldom carries right on in a 'sky-rocket' effect...On the contrary, the up trend which follows the [initial spike] is apt to be slow and subject to frequent interruptions, tiring out the impatient trader but yielding eventually a substantial profit." On its way to doing so, "prices will almost invariably quickly drop back into their former channel and the gradual rounding movement is resumed."
So it is we propose to you that gold is slowly emerging out of its "rounding bottom" dormant state. Cyclically the latter part of 2001 would be an ideal time to see an acceleration out of this rounding bottom -- but could an acceleration happen faster, sooner? Perhaps. After all, and anecdotally, look at this piece of junk our government has proposed for us to accept as being worth $1. The first new one-dollar coin I picked up already appears to be tarnishing much as the penny coin does.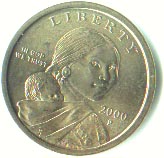 Now go back and read our 1999 story, Anecdotal Signs in Our Paper Currency, and tell us that inflation isn't going to win out over other deflationary pressures in the U.S. Tell us it's not winning already.
Buying gold may sound very much out of fashion and stupid, but buying the chart patterns above hold great technical promise.
For immediate web-based access to our recent Sep 15th equity-index chart pattern analysis, please support Sand Spring Advisors and purchase a quarterly subscription below. The charts will be accessible on the final page of the order process.
---
How Your Articles Are Delivered
Upon the processing of your credit card or the receipt of a personal check, Sand Spring will e-mail you the articles requested as a Word attachment, and also provide you with a WWW address and password to view the article on the web without using Word should you so desire. Confirmation of your order will be immediate, and the actual article will follow by e-mail typically within a few hours and in all cases before the opening of NYSE trading on the following day.>
Ordering by Credit Card:
Our shopping cart is designed for both physical and subscription products, so do not be confused too much when it asks you for a shipping address. A correct address is important only for credit card authorization purposes. Your e-mail information is the most important piece of information to us for proper delivery of your article(s).
Disclosure Statement
Sand Spring Advisors provides information and analysis from sources and using methods it believes reliable, but cannot accept responsibility for any trading losses that may be incurred as a result of our analysis. Individuals should consult with their broker and personal financial advisors before engaging in any trading activities, and should always trade at a position size level well within their financial condition. Principals of Sand Spring Advisors may carry positions in securities or futures discussed, but as a matter of policy will always so disclose this if it is the case, and will specifically not trade in any described security or futures for a period 5 business days prior to or subsequent to a commentary being released on a given security or futures.
---
If you order by credit card, your credit card will be billed as "Sand Spring Advisors LLC"
Should you have any ordering problems, please contact us at
973-829-1962 or by email at the address below:

information@Sandspring.com
---
Take me back to the Sand Spring Home Page
---
Comments or Problems
---
Thank you for visiting Sand Spring Advisors LLC, Inc. We hope to hear from you again soon. For more information on Sand Spring Advisors actual programs, services, or to request a copy of a Disclosure Document, please phone us at 973 829 1962, FAX your request to 973 829 1962, or e-mail us at information@Sandspring.com
Corporate Office:
10 Jenks Road,
Morristown, NJ 07960
Phone: 973 829 1962
Facsimile: 973 829 1962
Best Experienced with



Click here to start.
The material located on this website is also the copyrighted work of Sand Spring Advisors LLC. No party may copy, distribute or prepare derivative works based on this material in any manner without the expressed permission of Sand Spring Advisors LLC
This page and all contents are Copyright © 2000 by Sand Spring Advisors, LLC, Morristown, NJ