The Chart du Jour
Financials to Fall
November 1, 2000
By, Barclay T. Leib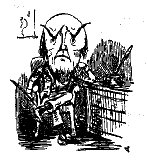 A confused or just stubbornly bearish analyst?
The S&P broke through our 1421 resistence over the past two days, but have we turned bullish? No. While we admit to being concerned about the recent frothiness, and ready to change our opinion, at the end of the day, when we examine the plethora of individual stock charts we do each day, almost all still seem to point to further lows. The next major low in stocks like Cisco toward $40 a share and other already beaten-up telecoms such as Global Crossing will likely result in a sharp counter-trend bounce, but first we have to go down once more. These stocks are not ready to launch any sustainable rally from here.
And of course, as we forecast to subscribers back on October 15th., the financial stocks are just starting their descent. Jack Welch of GE was featured on 60 Minutes last week like some sort of God. Undoubtably some neophyte investors may have gone out and bought GE as a result. But how fitting a contrarian signal it is to have such a television feature appear just now.
Although GE never put in that one last isolated high we had been looking for a few weeks ago, if the Fibonacci rhythm of the chart below holds any portent, this stock is now headed to around $45-$46.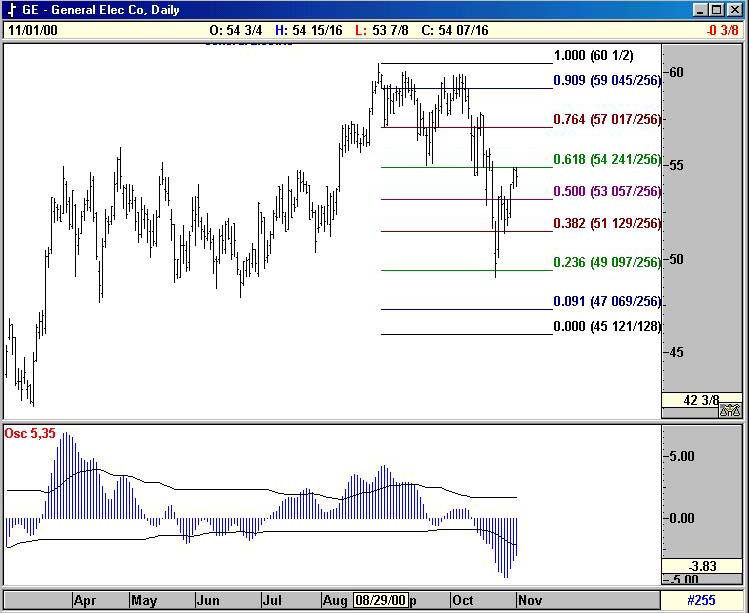 Chart produced using Advanced GET End-of-Day
And what fundamental might cause such a stumble in a stock that has been so invulnerable so many times in the past? While we would love to see subsidiary CNBC start to get embroiled in lawsuits from investors deceived and lightened of their life savings, the more likely culprit will be higher interest rates post the U.S. Presidential election. Here's our thinking: If Bush wins, tax-cut fever will be spinning all through the media, ergo Greenspan will have to be even more vigilent in his tightening tendencies as a counter-weight; if Gore wins, the market will perceive that big government spending is on its way back, so ergo once again sell those Treasuries. Basically, the election is a no-win situation for Treasuries either way. And the chart below generally bears out the vulnerable technical position at which the U.S. 30-year futures market continues to find itself. If the Advanced GET system's computer-generated wave count is correct, a Wave 5 decline still lies in front of us.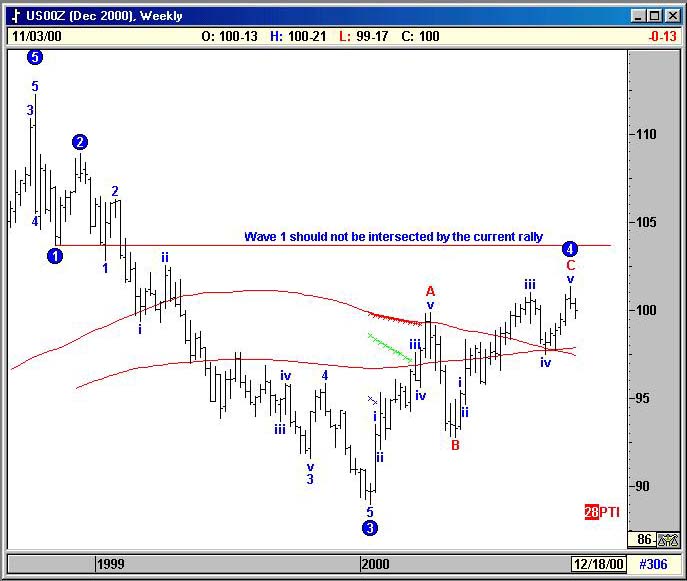 Chart produced using Advanced GET End-of-Day
Of course, there could be other causes as well. Through GE's merger with Honeywell, you have a 45 P/E stock with a big financial-orientation merging into a 30 P/E stock with an industrial-orientation. If GE becomes a more industrial stock once again (or just perceived that way), will it really be able to maintain its same financial-gimmick-filled growth rate as recent years? Will it deserve its current lofty P/E? Or will it migrate toward Honeywell's much lower one? Vis a vis long term historical norms, GE is, after all, already trading at a P/E approximately twice its long-term historical norm.
Lastly, don't forget how many portfolios already own this stock. Most mutual funds, faced in recent years with pressures to keep their performance robust, must be over-weight this stock. And likely almost every GE short has long since been destroyed. We see GE of today about where Microsoft was not that long ago, or where Dell was back in 1998 -- ready to severely disappoint.
For immediate web-based access to our latest subscriber-only analysis, please support Sand Spring Advisors and purchase a quarterly subscription below. Our latest work will be accessible on the final page of the order process. A user-id and password for web access to all past and future articles will follow by e-mail.
---
How Your Articles Are Delivered
Upon the processing of your credit card or the receipt of a personal check, Sand Spring will e-mail you the articles requested as a Word attachment, and also provide you with a WWW address and password to view the article on the web without using Word should you so desire. Confirmation of your order will be immediate, and the actual article will follow by e-mail typically within a few hours and in all cases before the opening of NYSE trading on the following day.
Ordering by Credit Card:
Our shopping cart is designed for both physical and subscription products, so do not be confused too much when it asks you for a shipping address. A correct address is important only for credit card authorization purposes. Your e-mail information is the most important piece of information to us for proper delivery of your article(s).
Disclosure Statement
Sand Spring Advisors provides information and analysis from sources and using methods it believes reliable, but cannot accept responsibility for any trading losses that may be incurred as a result of our analysis. Individuals should consult with their broker and personal financial advisors before engaging in any trading activities, and should always trade at a position size level well within their financial condition. Principals of Sand Spring Advisors may carry positions in securities or futures discussed, but as a matter of policy will always so disclose this if it is the case, and will specifically not trade in any described security or futures for a period 5 business days prior to or subsequent to a commentary being released on a given security or futures.
---
If you order by credit card, your credit card will be billed as "Sand Spring Advisors LLC"
Should you have any ordering problems, please contact us at
973-829-1962 or by email at the address below:

information@Sandspring.com
---
Take me back to the Sand Spring Home Page
---
Comments or Problems
---
Thank you for visiting Sand Spring Advisors LLC, Inc. We hope to hear from you again soon. For more information on Sand Spring Advisors actual programs, services, or to request a copy of a Disclosure Document, please phone us at 973 829 1962, FAX your request to 973 829 1962, or e-mail us at information@Sandspring.com
Corporate Office:
10 Jenks Road,
Morristown, NJ 07960
Phone: 973 829 1962
Facsimile: 973 829 1962
Best Experienced with



Click here to start.
The material located on this website is also the copyrighted work of Sand Spring Advisors LLC. No party may copy, distribute or prepare derivative works based on this material in any manner without the expressed permission of Sand Spring Advisors LLC
This page and all contents are Copyright © 2000 by Sand Spring Advisors, LLC, Morristown, NJ