The Chart du Jour
Hourly DJIA: New Highs but No New View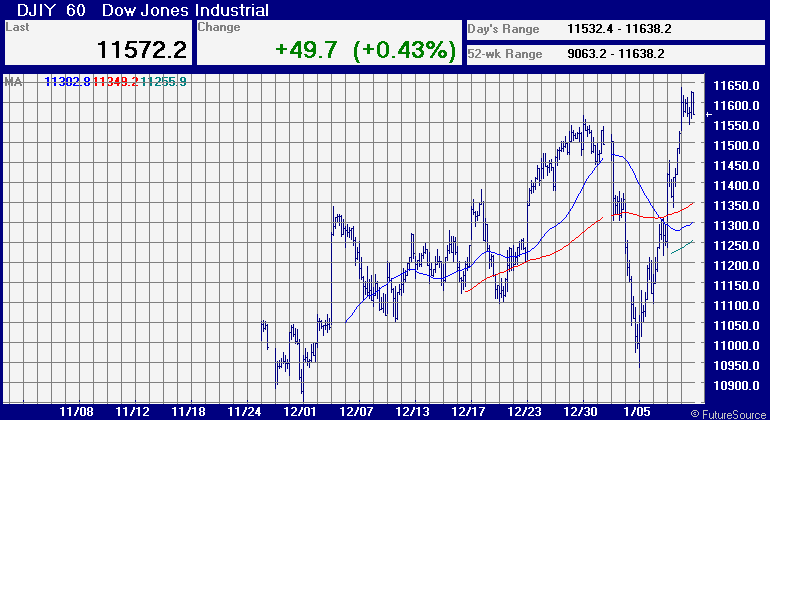 The DJIA may have been able to make marginal new highs in Monday's trading, but the hourly wave count at best has migrated from our anticipated II wave to either a v of (iii) of V, or perhaps even a v of (v) of V already.
The week is young, and we still face what should be a watershed day Thursday when Intel releases its 4th quarter earnings and profit forecast for the 1st quarter of 2000. Given the amount of business that AMD stole away from Intel in the 4th quarter (when AMD's high-end chips were clearly superior to Intel's high-end product line), Intel is going to need truly creative accounting not to disappoint. Perhaps this will be the "lightbulb" to finally kick off a sustainable decline in the grossly overbought high tech world.
As long as the DJIA has not closed above 11,541 for the week, the intermediate story should be the same: it's time to take money off the table in equities. The first time back down, the DJIA will now encounter some support at the 11,275-11,350 cluster of moving averages, but longer term, enough is enough. For those who remain blithely invested at this juncture, gross "hubris" is the only description that readily comes to mind.
---
Take me back to the Sand Spring Home Page
---
Comments or Problems
Thank you for visiting Sand Spring Advisors LLC, Inc. We hope to hear from you again soon. For more information on Sand Spring Advisors actual programs, services, or to request a copy of a Disclosure Document, please phone us at 973 451 0016, FAX your request to 973-451-0016, or e-mail us at
SandSpringAdv@AOL.com
Corporate Office:
10 Jenks Road,
Morristown, NJ 07960
Phone: 973 451 0016
Facsimile: 973 451 0016
Best Experienced with


Click here to start.
The material located on this website is also the copyrighted work of Sand Spring Advisors LLC.  No party may copy, distribute or prepare derivative works based on this material in any manner without the expressed permission of Sand Spring Advisors LLC
This page and all contents are Copyright © 1999 by Sand Spring Advisors, LLC, Morristown, NJ