THE CHART DU JOUR
Today's Chart Du Jour revolves around: February Gold versus March Silver. Time to sell silver against our gold long?
(Dec. 21th. Feb Gold Close 391.30, March Silver Close 5.21).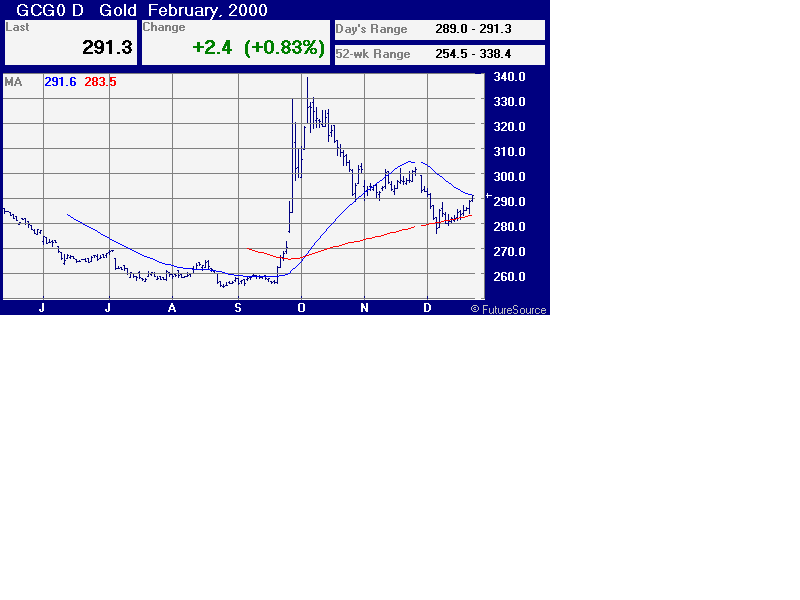 Two days ago, when February Comex gold was trading 283.80, we suggested that the risk-reward of a long position was justified given the confluence of moving average support at $281 and the fact that the market had rallied smartly off of the 76.4% retracement level at $278. Now we are almost at our preliminary objective of $293.10.
Of interest, we closed just under the 40-day moving average today, and it will be important to see gold trade above this moving average (which currently stands at 291.60) sooner rather than later. Ideally, one would like to see 293.10 reached, and then have any retracement from there hold the 291.60 level.
One point of some concern to any metals bull is the dismal behavior of silver. The pattern pictured below appears far more like a continuation pattern to the downside as opposed to a healthy and bullish market. Perhaps the growing popularity of digital cameras is truly making its mark on silver this Christmas season. If anyone buys a new camera to place under the tree, it's far more likely to be a digital one now. A break of 5.1910 moving average support would suggest at least a "washout" of weak longs down into the 4.90's.
For those long gold with a desire to book out some profit, crossing it against a short position in silver could easily be a winner from here.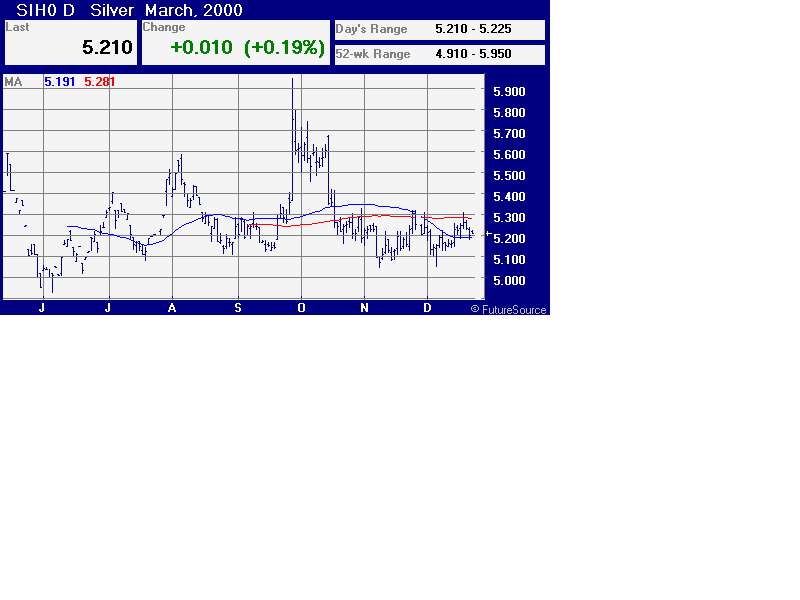 ---
Take me back to the Sand Spring Home Page
---
Comments or Problems
Thank you for visiting Sand Spring Advisors LLC, Inc. We hope to hear from you again soon. For more information on Sand Spring Advisors actual programs, services, or to request a copy of a Disclosure Document, please phone us at 973 451 0016, FAX your request to 973-451-0016, or e-mail us at
SandSpringAdv@AOL.com
Corporate Office:
10 Jenks Road,
Morristown, NJ 07960
Phone: 973 451 0016
Facsimile: 973 451 0016
Best Experienced with


Click here to start.
The material located on this website is also the copyrighted work of Sand Spring Advisors LLC.  No party may copy, distribute or prepare derivative works based on this material in any manner without the expressed permission of Sand Spring Advisors LLC
This page and all contents are Copyright © 1999 by Sand Spring Advisors, LLC, Morristown, NJ