The Chart du Jour

Palladium is Going Ballistic; Copper Looks Incomplete

While the average guy on the street may watch gold as a barometer of potential inflationary pressures and feel reassured that it is still well below $300 per ounce, we note with some awe the current price of palladium well above $440.

We also note that copper has continued to be very active of late, and as pictured below, recently spiked up to 89.15 basis the March Comex contract.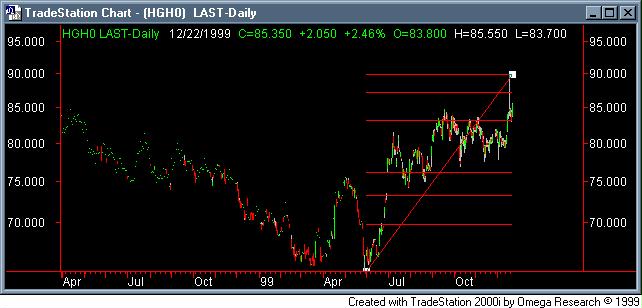 Of note, if one draws Fibonacci retracements from the summer lows in copper to our recent high, these retracements DO NOT YET 'FIT' the price action throughout the ascent. In other words, the 38.2%, 61.8%, and 76.4% retracements levels do not mark previous highs and lows on the way up. To us this means that new highs in copper are still in the offing. How high could we go? To make the Fibonacci retracements "fit" the best, we extrapolate a high toward at least 92.30 before one should even consider the recent rally to be complete. This would leave the Fibonacci retracements looking significantly more "natural" as pictured below.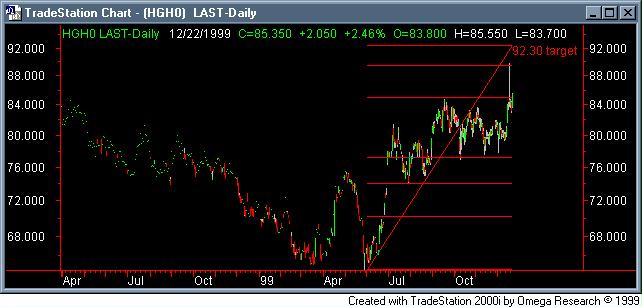 ---
Take me back to the Sand Spring Home Page
---
Comments or Problems
Thank you for visiting Sand Spring Advisors LLC, Inc. We hope to hear from you again soon. For more information on Sand Spring Advisors actual programs, services, or to request a copy of a Disclosure Document, please phone us at 973 451 0016, FAX your request to 973-451-0016, or e-mail us at
SandSpringAdv@AOL.com
Corporate Office:
10 Jenks Road,
Morristown, NJ 07960
Phone: 973 451 0016
Facsimile: 973 451 0016
Best Experienced with


Click here to start.
The material located on this website is also the copyrighted work of Sand Spring Advisors LLC.  No party may copy, distribute or prepare derivative works based on this material in any manner without the expressed permission of Sand Spring Advisors LLC
This page and all contents are Copyright © 1999 by Sand Spring Advisors, LLC, Morristown, NJ