The Chart du Jour
Within Commodity Sector: Crude Getting Overbought while Cocoa Just Beginning
We have been bullish on Crude since early December, arguing at the time and on several occasions since that the Elliott wave structure required at least two more new highs. We obtained the first of these new highs in a somewhat circumspect fashion when the December contract rolled into a higher priced January contract, but we obtained the second new high with true conviction over the last two weeks during which Crude has vaulted higher.
While the Fibonacci rhythm of the current crude advance still suggests that an ultimate high at $32.44 may be seen, from a wave perspective, the minimum requirement for a final fifth wave advance has now been achieved. The only real question is the minuette count -- have we done v of V, or perhaps just a i of V. We suspect the latter, but on an overall basis, are somewhat agnostic. We also now note that 94% of respondents on Market Vane's Bullish Consensus are bullish crude. This suggests at a minimum that if Crude continues toward the $32.44 objective, it is not going to be without a great deal of gut-wrenching volatility getting there. It would certainly appear to be time to start scaling out of long positions simply from a risk reward perspective.
Even so, commodities as a whole seem to be in a healthy mode. It is only a question of which commodity may offer the most attractive risk-return proposition from a trading perspective.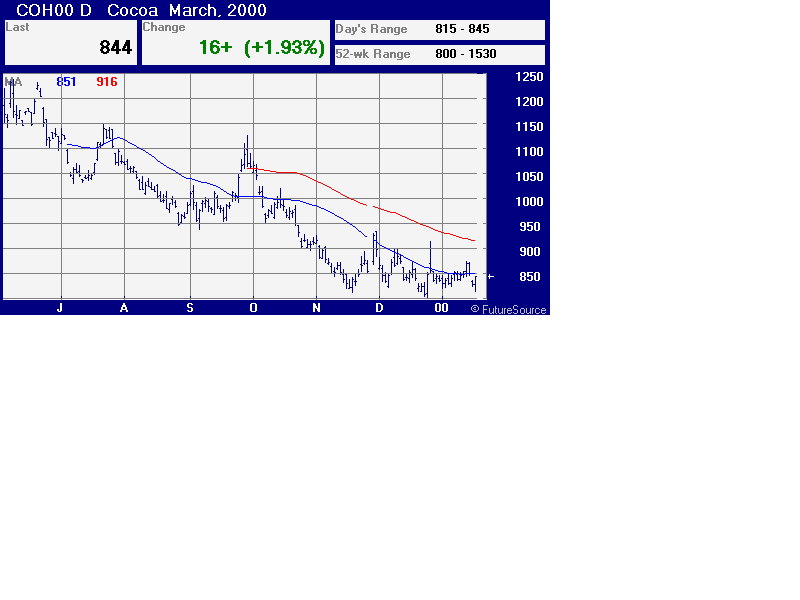 It is with this in mind that we turn to the opposite end of the commodity perspective and find ourselves fascinated by the price action in Cocoa. Open interest has climbed some 10% in Cocoa over the last week, and sentiment is very much the opposite to that of crude. Just 8% of Market Vane's respondents currently hold a bullish Cocoa view. And yet on the daily chart above we spy a nice "spring" pattern off of what could potentially prove to be a formidable triple bottom. Certainly on the weekly chart below, Cocoa would appear to have substantive room for an upside rally.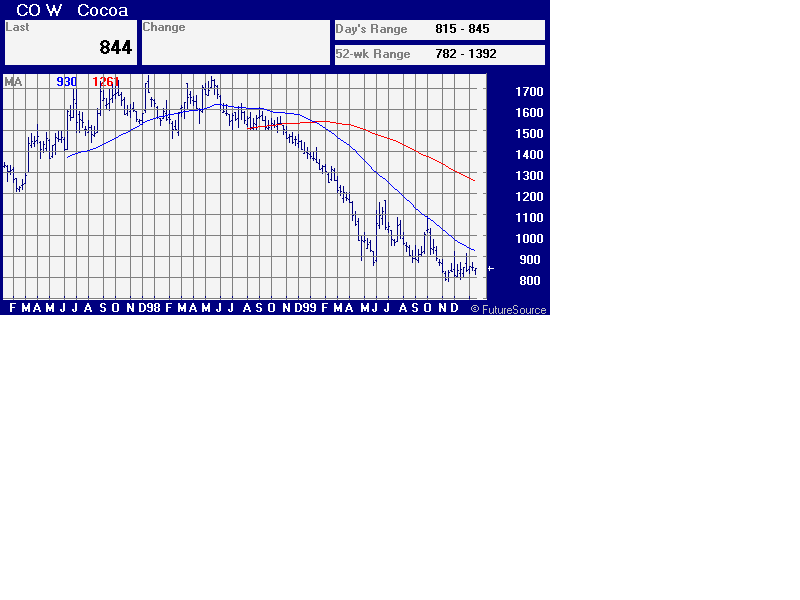 We know little about the "fundamentals" of the Cocoa market. We presume that given the overall currency weakness that has continued to plague Latin America, Cocoa is a hot export item. But we do like the commodity markets overall, and at some point this market -- which has been left behind to date -- should participate with the rest of its commodity brethren.
Scale out of Crude and into Cocoa. Then go enjoy a nice cup of hot chocolate to celebrate our recent Crude gains.
Am I wrong about this? Please post your comments in the Sandspring.com chatroom.
Thank you for visiting Sand Spring Advisors LLC, Inc. We hope to hear from you again soon. For more information on Sand Spring Advisors actual programs, services, or to request a copy of a Disclosure Document, please phone us at 973 451 0016, FAX your request to 973-451-0016, or e-mail us at
The material located on this website is also the copyrighted work of Sand Spring Advisors LLC.  No party may copy, distribute or prepare derivative works based on this material in any manner without the expressed permission of Sand Spring Advisors LLC
This page and all contents are Copyright © 1999 by Sand Spring Advisors, LLC, Morristown, NJ