The Chart du Jour

Churning on Good News Spells Trouble

January 20, 2000: A Lunar Eclipse

On Wednesday afternoon AOL, IBM, and several other major companies all reported earnings numbers that were substantially "above market expectations." This almost ensured that Thursday would bring a higher equity open, which it did. From there, however, we saw little follow-through, but instead a day of churning, with the DJIA actually down over 130 points by the close -- an overall performance that can only be deemed a disappointment for any equity bull.

Why is this market having such problems rekindling the same spark of exhuberance that we saw over much of last year? Our article A 13th. Century Mathematician and the Current Rhythm of the DJIA outlines why we expected substantive resistance for the DJIA in the 11,541 region. That level was temporarily abrogated by several recent daily closes, but prices have since retreated once again well below it. We continue to think that on a macro-basis, this level is a region of major resistance.

But what about the other averages? The S&P average for one has also reached and failed to date at a level of natural Fibonacci resistance.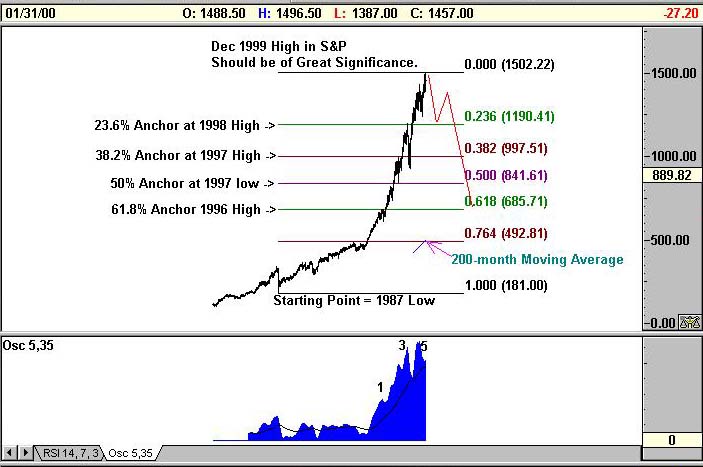 Note on the chart above the monthly rhythm of the S&P. Note as well that if one draws the Fibonacci retracement levels between the 1987 crash low and the most recent S&P high, these levels happen to perfectly demarcate the 1998 high, the 1997 high and low, and the 1996 high. The early 1994 high is just missed. There is no other price level nearby that would cause the Fibonacci retracement levels to so adroitly "hit" as many of the significant highs and lows of our advance to date. When we have seen this type of price behavior in other markets on other instances, it has always suggested that the high we are measuring to is a significant one that will not be easily overcome.
Note as well that the rally in the S&P since 1995 has been so extended that it has made many an Elliott wave analyst (including admittedly this one) label a final 5th. wave prematurely and incorrectly. Just when one thinks that a final 5th. wave high should be in place, the market has gone on to ever higher new highs. But on the monthly picture above, look at the behavior of the 5-month 35-month oscillator under the chart. Could the oscillator's wave count be more clear or more perfect? It shows clean upward waves 1,3, and 5, with the 3rd wave itself subdividing perfectly into five waves. If Elliott were alive today, he would be yelling quite loudly "sell." So too would Mr. Fibonacci standing on the other side of the pit.
We fully expect price behavior over time somewhat akin to the red line that we have penned in. Please treat your equity investments with extreme caution. People always forget that just as the capital markets can create extraordinary wealth, so too may the markets destroy wealth -- and they usually do so in a much quicker fashion than anyone ever anticipates.
Am I wrong about this? Please post your comments in the Sandspring.com chatroom.
Thank you for visiting Sand Spring Advisors LLC, Inc. We hope to hear from you again soon. For more information on Sand Spring Advisors actual programs, services, or to request a copy of a Disclosure Document, please phone us at 973 451 0016, FAX your request to 973-451-0016, or e-mail us at
The material located on this website is also the copyrighted work of Sand Spring Advisors LLC.  No party may copy, distribute or prepare derivative works based on this material in any manner without the expressed permission of Sand Spring Advisors LLC
This page and all contents are Copyright © 1999 by Sand Spring Advisors, LLC, Morristown, NJ