The Chart du Jour
Two Important Days, Qualcomm,
& Palladium/Gold
January 27, 2000
In Thursday trading S&P futures for a moment broke through the December low at 1389, before launching a late-day rebound of some magniture. Just two more trading days remain to January, but they are ever so important. If we were to close by Monday afternoon below 1389 basis the March S&P, then we will have achieved a true "key reversal" outside month down -- an extremely bearish omen. If we bounce back in these last two days of trading with any magnitude, then the jury will still be out. The market will have delivered a sharply disappointing first-month performance for the bulls, but not yet a fatal one. To tell the difference, one might want to keep a close eye on Qualcomm which now has left a pair of ugly gaps that demarcate a potential "island top." If we can go back and fill the latter of these gaps without inordinate delay, then the bull market survives. If we cannot, a price just below 92 would be the natural Fibonacci target here.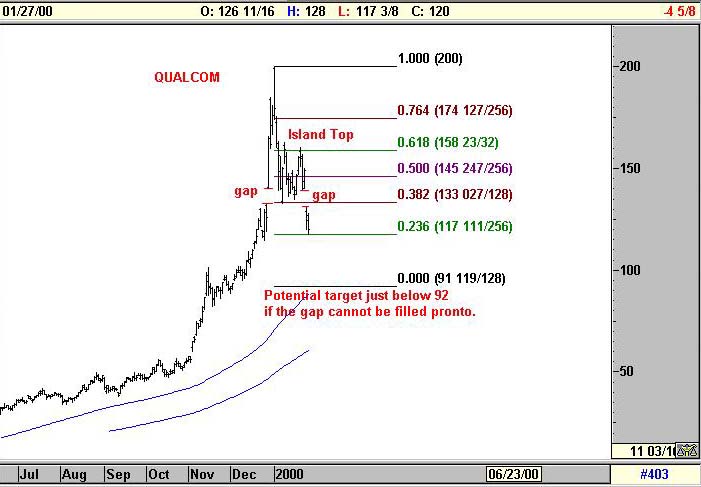 Meanwhile, what high tech stock is this pictured below? Surely it is a .com stock of some sort?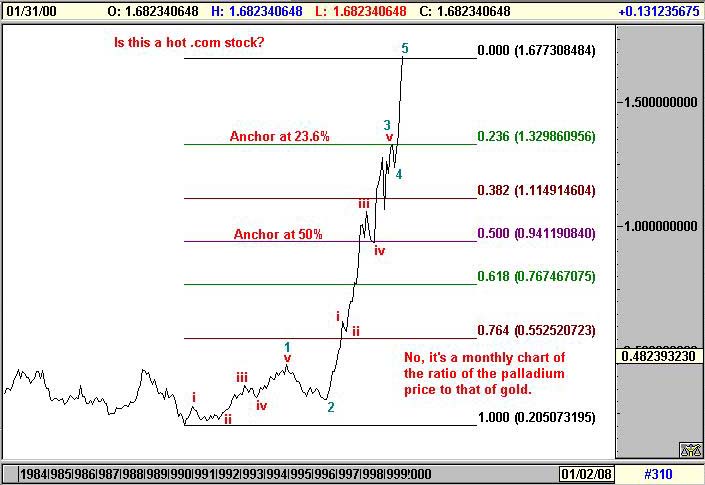 No, it is a picture of the ratio of palladium's price to that of gold. From a 1990 environment where palladium traded at approximately one-fifth gold's price, palladium has now reached a lofty enough level to be more than 1.68 times it. This is generally insane, and unsustainable longer term. With a six month perspective, either this stuff is way too high, or gold is way too low, or a bit of both.
Technically, note how nicely the Fibonacci 'anchors' now fit this ratio. And yet on the daily chart below of Palladium by itself, it would appear that the March Palladium contract could have a bit more room for a spike up to the $493-$508 region to complete a Wave 3 advance from the May 1998 low. We'll allow for such a spike in the short term, but longer term, palladium is a huge sale against gold at the current ratio. You simply need to be a little brave at heart for this one.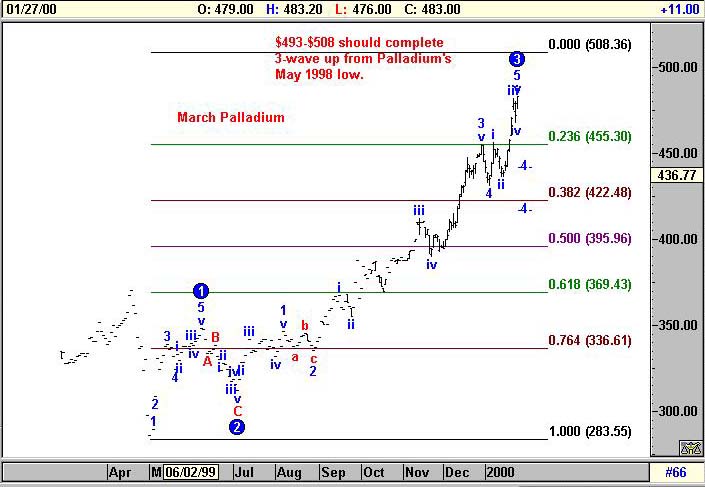 Am I wrong about this? Please post your comments in the Sandspring.com chatroom.
Thank you for visiting Sand Spring Advisors LLC, Inc. We hope to hear from you again soon. For more information on Sand Spring Advisors actual programs, services, or to request a copy of a Disclosure Document, please phone us at 973 829 1962, FAX your request to 973 829 1962, or e-mail us at
The material located on this website is also the copyrighted work of Sand Spring Advisors LLC.  No party may copy, distribute or prepare derivative works based on this material in any manner without the expressed permission of Sand Spring Advisors LLC
This page and all contents are Copyright © 1999 by Sand Spring Advisors, LLC, Morristown, NJ