The Chart du Jour
Target on Capitulation
February 7, 2001
By, Barclay T. Leib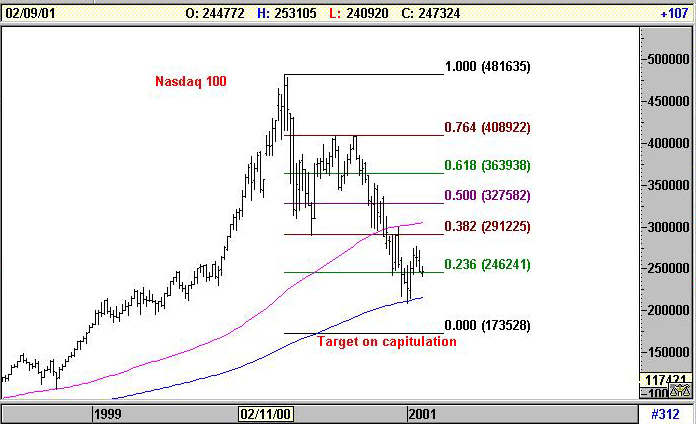 Chart constructed using Advanced GET End-of-Day
"Whereas deteriorating fundamentals has normally been the signal to sell stocks, the last few weeks has seen a bizarre pattern emerge. Most stocks are not going down after reporting earnings that are not simply worse than expected, but in some cases are much worse. Many companies, faced with the most difficult environment in the past 3 years, are also lowering earnings guidance for the next few quarters. And yet the stocks do not go down, and in some notable cases they've gone up dramatically as investors are willing to bet on the hope of an improved outlook in the second half of 2001."
So wrote one eloquent long-short fund manager to describe the market action in January. When stocks don't go down on bad news, sometimes that means something technically prescient and favorable is transpiring. But it can also mean that the market is in a stage of dangerous denial, hiding behind the false hope that two Fed rate cuts will somehow change the bearish environment.

But with consumer spending never having actually slowed down markedly, lower rates will likely cause little demand elasticity. The problem has not been with the consumer -- charge cards are still actively in hand. It has been with corporations that over-spent on investment, and over-borrowed to pay for it. As pointed out recently by Ray Dalio of the Bridgewater Group, what two rate cuts have already brought us (and will continue to bring us) is simply a renewed surge of corporate debt issuance to add to already leveraged balance sheets. The Fed may have offered business a momentary helping hand, but longer term, it is likely pushing on a stagflationary string.

So it is that we present above our Chart du Jour today as to where this market could head -- looking at the Nasdaq 100 Fibonacci price rhythm -- if denial of the fundamentals turns to investor capitulation. Recently the Nasdaq 100 has been stuck between its 200-day moving average support down near 2,300 and its 100-day moving average resistance just above 3,000. For all we know, it could stay bounded within this range for some time. But if there is a risk of any breakout at present, it is all to the downside.

Should the Nasdaq 100 fall to our anticipated low near 1735, George W. Bush will be facing the same recessionary quagmire his father faced back in 1990-1991. The only difference is that a decade of further massive debt build-up has transpired since the elder Bush reigned. It seems Bill Clinton will have gotten the Bush family both coming and going. How unfair life can be at times -- even to the well-intentioned.

For immediate web-based access to our latest subscriber-only January 21th analysis, please support Sand Spring Advisors and purchase a quarterly subscription below. Our latest work will be accessible on the final page of the order process. A user-id and password for web access to all past and future articles will follow by e-mail.
---
How Your Articles Are Delivered
Upon the processing of your credit card or the receipt of a personal check, Sand Spring will e-mail you the articles requested as a Word attachment, and also provide you with a WWW address and password to view the article on the web without using Word should you so desire. Confirmation of your order will be immediate, and the actual article will follow by e-mail typically within a few hours and in all cases before the opening of NYSE trading on the following day.
Ordering by Credit Card:
Our shopping cart is designed for both physical and subscription products, so do not be confused too much when it asks you for a shipping address. A correct address is important only for credit card authorization purposes. Your e-mail information is the most important piece of information to us for proper delivery of your article(s).
Disclosure Statement
Sand Spring Advisors provides information and analysis from sources and using methods it believes reliable, but cannot accept responsibility for any trading losses that may be incurred as a result of our analysis. Individuals should consult with their broker and personal financial advisors before engaging in any trading activities, and should always trade at a position size level well within their financial condition. Principals of Sand Spring Advisors may carry positions in securities or futures discussed, but as a matter of policy will always so disclose this if it is the case, and will specifically not trade in any described security or futures for a period 5 business days prior to or subsequent to a commentary being released on a given security or futures.
---
If you order by credit card, your credit card will be billed as "Sand Spring Advisors LLC"
Should you have any ordering problems, please contact us at
973-829-1962 or by email at the address below:

information@Sandspring.com
---
Take me back to the Sand Spring Home Page
---
Comments or Problems
---
Thank you for visiting Sand Spring Advisors LLC, Inc. We hope to hear from you again soon. For more information on Sand Spring Advisors actual programs, services, or to request a copy of a Disclosure Document, please phone us at 973 829 1962, FAX your request to 973 829 1962, or e-mail us at information@Sandspring.com
Corporate Office:
10 Jenks Road,
Morristown, NJ 07960
Phone: 973 829 1962
Facsimile: 973 829 1962
Best Experienced with



Click here to start.
The material located on this website is also the copyrighted work of Sand Spring Advisors LLC. No party may copy, distribute or prepare derivative works based on this material in any manner without the expressed permission of Sand Spring Advisors LLC
This page and all contents are Copyright © 2000 by Sand Spring Advisors, LLC, Morristown, NJ