The Chart du Jour
Approaching Long-Standing British Pound Target
June 7, 2001
By, Barclay T. Leib
From time to time, readers will write in to us and query what we think of the overall surprising strength of the U.S. dollar. Certainly, with a huge merchandise trade deficit and Greenspan now aggressively lowering rates, few economists have gotten the dollar strength right in their market calls.
At Sandspring.com, we have periodically put out long-term charts suggesting that the Fibonacci rhythm of USD/JPY will eventually take it to 167.50. But our vision of the path there suggests that this move will come from reflationary policies in Japan that debase their domestic currency over time, rather than from U.S. economic strength. From a shorter term trading perspective, we turned bullish near 116.50, but spotted short term resistence levels at 122.50 as well as up 127.35 where we advised taking profits. We're now flat and see nothing immediately brewing here.
In the euro, we turned short term bullish a bit prematurely in September of last year, got a bounce thereafter, but certainly only a minimum bounce. We are now quickly dribbling back toward last September's lows. From a long term perspective, we see two important Fibonacci levels in the chart below: 1.1152 and .7735 -- but we are not exactly near neither. The euro is relatively low, but certainly not low enough to represent a good risk-reward trading opportunity. The best we can advise for the euro is to stand aside.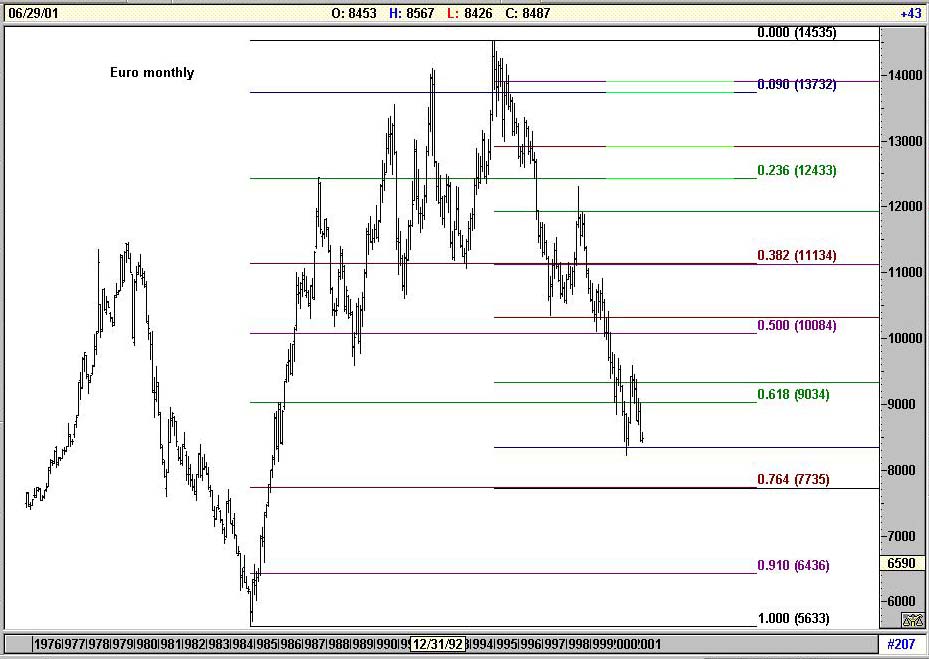 And then we come to the pound pictured at the top of this page. Almost from the inception of Sandspring.com, we have been bearish on the pound -- even when its chart pattern appeared largely as random chop back in the mid-1.60's in January 2000. We reiterated our bearishness later on in July 2000 when a more clear impulsive decline had begun. In our subscriber-only piece "Four Themes for 2001 and Beyond" written this March, we updated our bearish thoughts with the chart above, pointing to an unfinished Fibonacci objective at approximately 1.3611.
With the markets apparently un-enamored with another term for Tony Blair and a non-decisive euro policy, we are now quickly approaching that target. Once we get there, it may be hard to tell whether, on an Elliott basis, we will be ending a 3-wave (as labeled above) or a 5th-wave of a fully completed move (as some of our prior wave counts might have suggested). But in either case, it will present a buying opportunity.
And when might such a pound low occur? Strange as it may sound, I have seen the currency markets often reach and reverse off of extreme targets near solar and lunar eclipses. June 21st represents a solar eclipse directly on the summer soltice. We wouldn't bet on much pound weakness beyond that date presuming 1.3611 gets reached between now and then.
---
Non-subscribers are invited to sign up for a quarterly subscription below. Sand Spring's latest "pattern match" thoughts of the June 1 Chart du Jour, plus our May 28th analysis "The Importance of June 2nd," as well as our May 5th article "Expert Short Picks," will all be accessible via an immediate e-mail. A user-id and password for web access to all past and future articles will then follow by a separate e-mail.

It may also be of interest to some that because so much time (and thus timeliness) has now transpired, we recently released three of our 2000 subscriber-only articles. These now appear under the public Earlier Articles section of the website. Perusing through them may give one a sense of the added premium level of analysis we provide to subscribers.
---
How Your Articles Are Delivered
Upon the processing of your credit card or the receipt of a personal check, Sand Spring will e-mail you the articles requested as a Word attachment, and also provide you with a WWW address and password to view the article on the web without using Word should you so desire. Confirmation of your order will be immediate, and the actual article will follow by e-mail typically within a few hours and in all cases before the opening of NYSE trading on the following day.
Ordering by Credit Card:
Our shopping cart is designed for both physical and subscription products, so do not be confused too much when it asks you for a shipping address. A correct address is important only for credit card authorization purposes. Your e-mail information is the most important piece of information to us for proper delivery of your article(s).
Disclosure Statement
Sand Spring Advisors provides information and analysis from sources and using methods it believes reliable, but cannot accept responsibility for any trading losses that may be incurred as a result of our analysis. Individuals should consult with their broker and personal financial advisors before engaging in any trading activities, and should always trade at a position size level well within their financial condition. Principals of Sand Spring Advisors may carry positions in securities or futures discussed, but as a matter of policy will always so disclose this if it is the case, and will specifically not trade in any described security or futures for a period 5 business days prior to or subsequent to a commentary being released on a given security or futures.
---
If you order by credit card, your credit card will be billed as "Sand Spring Advisors LLC"
Should you have any ordering problems, please contact us at
973-829-1962 or by email at the address below:

information@Sandspring.com
---
Take me back to the Sand Spring Home Page
---
Comments or Problems
---
Thank you for visiting Sand Spring Advisors LLC, Inc. We hope to hear from you again soon. For more information on Sand Spring Advisors actual programs, services, or to request a copy of a Disclosure Document, please phone us at 973 829 1962, FAX your request to 973 829 1962, or e-mail us at information@Sandspring.com
Corporate Office:
10 Jenks Road,
Morristown, NJ 07960
Phone: 973 829 1962
Facsimile: 973 829 1962
Best Experienced with



Click here to start.
The material located on this website is also the copyrighted work of Sand Spring Advisors LLC. No party may copy, distribute or prepare derivative works based on this material in any manner without the expressed permission of Sand Spring Advisors LLC
This page and all contents are Copyright © 2000 by Sand Spring Advisors, LLC, Morristown, NJ