The Chart du Jour
Microsoft and the Justice Dept.
June 10, 2001
By, Barclay T. Leib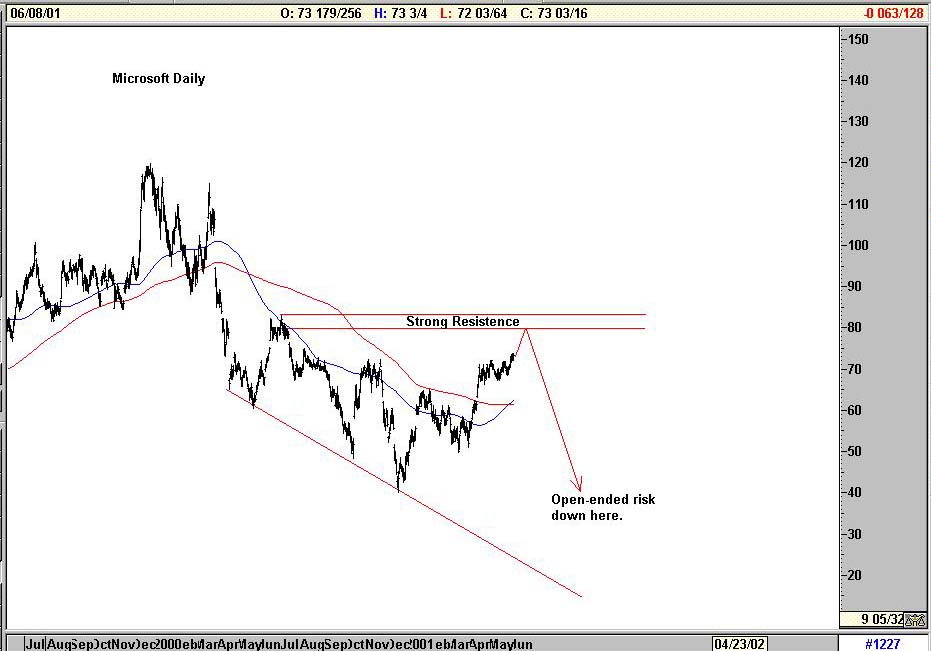 Chart produced using Advanced GET End-of-Day
First, a note: financial stocks truly started to come undone last week. This is a trend that is just beginning and will persist. Name it, and Wall Street is being hit with it: Low IPO and debt issuance, lower fixed income dealing spreads, more e-commerce competition and transparency in market-making, equity decimal trading, declining derivatives volumes due to new FAS-133 accounting rules, and investment portfolios full of left over dot.com and telecom toxic waste. In no uncertain terms, these are all factors serving to kill profitability on Wall Street. A few analysts finally came to this conclusion last week when they belatedly downgraded earnings estimates for J.P. Morgan. More troubles will follow.
That said, let us turn our attention to Microsoft, a stock we have generally been more friendly too than most tech bellweathers. We actually advised back on March 7th that MSFT was potentially overdue for a bounce, and certainly far better value than its Seattle brethren Starbucks (that at 83 times earnings back then was an obvious piece of coffee-house fluff).
We have since had that MSFT bounce, but many in the market are currently afraid to go short MSFT, presuming a Bush-inspired Justice Department will shortly rescind all the ugly break-up threats of the Clinton years.
But technically when we look at Microsoft, we now see a stock that at best might rally up to about $80 from $73, and if a friendly announcement is not forthcoming, could fall apart once again. The $80-81 region represents not only a prior high of some importance, but it is also a region where various extrapolated Fibonacci bands on the daily chart (not drawn) fit reasonably well. We are concerned enough with the entire market that we would not want to actually go long MSFT here betting it will reach $80, but we would be happy to go short a bit of the stock should this potential resistence zone be reached (on whatever news). We would also consider buying a few longer-dated puts on MSFT right here, and not be too concerned if the position goes against us in the short term.
Fundamentally, Bush has been getting lambasted by the press in recent months on being too pro-business with regard to environmental issues. Now he has lost his Senate majority. Is he really going to use up more political capital by leaning on the Justice Department to be nice to Bill Gates? We don't think he'll push that hard. It's simply not something that he needs to get caught up in at this time as he tries to re-tool America's more pressing energy problems into the summer months.
Part of our thought process also revolves around the typical structure of bear market rallies that constantly lure people to chase false upside breakouts. For comparison, the chart below shows the DJIA between 1969-1970. Could Microsoft be somewhere equivalent on an analog basis to the area we have marked with a red arrow? We think it might.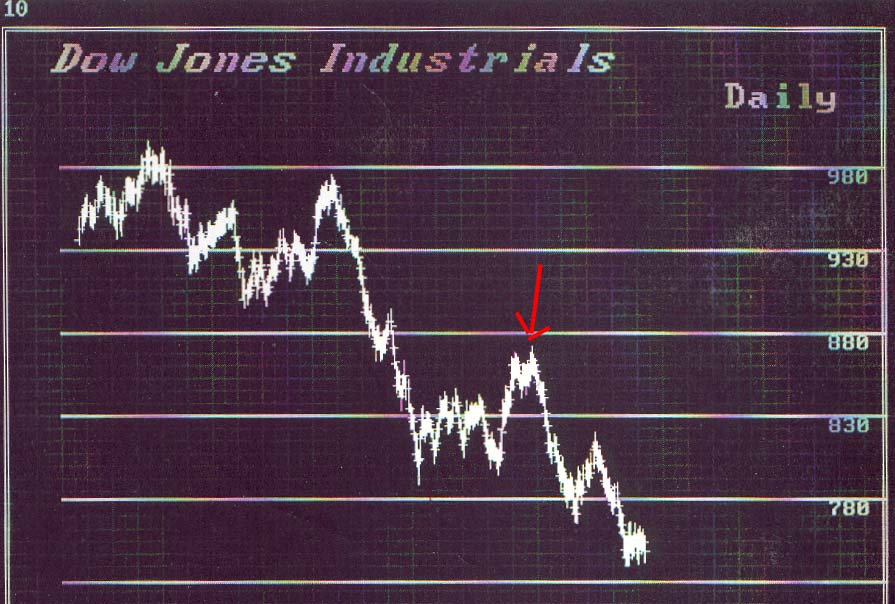 Lastly, readers and new subscribers are asked to grant us a bit of slack this week. We will be travelling from Monday to Friday, and may or may not have the opportunity to update this site as much as we regularly do. Subscription requests will get filled, and instant access to recent subscriber-only articles is still available, but our confirming e-mail with password details may dally. Our apologies in advance.
---
Non-subscribers are invited to sign up for a quarterly subscription below. Sand Spring's latest "pattern match" thoughts of the June 1 Chart du Jour, plus our May 28th analysis "The Importance of June 2nd," as well as our May 5th article "Expert Short Picks," will all be accessible via an immediate e-mail. A user-id and password for web access to all past and future articles will then follow by a separate e-mail.

It may also be of interest to some that because so much time (and thus timeliness) has now transpired, we recently released three of our 2000 subscriber-only articles. These now appear under the public Earlier Articles section of the website. Perusing through them may give one a sense of the added premium level of analysis we provide to subscribers.
---
How Your Articles Are Delivered
Upon the processing of your credit card or the receipt of a personal check, Sand Spring will e-mail you the articles requested as a Word attachment, and also provide you with a WWW address and password to view the article on the web without using Word should you so desire. Confirmation of your order will be immediate, and the actual article will follow by e-mail typically within a few hours and in all cases before the opening of NYSE trading on the following day.
Ordering by Credit Card:
Our shopping cart is designed for both physical and subscription products, so do not be confused too much when it asks you for a shipping address. A correct address is important only for credit card authorization purposes. Your e-mail information is the most important piece of information to us for proper delivery of your article(s).
Disclosure Statement
Sand Spring Advisors provides information and analysis from sources and using methods it believes reliable, but cannot accept responsibility for any trading losses that may be incurred as a result of our analysis. Individuals should consult with their broker and personal financial advisors before engaging in any trading activities, and should always trade at a position size level well within their financial condition. Principals of Sand Spring Advisors may carry positions in securities or futures discussed, but as a matter of policy will always so disclose this if it is the case, and will specifically not trade in any described security or futures for a period 5 business days prior to or subsequent to a commentary being released on a given security or futures.
---
If you order by credit card, your credit card will be billed as "Sand Spring Advisors LLC"
Should you have any ordering problems, please contact us at
973-829-1962 or by email at the address below:

information@Sandspring.com
---
Take me back to the Sand Spring Home Page
---
Comments or Problems
---
Thank you for visiting Sand Spring Advisors LLC, Inc. We hope to hear from you again soon. For more information on Sand Spring Advisors actual programs, services, or to request a copy of a Disclosure Document, please phone us at 973 829 1962, FAX your request to 973 829 1962, or e-mail us at information@Sandspring.com
Corporate Office:
10 Jenks Road,
Morristown, NJ 07960
Phone: 973 829 1962
Facsimile: 973 829 1962
Best Experienced with



Click here to start.
The material located on this website is also the copyrighted work of Sand Spring Advisors LLC. No party may copy, distribute or prepare derivative works based on this material in any manner without the expressed permission of Sand Spring Advisors LLC
This page and all contents are Copyright © 2000 by Sand Spring Advisors, LLC, Morristown, NJ