The Chart du Jour
Summer Solstice into Summer Storm?
June 22, 2001
By, Barclay T. Leib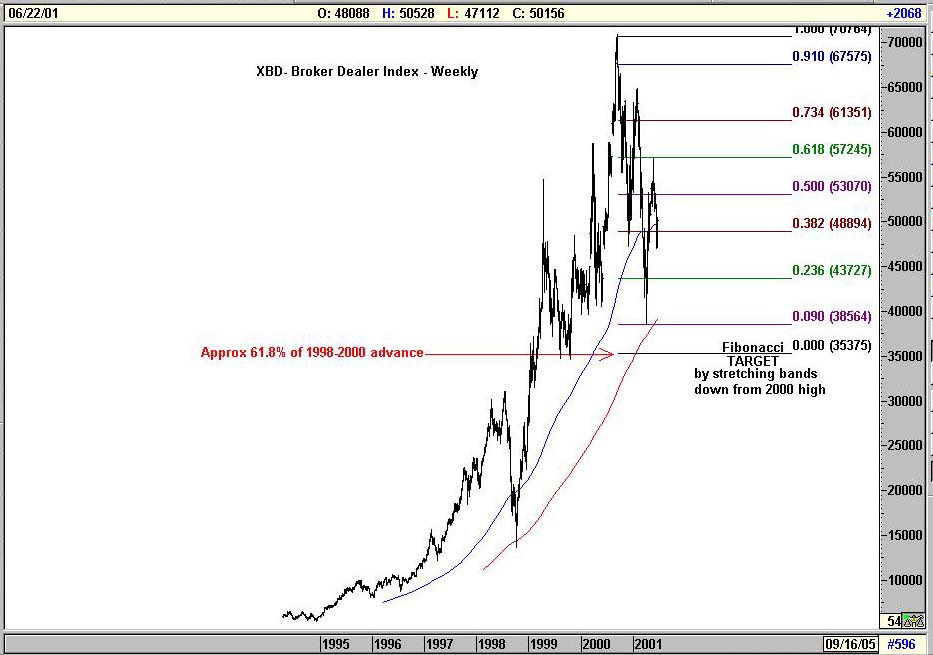 Chart produced using Advanced GET End-of-Day>
We were relatively quiet this week, not producing much content here at Sandspring.com. It wasn't that we weren't paying close attention - we were. It's just that we did not see any new definitive technical evidence either significantly bullish or bearish to comment on. Indeed, by Friday, the major averages were all shades of flat vis a vis last Friday, even with a great deal of trading noise in between.
One thing that did cause us a bit of angst this past week was when several of the financial sector stocks jumped higher. This was led first by Lehman Brothers on an earnings release, and then fueled by the Washington Post that wrote of Fed Governors' concern that recent rate cuts had not had much effect on the economy. Ergo, people came to believe that the Fed must cut rates more, and hence we saw the pavlonian reaction by many to buy the financials.
We're sorry, though, but we just don't think the last part of that equation will be an obvious outcome of further Fed rate cuts. Are brokerage stocks really that great of a business to be worth twice what they were in 1998 (see chart above)? Ask almost any person in Morgan Stanley's trading room and they will tell you that their underwriting business is poor, the competition from e-commerce websites (such as TradeWeb in bonds or Currenex in FX) is starting to impinge upon their traditional trading room dealing margins, and their in-house portfolio is chock full of stale deals left over from better days. They will also tell you without hesitation that their stock is a sale.
So it is that we remain bears for the summer. We envision June to end as a relatively small range month on the major indices, but with a low close. This month's low close will then likely slip into a more nasty problem to the downside all the way into mid-November.
On the Broker-dealer index chart above, we see 3537 as a very possible level to reach. The extrapolated Fibonacci bands pulled down from the Year 2000 XBD high fit well there, and this level would also represent an approximate 61.8% retracement of the 1998-2000 advance.
Although we have been harping on the financial sector for sometime now, it is also important to note that when we look at the chart of the Dow Jones Transporation Average below, we see definite weakness building in this pattern as well. Basis our Fibonacci extrapolation technique, 2111 looks like the target here. It's not a good time to be an airline looking for added summer travelers and business class fares.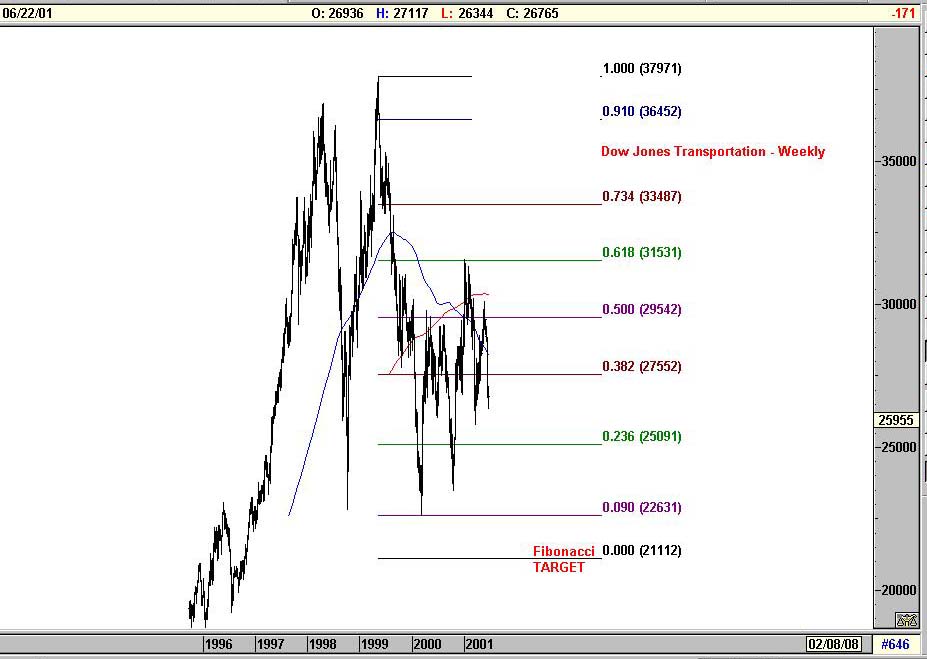 Chart produced using Advanced GET End-of-Day>
---
Non-subscribers are invited to sign up for a quarterly subscription below. Sand Spring's latest "pattern match" thoughts of the June 1 Chart du Jour, plus our May 28th analysis "The Importance of June 2nd," as well as our May 5th article "Expert Short Picks," will all be accessible via an immediate e-mail. A user-id and password for web access to all past and future articles will then follow by a separate e-mail.
---
How Your Articles Are Delivered
Upon the processing of your credit card or the receipt of a personal check, Sand Spring will e-mail you the articles requested as a Word attachment, and also provide you with a WWW address and password to view the article on the web without using Word should you so desire. Confirmation of your order will be immediate, and the actual article will follow by e-mail typically within a few hours and in all cases before the opening of NYSE trading on the following day.
Ordering by Credit Card:
Our shopping cart is designed for both physical and subscription products, so do not be confused too much when it asks you for a shipping address. A correct address is important only for credit card authorization purposes. Your e-mail information is the most important piece of information to us for proper delivery of your article(s).
Disclosure Statement
Sand Spring Advisors provides information and analysis from sources and using methods it believes reliable, but cannot accept responsibility for any trading losses that may be incurred as a result of our analysis. Individuals should consult with their broker and personal financial advisors before engaging in any trading activities, and should always trade at a position size level well within their financial condition. Principals of Sand Spring Advisors may carry positions in securities or futures discussed, but as a matter of policy will always so disclose this if it is the case, and will specifically not trade in any described security or futures for a period 5 business days prior to or subsequent to a commentary being released on a given security or futures.
---
If you order by credit card, your credit card will be billed as "Sand Spring Advisors LLC"
Should you have any ordering problems, please contact us at
973-829-1962 or by email at the address below:

information@Sandspring.com
---
Take me back to the Sand Spring Home Page
---
Comments or Problems
---
Thank you for visiting Sand Spring Advisors LLC, Inc. We hope to hear from you again soon. For more information on Sand Spring Advisors actual programs, services, or to request a copy of a Disclosure Document, please phone us at 973 829 1962, FAX your request to 973 829 1962, or e-mail us at information@Sandspring.com
Corporate Office:
10 Jenks Road,
Morristown, NJ 07960
Phone: 973 829 1962
Facsimile: 973 829 1962
Best Experienced with



Click here to start.
The material located on this website is also the copyrighted work of Sand Spring Advisors LLC. No party may copy, distribute or prepare derivative works based on this material in any manner without the expressed permission of Sand Spring Advisors LLC
This page and all contents are Copyright © 2000 by Sand Spring Advisors, LLC, Morristown, NJ