The Chart du Jour
Dornbusch Dum-Dum
August 29, 2001
By, Barclay T. Leib
On Tuesday, London's Financial Times ran a rather long "World Article" written by professor Roger Dornbusch of MIT. In it, Dornbusch more or less argues that gold has been redundant since England slipped off the gold peg in the 1930's. He goes on to further argue that those countries that followed Britain off the peg sooner rather than later, "fared better than those who hung on."
To professor Dornbusch we say poppycock. As at least one major omission, Dornbusch forgets to mention that because the U.S. remained on the central bank gold standard until 1971, money poured into our currency as the reserve currency of the world. This certainly fueled America's growth far more than would have been the case if Bretton Woods had seen us step off the gold standard at an earlier time.
Moreover, Dr. Dornbusch fails to point out that coming into the Great Depression, it was Britain's failed attempt to keep the pound artificially high, and its gentle request that the U.S. lower interest rates to make the pound look more attractive that largely caused the huge late 1920s bubble to develop in global equity markets. This led, at least in part, to the October 1929 Crash and subsequent Depression.
In addition, to say that Britain was correct to abandon its gold peg in the early 1930's fails to point out that this action (whether correct or not at that instant in time), together with poor monetary restraint in subsequent years, slowly led the British pound to become the weakest G-5 currency since that date, with repeated bouts of high British inflation, and often the highest interest rates among G-5 nations. British earnings, savings, and global purchasing power have all steadily been eroded over the years relative to its foreign brethren.
And Dornbusch's praise for modern day politicians ability to "self-regulate" their currencies and spending habits via "prudent" monetary policy -- All this crap very honestly made me want to barf. Has Dornbusch taken a look outside his Ivory Tower lately? -- at conditions in Brazil, Argentina, Japan, and the growing problems in Europe and the U.S.? Dornbusch clearly mistakes a long wave of economic good times (courtesy of cheap money and a chance concomitant downdraft in commodity prices), for political savvy and brains. We'll soon see how truly nimble and prudent politicans are with monetary policy now that tougher time are upon us.
As over-leverage in credit card borrowing hits smack up against job layoffs and company credit downgrades, someone should tell Mr. Dornbusch that he forgot one key point: Gold is one of the few assets that one can buy in the world without accepting someone else's liability. Dornbusch should think about that a bit rather than frothing at the mouth about prudent politicians firmly in control of the global economy.
Elsewhere, Dornbusch glosses over and almost recreates long tracts of history, leading the neophyte reader to believe that gold rallied in 1980 because President Ronald Reagan liberalized the holding rules on gold for private individuals and appointed a gold commission to examine the role of gold in our nation's monetary policy. Did Dornbusch just forget the rampant stagflation of the late 1970's led by government deficit spending? I presume the fact that short term interest rates had reached 18% in the States and crude oil had vaulted above $45 just escaped his selectionist memory.
In our estimation, the only thing that Dornbusch's article is likely to end up marking is not the death of gold, but viewed in a contrarian fashion, the beginning of its comeback. On the chart below, we see at least the possibility for the end of a 2-wave within a I-II-1-2 step ladder advance, presaging the commencement of a Wave 3 rally shortly. Basis this October Comex chart, we can even stretch our Fibonacci bands higher than we have before - up to an extrapolated high closer to $342 as opposed to our previously espoused $304 target basis spot gold.
Yes, Mr. Dornbusch, your public bashing of gold at this time -- using shoddy and shallow historical arguments -- has made us even more bullish than we were before.
Now it's up to the markets to prove one of us right.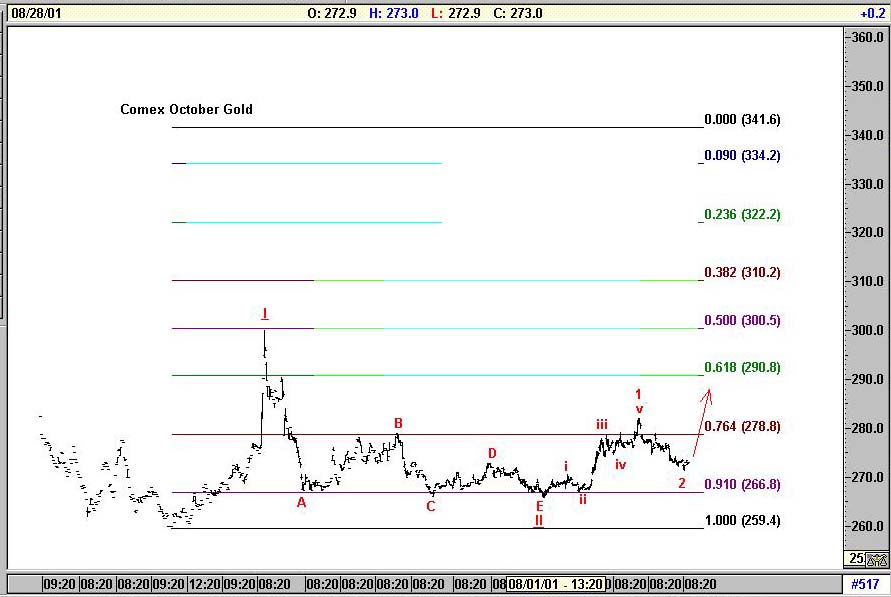 Chart produced using Advanced GET End-of-Day
---
Non-subscribers are invited to sign up for a quarterly subscription below. Sand Spring's latest thoughts will all be accessible via an immediate e-mail. A user-id and password for web access to all past and future articles will then follow by a separate e-mail.
---
How Your Articles Are Delivered
Upon the processing of your credit card or the receipt of a personal check, Sand Spring will e-mail you the articles requested as a Word attachment, and also provide you with a WWW address and password to view the article on the web without using Word should you so desire. Confirmation of your order will be immediate, and the actual article will follow by e-mail typically within a few hours and in all cases before the opening of NYSE trading on the following day.
Ordering by Credit Card:
Our shopping cart is designed for both physical and subscription products, so do not be confused too much when it asks you for a shipping address. A correct address is important only for credit card authorization purposes. Your e-mail information is the most important piece of information to us for proper delivery of your article(s).
Disclosure Statement
Sand Spring Advisors provides information and analysis from sources and using methods it believes reliable, but cannot accept responsibility for any trading losses that may be incurred as a result of our analysis. Individuals should consult with their broker and personal financial advisors before engaging in any trading activities, and should always trade at a position size level well within their financial condition. Principals of Sand Spring Advisors may carry positions in securities or futures discussed, but as a matter of policy will always so disclose this if it is the case, and will specifically not trade in any described security or futures for a period 5 business days prior to or subsequent to a commentary being released on a given security or futures.
---
If you order by credit card, your credit card will be billed as "Sand Spring Advisors LLC"
Should you have any ordering problems, please contact us at
973-829-1962 or by email at the address below:

information@Sandspring.com
---
Take me back to the Sand Spring Home Page
---
Comments or Problems
---
Thank you for visiting Sand Spring Advisors LLC, Inc. We hope to hear from you again soon. For more information on Sand Spring Advisors actual programs, services, or to request a copy of a Disclosure Document, please phone us at 973 829 1962, FAX your request to 973 829 1962, or e-mail us at information@Sandspring.com
Corporate Office:
10 Jenks Road,
Morristown, NJ 07960
Phone: 973 829 1962
Facsimile: 973 829 1962
Best Experienced with



Click here to start.
The material located on this website is also the copyrighted work of Sand Spring Advisors LLC. No party may copy, distribute or prepare derivative works based on this material in any manner without the expressed permission of Sand Spring Advisors LLC
This page and all contents are Copyright © 2000 by Sand Spring Advisors, LLC, Morristown, NJ