The Chart du Jour
Ugliness
September 7, 2001
By, Barclay T. Leib
Many people have written into us over the past few days with a mixed tone. On one note, they congratulate us for having so adroitly predicted the meltdown in certain financial stocks such as Providian, Capital One, J.P. Morgan, and GE. On another note, they berate us for not giving more active updates as Armageddon overtakes Wall Street.
On this latter point, it is important for us to respond, and we do so in a two-fold manner. First, if subscribers to Sandspring.com will refer back to our early May article, "Expert Short Picks," we did indeed offer a potential downside target in that article for the Nasdaq Composite to evetually reach, and we still hold that target firmly in our mind. Second, subscribers have also been armed with a very specific cycle date to potentially look for a momentum low in the market to form. We did this in our late May article "The Importance of June 2nd" and our August article "Long-Term Equity, Gold, and K-Wave Cycle Thoughts."
At the current juncture, we feel it is too late in the move to actively whoop and yell that a crash is at hand -- even though it might be. Crashes are low probability events to go around actively prognosticating, and I will not do so this late in the move. Indeed, one stock we have been bearish on since the spring and last commented on back in July, Providian, is almost at our first Fibonacci target objective as updated below. On a touch of $24.45, and on a short term trading basis, we'd even suggest covering shorts on this one for now -- but do not go long. Other financial stocks still look like they have further to go.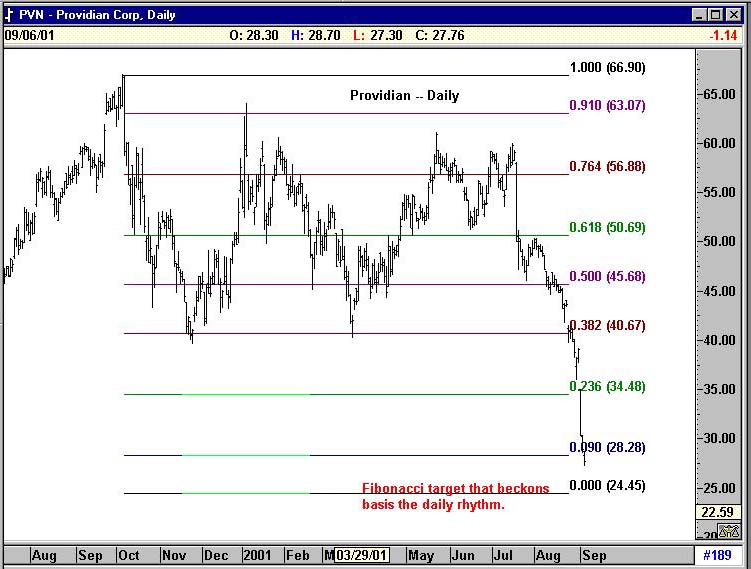 Chart produced using Advanced GET End-of-Day
Yet it also is clearly too early to start buying or even looking for a trading bottom. Our cycle date analysis tells us that. Indeed, we still see the latter half of September to be a very difficult and traumatic one for many stocks before the latter parts of the autumn potentially brings stabilization and the early parts of 2002 finally bring more lasting relief.
How difficult the rest of September and early October will be is likely very sector and security specific. After all, with stocks like ATHM and RCN already at .34 cents and $2 respectively, how much worse can those securities get? Bankruptcy is the obvious answer. Granted, EPS valuation levels are still way too high elsewhere in stocks like Cisco and Intel, but we cannot advocate actively shorting these beaten-up titans right now. It's simply too late in the move for my jurisprudence to tell people to panic on these securities now. If I were to look at one specific index chart and continue to lean on the short side, both the SOX or Broker-Dealer Index still look to be vulnerable over the short term in our mind.
So please forgive us for being a bit quiet, but we see ourselves in a period where it is largely too late to beat the drum on the short side -- we already have done enough of that, and if that message never got through, Tant Pis as the French would say. And yet, it's still too early to beat the drum on the long side.
We also feel that we need to differentiate our daily free commentary from our monthly paying commentary. Subscribers have been fully armed with all of the analysis of our technical arsenol -- Fibonacci, Elliott, and cycle work included. Non-subscribers get a glimpse. Since Sandspring.com is a work of passion on my part (as I primarily make a living running an alternative investment product), non-subscribers shouldn't seek or expect daily commentary.
Subscribers meanwhile need to realize that I will communicate with them when as I see changes in the overall picture, but not for the sake of holding their hand on a day-to-day basis. When I don't have much more to say that is new or different from what has come before, I will say very little. Already this page is filled with far too many words, but for subscribers, a new monthly update due out shortly will indeed hold more substance.
---
Non-subscribers are invited to sign up for a quarterly subscription below. Sand Spring's latest thoughts will all be accessible via an immediate e-mail. A user-id and password for web access to all past and future articles will then follow by a separate e-mail.
---
How Your Articles Are Delivered
Upon the processing of your credit card or the receipt of a personal check, Sand Spring will e-mail you the articles requested as a Word attachment, and also provide you with a WWW address and password to view the article on the web without using Word should you so desire. Confirmation of your order will be immediate, and the actual article will follow by e-mail typically within a few hours and in all cases before the opening of NYSE trading on the following day.
Ordering by Credit Card:
Our shopping cart is designed for both physical and subscription products, so do not be confused too much when it asks you for a shipping address. A correct address is important only for credit card authorization purposes. Your e-mail information is the most important piece of information to us for proper delivery of your article(s).
Disclosure Statement
Sand Spring Advisors provides information and analysis from sources and using methods it believes reliable, but cannot accept responsibility for any trading losses that may be incurred as a result of our analysis. Individuals should consult with their broker and personal financial advisors before engaging in any trading activities, and should always trade at a position size level well within their financial condition. Principals of Sand Spring Advisors may carry positions in securities or futures discussed, but as a matter of policy will always so disclose this if it is the case, and will specifically not trade in any described security or futures for a period 5 business days prior to or subsequent to a commentary being released on a given security or futures.
---
If you order by credit card, your credit card will be billed as "Sand Spring Advisors LLC"
Should you have any ordering problems, please contact us at
973-829-1962 or by email at the address below:

information@Sandspring.com
---
Take me back to the Sand Spring Home Page
---
Comments or Problems
---
Thank you for visiting Sand Spring Advisors LLC, Inc. We hope to hear from you again soon. For more information on Sand Spring Advisors actual programs, services, or to request a copy of a Disclosure Document, please phone us at 973 829 1962, FAX your request to 973 829 1962, or e-mail us at information@Sandspring.com
Corporate Office:
10 Jenks Road,
Morristown, NJ 07960
Phone: 973 829 1962
Facsimile: 973 829 1962
Best Experienced with



Click here to start.
The material located on this website is also the copyrighted work of Sand Spring Advisors LLC. No party may copy, distribute or prepare derivative works based on this material in any manner without the expressed permission of Sand Spring Advisors LLC
This page and all contents are Copyright © 2000 by Sand Spring Advisors, LLC, Morristown, NJ