The Chart du Jour
Best Guess on GE
September 26, 2001
By, Barclay T. Leib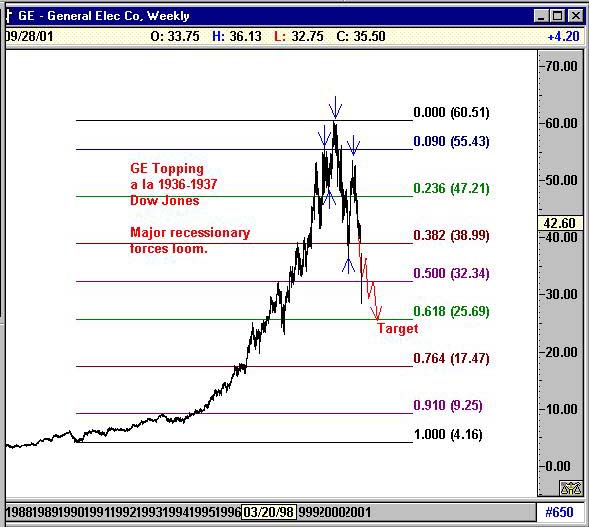 Chart produced using Advanced GET End-of-Day
Back in early June, we posted a small contest on Sandspring.com to identify a prior no-name chart pattern. After a flurry of answers, we ended up with two winners who both correctly guessed the 1936-37 Dow Jones. For subscribers, we also compared this chart pattern to one then being sported by a major Dow stock -- General Electric.
With General Electric having plunged to a $28.50 low last Friday, we thought we'd now let non-subscribers see what we had originally prognosticated when GE was above $50.
No, our espoused $25.69 target has yet to be reached, but having recently come reasonably close to it, we'd also like to share our buest guess on G.E. from here.
First, it is important to look back at the 1936-37 Dow chart on our original analysis. See how on its decline, the market makes three small thrusts to its ultimate low? These are divided by two minor reaction rally attempts.
Within a broader market that should now slop and chop for a considerable period of time within a messy range, G.E. likely just experienced its first "bounce period." Another thrust lower, small bounce, and then a final thrust down should follow. This could all take several months -- perhaps lasting all the way until February 2002. With time, our original $25.69 may still be reached, or it may not.
Our point is not to suggest shorting GE here as a "position trade" anymore. It's a bit late for that given how close in dollar terms our ultimate price target became last week. With over 80% of our previously anticipated decline achieved when this stock touched $28.50, those still short GE from far higher levels might even want to use dips to book out profits and go on to other situations. But we certainly wouldn't establish a buy-and-hold long position in GE either -- at least not yet. Those final two thrusts down will likely still take quite a bit of time to grind through, even if the absolute magnitude of the decline will not be that large.
Instead, we'd look at GE to be a range trading situation with a mild negative bias -- good for the "bop and weave" day-traders among us.
For those that always want a bit of absolute protection, we also think the January 30 puts priced at $1.35 might be interesting to purchase on the current bounce and then actively trade stock against over time -- buying GE on significant dips, knowing the put is there to always protect from a real crash; and then reselling the stock on rallies. Or maybe one should just consider buying these low-premium puts here, with a view to kicking them out on a retest of the recent low (which should likely come at some point). If GE never goes down below $30 again (to allow for a significant counter-trade stock purchase or option re-sell), an investor following this advice would only be out the $1.35 premium -- certainly not the end of the world.
This is just a limited risk suggestion to potentially catch the very tail end of this move -- if we haven't completely seen it already.
---
Non-subscribers are invited to sign up for a quarterly subscription below. Sand Spring's latest thoughts will all be accessible via an immediate e-mail. A user-id and password for web access to all past and future articles will then follow by a separate e-mail.
---
How Your Articles Are Delivered
Upon the processing of your credit card or the receipt of a personal check, Sand Spring will e-mail you the articles requested as a Word attachment, and also provide you with a WWW address and password to view the article on the web without using Word should you so desire. Confirmation of your order will be immediate, and the actual article will follow by e-mail typically within a few hours and in all cases before the opening of NYSE trading on the following day.
Ordering by Credit Card:
Our shopping cart is designed for both physical and subscription products, so do not be confused too much when it asks you for a shipping address. A correct address is important only for credit card authorization purposes. Your e-mail information is the most important piece of information to us for proper delivery of your article(s).
Disclosure Statement
Sand Spring Advisors provides information and analysis from sources and using methods it believes reliable, but cannot accept responsibility for any trading losses that may be incurred as a result of our analysis. Individuals should consult with their broker and personal financial advisors before engaging in any trading activities, and should always trade at a position size level well within their financial condition. Principals of Sand Spring Advisors may carry positions in securities or futures discussed, but as a matter of policy will always so disclose this if it is the case, and will specifically not trade in any described security or futures for a period 5 business days prior to or subsequent to a commentary being released on a given security or futures.
---
If you order by credit card, your credit card will be billed as "Sand Spring Advisors LLC"
Should you have any ordering problems, please contact us at
973-829-1962 or by email at the address below:

information@Sandspring.com
---
Take me back to the Sand Spring Home Page
---
Comments or Problems
---
Thank you for visiting Sand Spring Advisors LLC, Inc. We hope to hear from you again soon. For more information on Sand Spring Advisors actual programs, services, or to request a copy of a Disclosure Document, please phone us at 973 829 1962, FAX your request to 973 829 1962, or e-mail us at information@Sandspring.com
Corporate Office:
10 Jenks Road,
Morristown, NJ 07960
Phone: 973 829 1962
Facsimile: 973 829 1962
Best Experienced with



Click here to start.
The material located on this website is also the copyrighted work of Sand Spring Advisors LLC. No party may copy, distribute or prepare derivative works based on this material in any manner without the expressed permission of Sand Spring Advisors LLC
This page and all contents are Copyright © 2000 by Sand Spring Advisors, LLC, Morristown, NJ