The Chart du Jour
Big Blue to Follow GE
October 18, 2001
By, Barclay T. Leib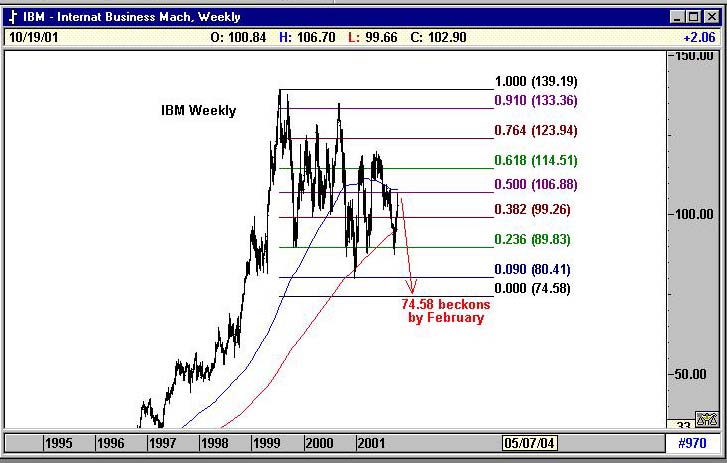 Chart produced using Advanced GET End-of-Day
Anyone who knows anything about accounting knows that IBM has been cooking its books for some time. Here are the simple facts:
The company has had no cash flow growth in 5 years.

The company has had single digit revenue growth over the same period.

And yet Gerstner and his cohorts continue to play bottom line EPS games.
Bill Fleckenstein, writing tonight at GrantsInvestor.com gets it so very right when he points out:
"A couple of months ago, IBM was supposed to earn around $1.15 and revenues were expected to be $22.5 billion. They came in at about $20.4 billion. Earnings were $0.90, supposedly beating the $.89 estimate. What I'd like to know is, where was the preannouncement? You didn't see it either? That's because there wasn't one. IBM engages in the game of whispering to analysts to guide the numbers down, a practice that was supposedly outlawed by Regulation FD.

[The only problem is that} all the hardware businesses have been weak, while the service business grew 5% sequentially, one of the slowest rates in some time. But surprise, surprise, IBM service income jumped 20%. With respect to accrual rates in the services businesses, there is no dearth of shenanigans for deciding how to match revenues and expenses."
If Gateway can go from $80 to $4 (lease accounting games now more fully revealed in that stock), the stock of IBM can certainly go from $102 to $74.58 when the public finally takes the time to peer under its hood and actually note its true real earnings growth problems. Indeed, as pictured above, $74.58 is our natural Fibonacci target for this stock, and ideally, we'd envision this level being reached by early February.
The fact that neophyte investors drove this stock up today because IBM "beat the street by a penny" still speaks to the silliness and froth that continues to exist in today's market.
For our money, an obvious stop-loss level now exists on IBM above Wednesday's high against which one can lean with a low risk short sale. If IBM then starts to join GE in a significant slide, watch out for the Dow Jones to slide as well. If you think things feel ugly now, imagine how they will feel if and when IBM touches $74.58 and GE reaches $25.50-26.50. Ouch!
Technically on the Dow by the way, and with reference to Japanese Candlestick charting, the Dow just left three small range days that took the form of so-called "Hanging Man" and "Spinning Top" formations. Wednesday's market decline brought an "Engulfing Pattern" of so-called "Dark Cloud Cover" that also broke a steep uptrend line from the September lows.
Needless to say, this is not a bullish combo of candle formations if one consults any text on this subject.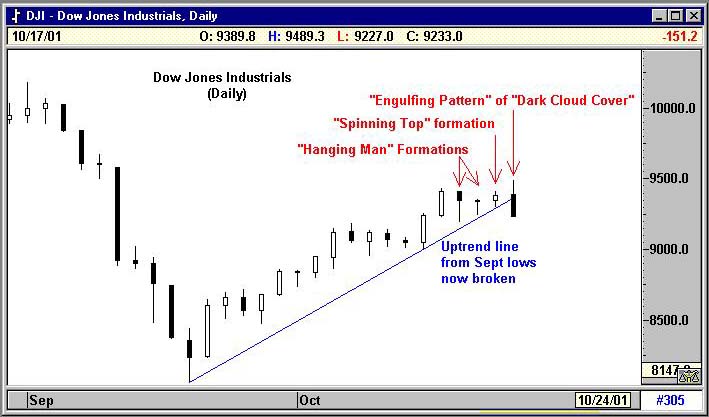 Chart produced using Advanced GET End-of-Day
Although we abhor the thought, should we get just one case of Anthrax in a water supply system somewhere across the vast U.S., this could represent a final catalyst to truly undue America's overall confidence in itself. And if that occurs, backing of Blue Chip stocks like G.E. and IBM is going to come undone as well.
The geo-political biochemical threats we all could do without. But unfortunately these stocks deserve to get shot anyway -- given all their unfortunate accounting gimmickry.
---
Non-subscribers are invited to sign up for a quarterly subscription below. Sand Spring's latest thoughts will all be accessible via an immediate e-mail. A user-id and password for web access to all past and future articles will then follow by a separate e-mail.
---
How Your Articles Are Delivered
Upon the processing of your credit card or the receipt of a personal check, Sand Spring will e-mail you the articles requested as a Word attachment, and also provide you with a WWW address and password to view the article on the web without using Word should you so desire. Confirmation of your order will be immediate, and the actual article will follow by e-mail typically within a few hours and in all cases before the opening of NYSE trading on the following day.
Ordering by Credit Card:
Our shopping cart is designed for both physical and subscription products, so do not be confused too much when it asks you for a shipping address. A correct address is important only for credit card authorization purposes. Your e-mail information is the most important piece of information to us for proper delivery of your article(s).
Disclosure Statement
Sand Spring Advisors provides information and analysis from sources and using methods it believes reliable, but cannot accept responsibility for any trading losses that may be incurred as a result of our analysis. Individuals should consult with their broker and personal financial advisors before engaging in any trading activities, and should always trade at a position size level well within their financial condition. Principals of Sand Spring Advisors may carry positions in securities or futures discussed, but as a matter of policy will always so disclose this if it is the case, and will specifically not trade in any described security or futures for a period 5 business days prior to or subsequent to a commentary being released on a given security or futures.
---
If you order by credit card, your credit card will be billed as "Sand Spring Advisors LLC"
Should you have any ordering problems, please contact us at
973-829-1962 or by email at the address below:

information@Sandspring.com
---
Take me back to the Sand Spring Home Page
---
Comments or Problems
---
Thank you for visiting Sand Spring Advisors LLC, Inc. We hope to hear from you again soon. For more information on Sand Spring Advisors actual programs, services, or to request a copy of a Disclosure Document, please phone us at 973 829 1962, FAX your request to 973 829 1962, or e-mail us at information@Sandspring.com
Corporate Office:
10 Jenks Road,
Morristown, NJ 07960
Phone: 973 829 1962
Facsimile: 973 829 1962
Best Experienced with



Click here to start.
The material located on this website is also the copyrighted work of Sand Spring Advisors LLC. No party may copy, distribute or prepare derivative works based on this material in any manner without the expressed permission of Sand Spring Advisors LLC
This page and all contents are Copyright © 2000 by Sand Spring Advisors, LLC, Morristown, NJ