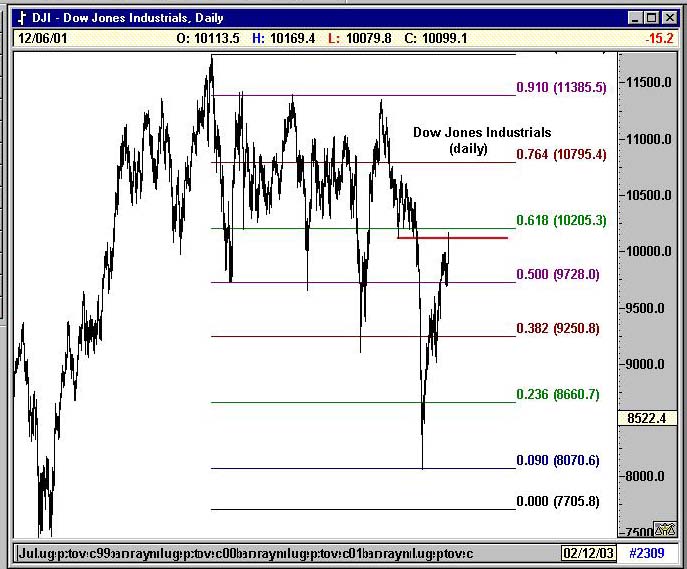 Chart produced using Advanced GET End-of-Day
OK, just so we have this straight: The seventh largest company in the U.S. just declared bankruptcy, and Argentina is about to default. But Wall Street investors seemingly don't care, having taken equity indices mightily higher Tuesday-Wednesday, only to offer a short pause in that advance Thursday.
Much to our chagrin -- we also now have an overlap of 10,120 on the Dow Jones (marked by the red line above) that we had not expected. If the post September 21st rally was to be labeled as part of a 4th wave move of some sort within an impulsive-looking I-II-1-2 decline that began in late May, 2001, it should not have come back though this level. The price action didn't intersect by much, but the point is, it shouldn't have done so at all.
We thus must throw out that Elliott wave interpretation, and search for another one. As a separate issue, we are also now quickly running out of calendar space to go back down in time for a significant February low.
Does that mean our cycles are inverting, and the September low (originally anticipated to be an October low) will lead to a February high, before a final 8.3-month slosh DOWN into our important November 7, 2002 cycle date? We do not quite have enough evidence yet to make that huge change in interpretation, but we do admit that we are increasingly concerned that we may soon be forced to do so.
The Dow needs to reject the the region above 10,000 rather quickly, and certainly not start trading above 10,205, in order to keep a short term bear case intact.
The market may be exuding quite a bit of hubris, but whether this hubris is misplaced or not, we will not let it catch us in its mesh and drag us under. Instead we will watch the immediate price action in the next few days, and with just a bit more Dow strength, we will head for the "bear locker room" once again.
---
Non-subscribers are invited to sign up for a quarterly subscription below. Sand Spring's latest thoughts will all be accessible via an immediate e-mail. A user-id and password for web access to all past and future articles will then follow by a separate e-mail.
Sand Spring Advisors provides information and analysis from sources and using methods it believes reliable, but cannot accept responsibility for any trading losses that may be incurred as a result of our analysis. Individuals should consult with their broker and personal financial advisors before engaging in any trading activities, and should always trade at a position size level well within their financial condition. Principals of Sand Spring Advisors may carry positions in securities or futures discussed, but as a matter of policy will always so disclose this if it is the case, and will specifically not trade in any described security or futures for a period 5 business days prior to or subsequent to a commentary being released on a given security or futures.
If you order by credit card, your credit card will be billed as "Sand Spring Advisors LLC"