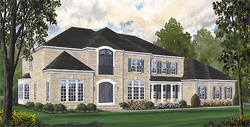 Photo from Pulte.com
Want to buy the cookie-cutter house above in a northern New Jersey development? It sports 4 bedrooms and 2 1/2 baths, and sits on less than half an acre of land. Better yet, it's all yours courtesy of Pulte Homes for a mere $1,135,000.
On the back of eleven consecutive Fed rate cuts, and in typical delayed fashion, new home construction has recently shown robust growth in the U.S. But can it continue as layoffs mount? Or is this just the last great rush of consumer spending while interest rates are still relatively low?
We think it much more the latter, and despite the modest 7.5 p/e on Pulte Homes, we wonder if that is not a huge head and shoulders top we spy on the weekly chart below.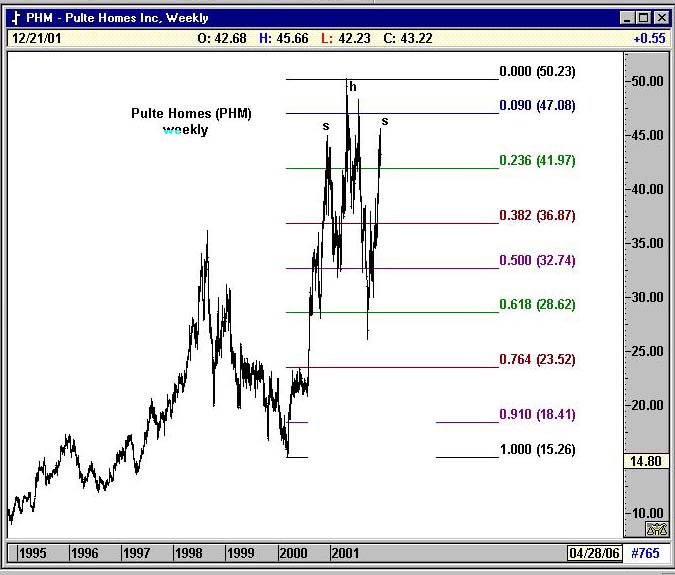 Chart constructed using Advanced GET End-of-Day
Anecdotally, wife Nancy tells me her real estate office had a slow year in 2001. Houses are coming on the market, not selling, and being withdrawn. There seems to be a perception by most sellers that their house is worth X, but bids paying even close to X are hard to find, and the sellers' overblown perceptions may soon be leftover pipe-dreams from the never-ending ascent of real estate over the past 40 years. The fact is: little is moving.
We'd count to 10 and consider shorting this stock, although we'd be careful, and work with stops above the 50.23 high (thereby risking just $4). In our opinion, there is simply too much extrapolation of the future here based on the past and the present.
While the true end to the real estate's bubble is likely linger until beyond our PEI cycle date in November, 2002 (and a 3rd quarter 2002 Fed rate hike), cookie cutter real estate developers is not a sector where we such much upside risk-reward at present.
Thanks to one of our subscribers for prompting us to take a look at Pulte.
---
Non-subscribers are invited to sign up for a quarterly subscription below. Sand Spring's latest thoughts will all be accessible via an immediate e-mail. A permanent user-id and password for web access to all past and future articles will then follow by a separate e-mail.
Sand Spring Advisors provides information and analysis from sources and using methods it believes reliable, but cannot accept responsibility for any trading losses that may be incurred as a result of our analysis. Individuals should consult with their broker and personal financial advisors before engaging in any trading activities, and should always trade at a position size level well within their financial condition. Principals of Sand Spring Advisors may carry positions in securities or futures discussed, but as a matter of policy will always so disclose this if it is the case, and will specifically not trade in any described security or futures for a period 5 business days prior to or subsequent to a commentary being released on a given security or futures.
If you order by credit card, your credit card will be billed as "Sand Spring Advisors LLC"