Back on August 8th, within the Sandspring.com chatroom, I offered subscribers the following gold market thoughts:
Although having turned agnostic on gold awhile back after a nice run of profits, and having saved myself all the mental anguish of the recent choppy range and sharp decline in some AU stocks after the Bullish Consensus reached above 90%...

...one will also see in my writings a historical proclivity to expect that Nov 2002 could be a gold high.

What we need now to confirm this in my mind would be TWO solid closes above 315.20 in cash (a level that failed Wednesday Aug 7th [and several times thereafter in August]). Upon such an occurance, then 354 then becomes a realistic target.

Conversely, a break of 290.70 cash, and I'm afraid to say that gold will likely be caught in a short-term fall in the price of other commodities -- copper, oil in particular -- into an intermediate-term (2003-2004) sewer of debt deflation.

In between these two levels, I shrug.
Well, this past Thursday and Friday finally represented two solid closes above 315.20, so I must look to the chart below and anticipate that a target of approximately 354 is now in the cards.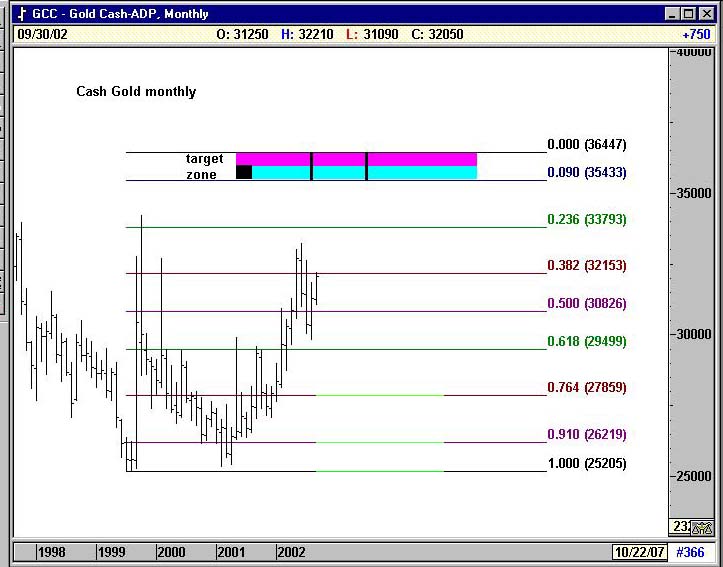 Chart constructed using Advanced GET End-of-Day
Given the relative appearance of the physical metal chart versus a slightly more "broken" appearance by many gold equity charts (As an aside, many burnt fingers now exist from having chased the likes of obvious big-cap gold names -- particularly Newmont and American Barrick -- as high as those stocks went in late May/early June), we would not be surprised to see the actual cash metal outperform many gold equity plays during the latest anticipated gold price advance. Notwithstanding that view, we believe Ashanti Gold (ASL - $5.35) might be one stock in particular with a good shot to reach new highs in the not-to-distant future. We see resistance on ASL between $6.85-$7.35.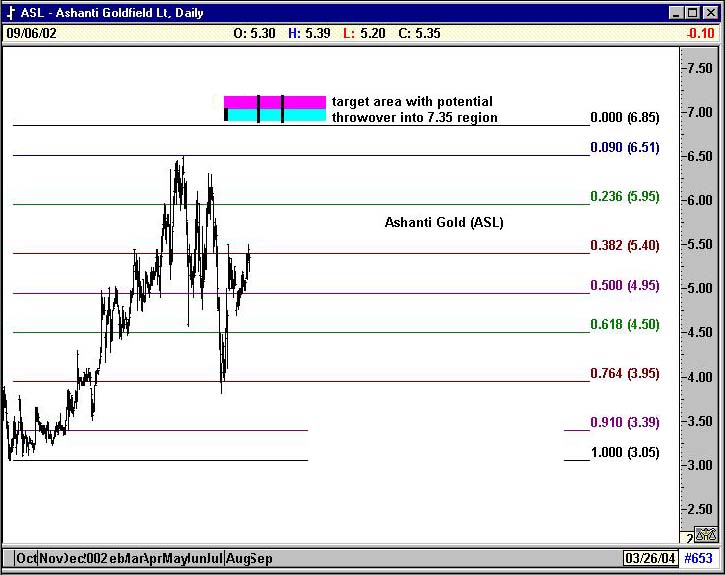 Chart constructed using Advanced GET End-of-Day
Now please do not confuse commodity markets. Sandspring.com once again turning bullish gold does not necessarily make us want to throw in the towel on our previously espoused bearish crude oil (dead wrong to date) and copper (dead right to date) views. If Iraq is attacked, and its crude supply chain disrupted, Iraq's one million barrel per day supply will easily (and happily) be supplanted by other OPEC producers who have ready capacity to produce up to 5 million more barrels per day. In addition, just look at the chart below of the U.S. strategic petroleum reserves. The friend of mine who sent me this chart referred to it as the "Clinton Dip and the Bush Refill." There is simply tons of petroleum out there just ready to be released to the market. Crude prices may still spike up to $30.75 or so in the short-term, but is such a price consistent with gasoline prices in the U.S. being at 2-year lows? We think with time a gap that exists in the daily crude chart down near $22 will be filled.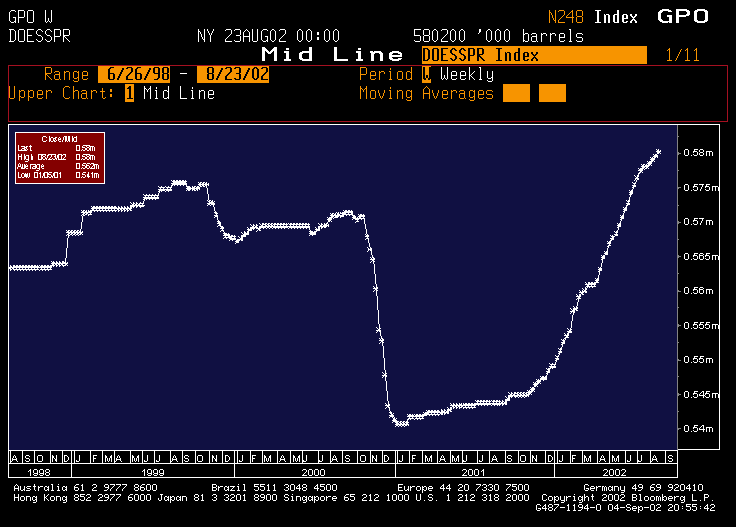 Chart constructed using Advanced GET End-of-Day
If Iraq hostilities mount, gold, not oil, might be the market in tighter technical supply -- particularly if producers feel compelled to close short forward hedges. Rumor has it that a wave of such activity already started to transpire this past week. We are not GATA conspiracy theorists, but producers do occasionally go through waves of unwinding forward hedges, and this buying can be quite important to market price behavior.
A November 7, 2002 high in Gold? We'll see with time of course, but that certainly feels increasingly right given the gold price action over the past two trading days.
---
How Your Articles Are Delivered
Upon the processing of your credit card or the receipt of a personal check, Sand Spring will e-mail you the articles requested as a Word attachment, and also provide you with a WWW address and password to view the article on the web without using Word should you so desire. Confirmation of your order will be immediate, and the actual article will follow by e-mail typically within a few hours and in all cases before the opening of NYSE trading on the following day.
Ordering by Credit Card:
Our shopping cart is designed for both physical and subscription products, so do not be confused too much when it asks you for a shipping address. A correct address is important only for credit card authorization purposes. Your e-mail information is the most important piece of information to us for proper delivery of your article(s).
Disclosure Statement
Sand Spring Advisors provides information and analysis from sources and using methods it believes reliable, but cannot accept responsibility for any trading losses that may be incurred as a result of our analysis. Individuals should consult with their broker and personal financial advisors before engaging in any trading activities, and should always trade at a position size level well within their financial condition. Principals of Sand Spring Advisors may carry positions in securities or futures discussed, but as a matter of policy will always so disclose this if it is the case, and will specifically not trade in any described security or futures for a period 5 business days prior to or subsequent to a commentary being released on a given security or futures.
---
If you order by credit card, your credit card will be billed as "Sand Spring Advisors LLC"
Should you have any ordering problems, please contact us at
973-829-1962 or by email at the address below:

information@Sandspring.com
---
Take me back to the Sand Spring Home Page
---
Comments or Problems
---
Thank you for visiting Sand Spring Advisors LLC, Inc. We hope to hear from you again soon. For more information on Sand Spring Advisors actual programs, services, or to request a copy of a Disclosure Document, please phone us at 973 829 1962, FAX your request to 973 829 1962, or e-mail us at information@Sandspring.com
Corporate Office:
10 Jenks Road,
Morristown, NJ 07960
Phone: 973 829 1962
Facsimile: 973 829 1962
Best Experienced with



Click here to start.
The material located on this website is also the copyrighted work of Sand Spring Advisors LLC. No party may copy, distribute or prepare derivative works based on this material in any manner without the expressed permission of Sand Spring Advisors LLC
This page and all contents are Copyright © 2002 by Sand Spring Advisors, LLC, Morristown, NJ