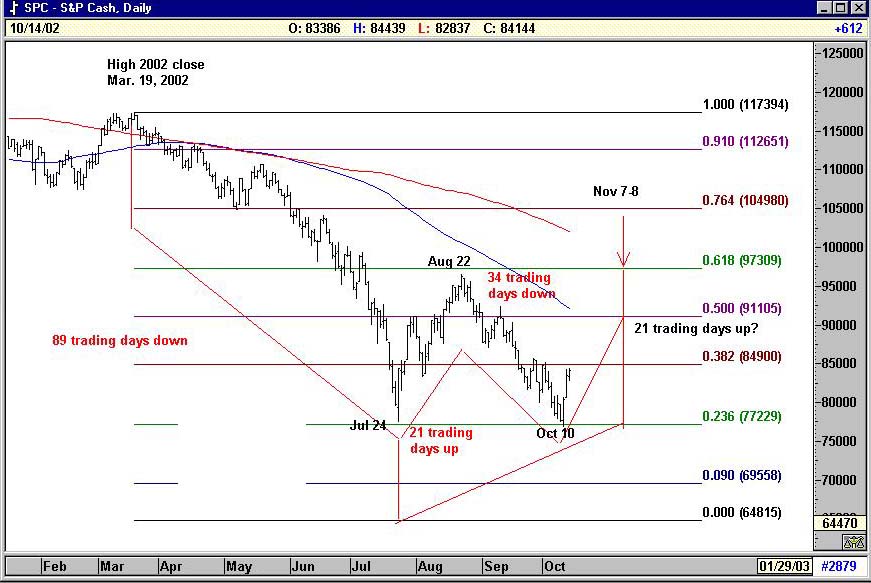 Chart constructed using Advanced GET End-of-Day
First - an admission. In our October 11th posting that discusses the typical implication of "key reversal outside weeks," we made an error. While a key reversal outside week did occur in the Nasdaq 100 Index, it just failed to occur in the Dow Jones, S&P, and Nasdaq Composite. We did have outside day key reversals in each of these indices, but the respective weekly closes were still not quite high enough to qualify these charts for weekly key reversals. Our thanks to several subscribers for catching this.
The above admitted, a substantive rally continues, and yet another subscriber has prompted us to look at the trading day count between various 2002 turning points. We have done so above, and find interestingly that on a trading day basis, Fibonacci day counts seem to be prevalent. Between the high close of the S&P 500 on March 19, 2002 and the July 24, 2002 reversal up, one can count 89 trading days down, followed by 21 days up into the August 22, 2002 high, followed thereafter by 34 trading days down into the October 10th reversal up. (The Fibonacci sequence is of course 1,1,2,3,5,8,13,21,34,55,89,144,233... for those who don't know why 21, 34, and 89 are potentially special.)
Of note, 21 days forward from October 10th is November 8th -- right on top of our expected November 7th-8th PEI cycle. A high somewhere towards 911 on the S&P 500 cash now seems realistic to expect, and maybe as high as 973 (just far enough above the August high to sucker in weak stops and fulfill a messy A-B-C vision we've had?).
If we can get that much right, we will be vigilently looking for technical evidence thereafter to confirm further market weakness that could extend into mid-year 2003. Of note, 144 trading days from November 8th is June 6, 2003 (presuming I've accounted for Holidays correctly) -- just a few days beyond the 628 day (2 * pi *100) anniversary of the World Trade Center's destruction on September 11, 2001.
It's OK to party with the bulls for now, but early November will auger caution once again.
---
How Your Articles Are Delivered
Upon the processing of your credit card or the receipt of a personal check, Sand Spring will e-mail you the articles requested as a Word attachment, and also provide you with a WWW address and password to view the article on the web without using Word should you so desire. Confirmation of your order will be immediate, and the actual article will follow by e-mail typically within a few hours and in all cases before the opening of NYSE trading on the following day.
Ordering by Credit Card:
Our shopping cart is designed for both physical and subscription products, so do not be confused too much when it asks you for a shipping address. A correct address is important only for credit card authorization purposes. Your e-mail information is the most important piece of information to us for proper delivery of your article(s).
Disclosure Statement
Sand Spring Advisors provides information and analysis from sources and using methods it believes reliable, but cannot accept responsibility for any trading losses that may be incurred as a result of our analysis. Individuals should consult with their broker and personal financial advisors before engaging in any trading activities, and should always trade at a position size level well within their financial condition. Principals of Sand Spring Advisors may carry positions in securities or futures discussed, but as a matter of policy will always so disclose this if it is the case, and will specifically not trade in any described security or futures for a period 5 business days prior to or subsequent to a commentary being released on a given security or futures.
---
If you order by credit card, your credit card will be billed as "Sand Spring Advisors LLC"
Should you have any ordering problems, please contact us at
973-829-1962 or by email at the address below:

information@Sandspring.com
---
Take me back to the Sand Spring Home Page
---
Comments or Problems
---
Thank you for visiting Sand Spring Advisors LLC, Inc. We hope to hear from you again soon. For more information on Sand Spring Advisors actual programs, services, or to request a copy of a Disclosure Document, please phone us at 973 829 1962, FAX your request to 973 829 1962, or e-mail us at information@Sandspring.com
Corporate Office:
10 Jenks Road,
Morristown, NJ 07960
Phone: 973 829 1962
Facsimile: 973 829 1962
Best Experienced with



Click here to start.
The material located on this website is also the copyrighted work of Sand Spring Advisors LLC. No party may copy, distribute or prepare derivative works based on this material in any manner without the expressed permission of Sand Spring Advisors LLC
This page and all contents are Copyright © 2002 by Sand Spring Advisors, LLC, Morristown, NJ