Gold has been on a march higher of late, having recently reached our first previously espoused zone of resistance near $351, and with a shot to perhaps soon reach $371. We are pleased to have turned from agnostic to bullish on the metal back on September 7, 2002, and also pleased to have recently turned our former bearishness on oil into general bullishness back on November 16, 2002.
The above understood, when we wrote up our annual forecast for the equity markets looking forward into the new 2003 year (available to subscribers by clicking here), we left out commenting on the gold sector at all. This is because we could not find a compelling Fibonacci rhythm or Elliott wave count to offer. Gold could as easily explode from its current formation as it could miserably fail somewhere between $351-$371.
We have our eye on gold at this stage to watch for clues as to which it will be, but must admit that agnostic feelings are starting to re-emerge in our psyche. Gold will undoubtedly be higher 10 years from now, but the first stage of increased debt defaults (that we perceive to still currently be wading through) is more a rush for liquidity -- the need to find cash to meet immediate debt obligations -- rather than a rush to establish long-term hedges against an overly generous Fed.
An alternative view might be that gold is currrently rallying as a reaction to the European Union's recent announcement that with time it will embrace the entire Eastern bloc of European nations. Look at the day that the EU announced this decision and gold's immediate behavior thereafter, and one might be tempted to think that U.S. monetary policy is not the immediately important factor in gold's recent strength. Rather, gold may be rallying simply because with the long-term path now established by EU authorities, no one is truly that excited to buy the euro at 1.03 -- no matter how poor the U.S twin deficit of trade and budget soon become.
Whatever the case, we'll still be selling our Ashanti if and when it reaches our previously anticipated Fibonacci target shown below.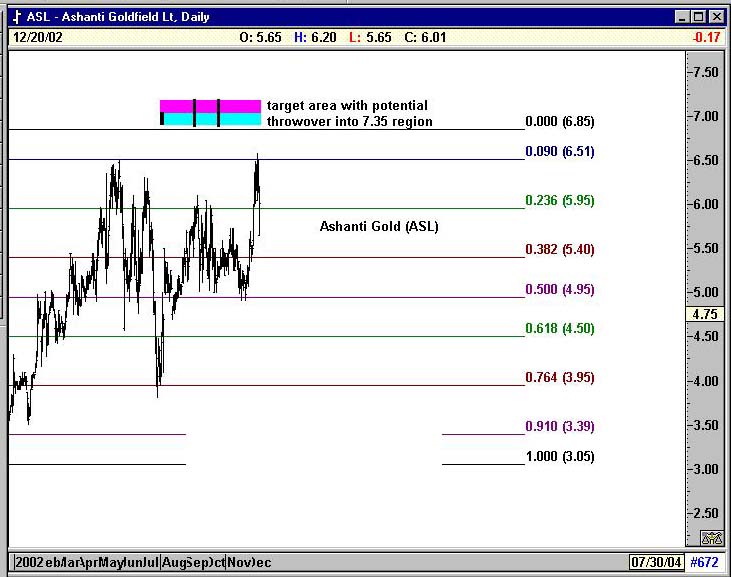 Chart constructed using Advanced GET End-0f-Day
In addition, leaving gold to the side for the moment, we offer to subscribers this month 18-pages of various perspectives on 2002 and ongoing concerns we have for 2003. This includes a general overview "roadmap" of our cyclical perspectives for 2003, as well as selected stocks that we like both on the long side, and a slightly longer list of stocks we still dislike on the short side -- complete with Fibonacci price objectives on the entire group.
May our subscribers enjoy this bit of reading over the holidays, and profit from it in the New Year. Meanwhile, may all our other readers soon become fully paid-up subscribers to truly reap the full benefits of this site as it enters its fourth year.
---
Non-subscribers are invited to access our December 22nd article, "Various Perspectives on 2002 & Ongoing 2003 Concerns," together with other past articles, by signing up for a quarterly Sandspring.com subscription below.
---
How Your Articles Are Delivered
Upon the processing of your credit card or the receipt of a personal check, Sand Spring will e-mail you the articles requested as a Word attachment, and also provide you with a WWW address and password to view the article on the web without using Word should you so desire. Confirmation of your order will be immediate, and the actual article will follow by e-mail typically within a few hours and in all cases before the opening of NYSE trading on the following day.
Ordering by Credit Card:
Our shopping cart is designed for both physical and subscription products, so do not be confused too much when it asks you for a shipping address. A correct address is important only for credit card authorization purposes. Your e-mail information is the most important piece of information to us for proper delivery of your article(s).
Disclosure Statement
Sand Spring Advisors provides information and analysis from sources and using methods it believes reliable, but cannot accept responsibility for any trading losses that may be incurred as a result of our analysis. Individuals should consult with their broker and personal financial advisors before engaging in any trading activities, and should always trade at a position size level well within their financial condition. Principals of Sand Spring Advisors may carry positions in securities or futures discussed, but as a matter of policy will always so disclose this if it is the case, and will specifically not trade in any described security or futures for a period 5 business days prior to or subsequent to a commentary being released on a given security or futures.
---
If you order by credit card, your credit card will be billed as "Sand Spring Advisors LLC"
Should you have any ordering problems, please contact us at
973-829-1962 or by email at the address below:

information@Sandspring.com
---
Take me back to the Sand Spring Home Page
---
Comments or Problems
---
Thank you for visiting Sand Spring Advisors LLC, Inc. We hope to hear from you again soon. For more information on Sand Spring Advisors actual programs, services, or to request a copy of a Disclosure Document, please phone us at 973 829 1962, FAX your request to 973 829 1962, or e-mail us at information@Sandspring.com
Corporate Office:
10 Jenks Road,
Morristown, NJ 07960
Phone: 973 829 1962
Facsimile: 973 829 1962
Best Experienced with



Click here to start.
The material located on this website is also the copyrighted work of Sand Spring Advisors LLC. No party may copy, distribute or prepare derivative works based on this material in any manner without the expressed permission of Sand Spring Advisors LLC
This page and all contents are Copyright © 2002 by Sand Spring Advisors, LLC, Morristown, NJ