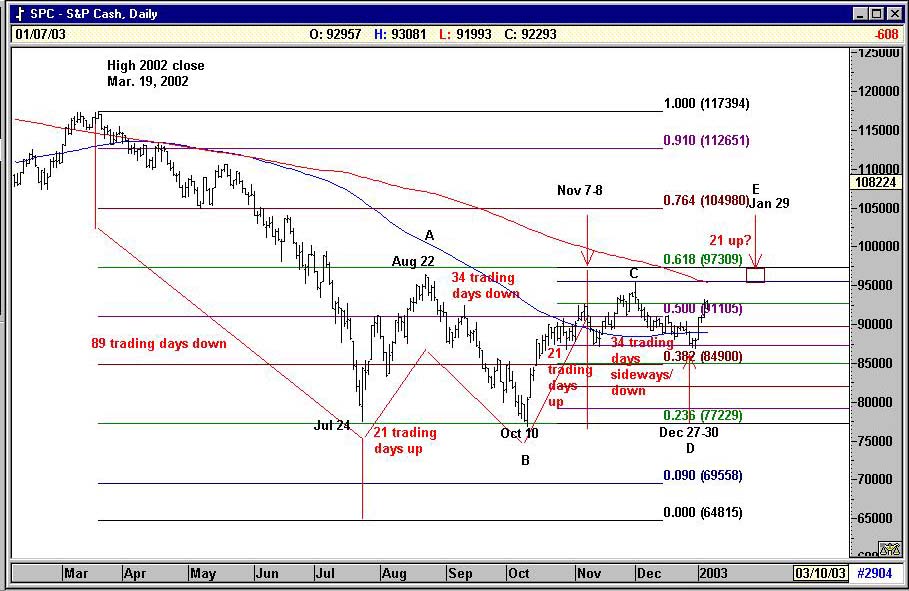 Chart constructed using Advanced GET End-0f-Day
The Chart above first appeared back on October 14, 2002 noting a definite rhythm to the U.S. equity market in 2002 in terms of Fibonacci trading days between significant highs and lows. At the time, we were looking for a November 7-8th high toward 973 on the S&P 500 cash index.
When November 7-8th did in fact yield a high, but a high under our preferred price target zone, we got excited that an A-B-C corrective period could be ending, but were still suspicious that marginal new highs toward 973 on the S&P might linger. New highs did transpire later in November but still failed to reach our preferred Fibonacci target zone.
At this point, an already complex July-November A-B-C corrective pattern appears to have yielded to an even more complex A-B-C-D-E upward sloping wedge formation -- still in the process of completing the E wave. 34 trading days beyond the November 7-8 high, we achieved a low in the December 27-30th window. On the back of "dividend tax cut hoopla," our revised interpretation of this pattern is now that a continued rally into January 29-30 (21 trading days beyond the Dec 27-30 low) appears likely in the short term. This represents a most definite shift in our short term views expressed to subscribers in late December, but nevertheless leaves us generally unwilling to jump aboard recent strength. Despite the short-term changes, and particularly if 973 is finally achieved, we would subsequently remain bearish at least into mid-year.
Overall, this market is clearly being a "big tease." It wore out many bulls' patience and stamina when marginal new lows were made in the S&P 500 Index back in September, and now it is working to wear out the stamina and conviction of the bears. From a symmetry point of view, marginal new highs above the August 2002 high might succeed in doing just that -- particularly if accompanied by something deemed a 'fundamental change' that bears deem too tough to fight against.
Tax cuts on dividends is, at the margin, bullish for this market -- if such changes are actually passed (which we believe too many people have lept to the conclusion they will be, given Republican dominance of both Houses of Congress). But even if passed, people forget that first, companies must have the ability to generate attractive earnings to produce dividends. Besides some one-off cash hoards around at companies such as Dell and Microsoft (that might be partially dishoarded on a change of taxation rules on dividends), the ability of corporate America to really grow revenues at the current time remains poor.
Keep onsides and stay nimble, but don't buy into the concept of a huge up year for stocks.
---
Non-subscribers are invited to access our December 22nd article, "Various Perspectives on 2002 & Ongoing 2003 Concerns," together with other past articles, by signing up for a quarterly Sandspring.com subscription below.
---
How Your Articles Are Delivered
Upon the processing of your credit card or the receipt of a personal check, Sand Spring will e-mail you the articles requested as a Word attachment, and also provide you with a WWW address and password to view the article on the web without using Word should you so desire. Confirmation of your order will be immediate, and the actual article will follow by e-mail typically within a few hours and in all cases before the opening of NYSE trading on the following day.
Ordering by Credit Card:
Our shopping cart is designed for both physical and subscription products, so do not be confused too much when it asks you for a shipping address. A correct address is important only for credit card authorization purposes. Your e-mail information is the most important piece of information to us for proper delivery of your article(s).
Disclosure Statement
Sand Spring Advisors provides information and analysis from sources and using methods it believes reliable, but cannot accept responsibility for any trading losses that may be incurred as a result of our analysis. Individuals should consult with their broker and personal financial advisors before engaging in any trading activities, and should always trade at a position size level well within their financial condition. Principals of Sand Spring Advisors may carry positions in securities or futures discussed, but as a matter of policy will always so disclose this if it is the case, and will specifically not trade in any described security or futures for a period 5 business days prior to or subsequent to a commentary being released on a given security or futures.
---
If you order by credit card, your credit card will be billed as "Sand Spring Advisors LLC"
Should you have any ordering problems, please contact us at
973-829-1962 or by email at the address below:

information@Sandspring.com
---
Take me back to the Sand Spring Home Page
---
Comments or Problems
---
Thank you for visiting Sand Spring Advisors LLC, Inc. We hope to hear from you again soon. For more information on Sand Spring Advisors actual programs, services, or to request a copy of a Disclosure Document, please phone us at 973 829 1962, FAX your request to 973 829 1962, or e-mail us at information@Sandspring.com
Corporate Office:
10 Jenks Road,
Morristown, NJ 07960
Phone: 973 829 1962
Facsimile: 973 829 1962
Best Experienced with



Click here to start.
The material located on this website is also the copyrighted work of Sand Spring Advisors LLC. No party may copy, distribute or prepare derivative works based on this material in any manner without the expressed permission of Sand Spring Advisors LLC
This page and all contents are Copyright © 2002 by Sand Spring Advisors, LLC, Morristown, NJ