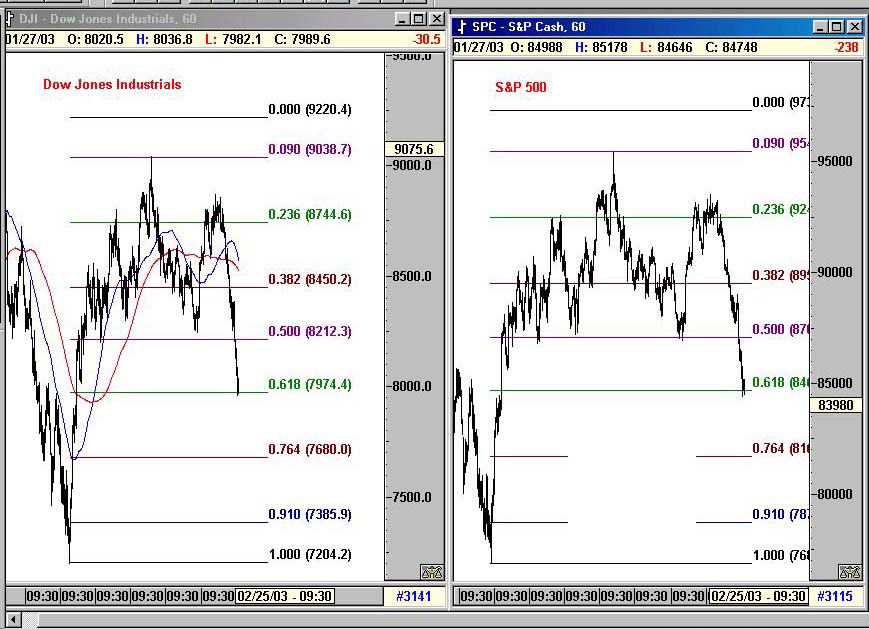 Chart constructed using Advanced GET End-0f-Day
First - let me admit that I am travelling at present, and have not been able to devote my usual attention to this website, nor full attention to the markets. For this, I apologize, but the logistics of running both this site and a hedge fund allocation/consulting business are what they are.
While I have been on the road, one subscriber wrote to me wondering whether the break of 968.43 support has turned me bearish. Perhaps I am completely "out of synch" here, but while the recent decline surprised me a bit, and I only belatedly realized that the alignment of the Commitment of Traders Report was potentially concerning (small speculators having recently been max long while large speculators were max short)-- I cannot bring myself to want to sell the major equity indices at this time.
In a vaccuum, looking at the chart of the S&P, as well as such short favorites of mine such as Deere and Dell, I can certainly see the bearish case. But then my eye wanders to the euro, gold, and crude oil charts which are all now getting over-extended, and I can only conclude that this winter and early spring are more likely to be a period of "false starts."
We are currently experiencing a false "scare" lower, and as soon as March, I would anticipate that we may see a false "relief rally" higher. 972-973 remains a far more comfortable level for me to want to establish aggressive shorts. Much patience may be required before getting there.
What I have done in my own trading is to sell my few remaining gold shares (the 371-372 Fib target depicted below having been reached), and I also lightened up on some of my long energy stocks including Enerplus that subscribers will remember as having a Fib target near 19.50. We got close enough to that target yesterday at 18.99 that prudence suggests starting to take some profits.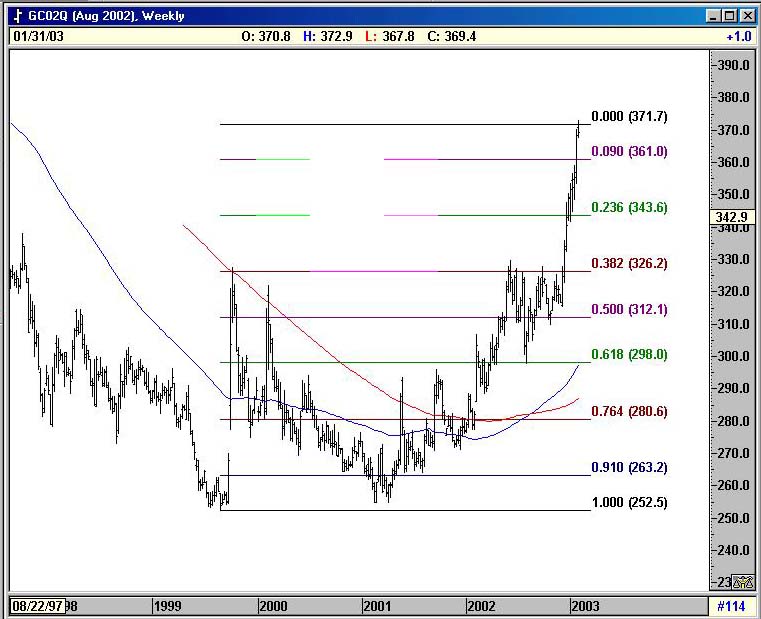 Chart constructed using Advanced GET End-0f-Day
Please forgive me if I end up missing "the big kahuna" crash of 2003, but I just don't see the markets set up for such an event at present. Seasonally, huge crash events in history also just don't tend to happen in the first calendar Quarter. Instead, if we can get a relief rally from around current levels (perhaps starting in earnest on or about the Feb. 5th Vyden Cycle date -- more on that cycle to come for subscribers soon) into our March 18th PEI cycle date, I believe that the June-July period will likely still hold a huge period of market stress. But its likely too obvious and too soon for this to happen right now. Much patience to put up with all these false starts is first warranted in the short-term.
---
Non-subscribers are invited to access our December 22nd article, "Various Perspectives on 2002 & Ongoing 2003 Concerns," together with other past articles, by signing up for a quarterly Sandspring.com subscription below.
---
How Your Articles Are Delivered
Upon the processing of your credit card or the receipt of a personal check, Sand Spring will e-mail you the articles requested as a Word attachment, and also provide you with a WWW address and password to view the article on the web without using Word should you so desire. Confirmation of your order will be immediate, and the actual article will follow by e-mail typically within a few hours and in all cases before the opening of NYSE trading on the following day.
Ordering by Credit Card:
Our shopping cart is designed for both physical and subscription products, so do not be confused too much when it asks you for a shipping address. A correct address is important only for credit card authorization purposes. Your e-mail information is the most important piece of information to us for proper delivery of your article(s).
Disclosure Statement
Sand Spring Advisors provides information and analysis from sources and using methods it believes reliable, but cannot accept responsibility for any trading losses that may be incurred as a result of our analysis. Individuals should consult with their broker and personal financial advisors before engaging in any trading activities, and should always trade at a position size level well within their financial condition. Principals of Sand Spring Advisors may carry positions in securities or futures discussed, but as a matter of policy will always so disclose this if it is the case, and will specifically not trade in any described security or futures for a period 5 business days prior to or subsequent to a commentary being released on a given security or futures.
---
If you order by credit card, your credit card will be billed as "Sand Spring Advisors LLC"
Should you have any ordering problems, please contact us at
973-829-1962 or by email at the address below:

information@Sandspring.com
---
Take me back to the Sand Spring Home Page
---
Comments or Problems
---
Thank you for visiting Sand Spring Advisors LLC, Inc. We hope to hear from you again soon. For more information on Sand Spring Advisors actual programs, services, or to request a copy of a Disclosure Document, please phone us at 973 829 1962, FAX your request to 973 829 1962, or e-mail us at information@Sandspring.com
Corporate Office:
10 Jenks Road,
Morristown, NJ 07960
Phone: 973 829 1962
Facsimile: 973 829 1962
Best Experienced with



Click here to start.
The material located on this website is also the copyrighted work of Sand Spring Advisors LLC. No party may copy, distribute or prepare derivative works based on this material in any manner without the expressed permission of Sand Spring Advisors LLC
This page and all contents are Copyright © 2002 by Sand Spring Advisors, LLC, Morristown, NJ