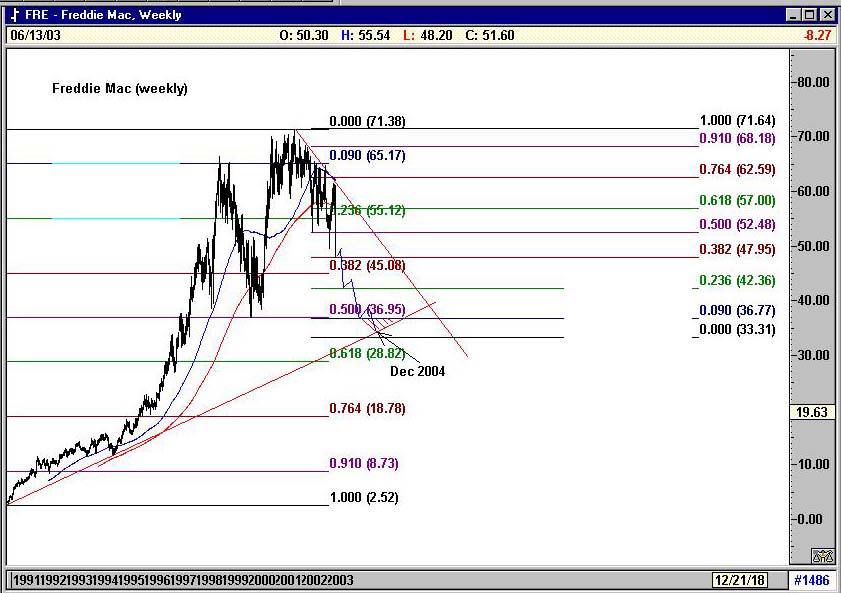 Chart produced using Advanced GET End-of-Day
We do not yet know any details about the recently announced accounting malfeasance at Freddie Mac. What we do know is that Freddie Mac has long been considered the more conservative of the two government-sponsored mortgage guarantee entities, with Fannie Mae usually assumed to take far more liberties in their hedging and accounting than Freddie.
We also know that this news broke just after Saturn entered Cancer on June 4th, 2003, and Saturn will remain in Cancer until July 16, 2005. Saturn in Cancer periods have in the past typically come at the end of difficult periods -- the last days of WW1 (from May 11, 1915 to June 24, 1917 - with the exception of a short 6-week interlude in the 4th quarter of 1916), the end of WW2 (June 20, 1944 to August 2, 1946), and the end of the Vietnam War and Watergate (August 1, 1973 to Sept 17, 1975).
Basically, the sign of Cancer is associated with the home and with endings, and Saturn with difficulties and limitations. The U.S. is also a Cancer country, being founded on the 4th of July 1776. Thus, Saturn in Cancer periods often bring fear or difficulty with the home (property markets) and to the U.S. With President George Bush also holding a July birthday, Saturn in his sign may prove further constricting and frustrating to him personally.
Overall therefore, from a technical, fundamental, and astro perspective: We would not expect the recently announced problems at Freddie Mac to come and go in a trivial manner. Instead, and at a minimum, we would expect Freddie to reach the $28-$33 range depicted above by the PEI cycle date in late December 2004.
Moreover, if accounting concerns ever start to stretch to Fannie as well, those buying the overall market today will certainly regret that decision. These companies reside at the very heart of the U.S. economy to a far larger extent than most neophyte investors currently appreciate.
---
Non-subscribers are invited to access our May 26th article, "Debt Bubble & Islamic Threats," together with other past articles, by signing up for a quarterly Sandspring.com subscription below.
---
How Your Articles Are Delivered
Upon the processing of your credit card or the receipt of a personal check, Sand Spring will e-mail you the articles requested as a Word attachment, and also provide you with a WWW address and password to view the article on the web without using Word should you so desire. Confirmation of your order will be immediate, and the actual article will follow by e-mail typically within a few hours and in all cases before the opening of NYSE trading on the following day.
Ordering by Credit Card:
Our shopping cart is designed for both physical and subscription products, so do not be confused too much when it asks you for a shipping address. A correct address is important only for credit card authorization purposes. Your e-mail information is the most important piece of information to us for proper delivery of your article(s).
Disclosure Statement
Sand Spring Advisors provides information and analysis from sources and using methods it believes reliable, but cannot accept responsibility for any trading losses that may be incurred as a result of our analysis. The opinions expressed are not intended as specific investment advice, and simply represent our personal views offered here under our right of free speech. Sand Spring Advisors is a NFA registered CTA/CPO, but is not a Registered Investment Advisor. We do not directly trade any client funds. Individuals should consult with their broker and personal financial advisors before engaging in any trading activities, and should always trade at a position size level well within their financial condition. Principals of Sand Spring Advisors may carry positions in securities or futures discussed, but as a matter of policy will always so disclose this if it is the case, and we will specifically not trade in any described security or futures for a period 5 business days prior to or subsequent to a commentary being released on a given security or futures.
---
If you order by credit card, your credit card will be billed as "Sand Spring Advisors LLC"
Should you have any ordering problems, please contact us at
973-829-1962 or by email at the address below:

information@Sandspring.com
---
Take me back to the Sand Spring Home Page
---
Comments or Problems
---
Thank you for visiting Sand Spring Advisors LLC, Inc. We hope to hear from you again soon. For more information on Sand Spring Advisors actual programs, services, or to request a copy of a Disclosure Document, please phone us at 973 829 1962, FAX your request to 973 829 1962, or e-mail us at information@Sandspring.com
Corporate Office:
10 Jenks Road,
Morristown, NJ 07960
Phone: 973 829 1962
Facsimile: 973 829 1962
Best Experienced with



Click here to start.
The material located on this website is also the copyrighted work of Sand Spring Advisors LLC. No party may copy, distribute or prepare derivative works based on this material in any manner without the expressed permission of Sand Spring Advisors LLC
This page and all contents are Copyright © 2002 by Sand Spring Advisors, LLC, Morristown, NJ