Please excuse the quality of the two charts below. The bottom one is of 1990 AUD/JPY on a weekly basis. I saved a hard copy of it as it occured, and it does not exist on too many data services today since it transpired some 13 years ago. It had to be scanned from my hard copy.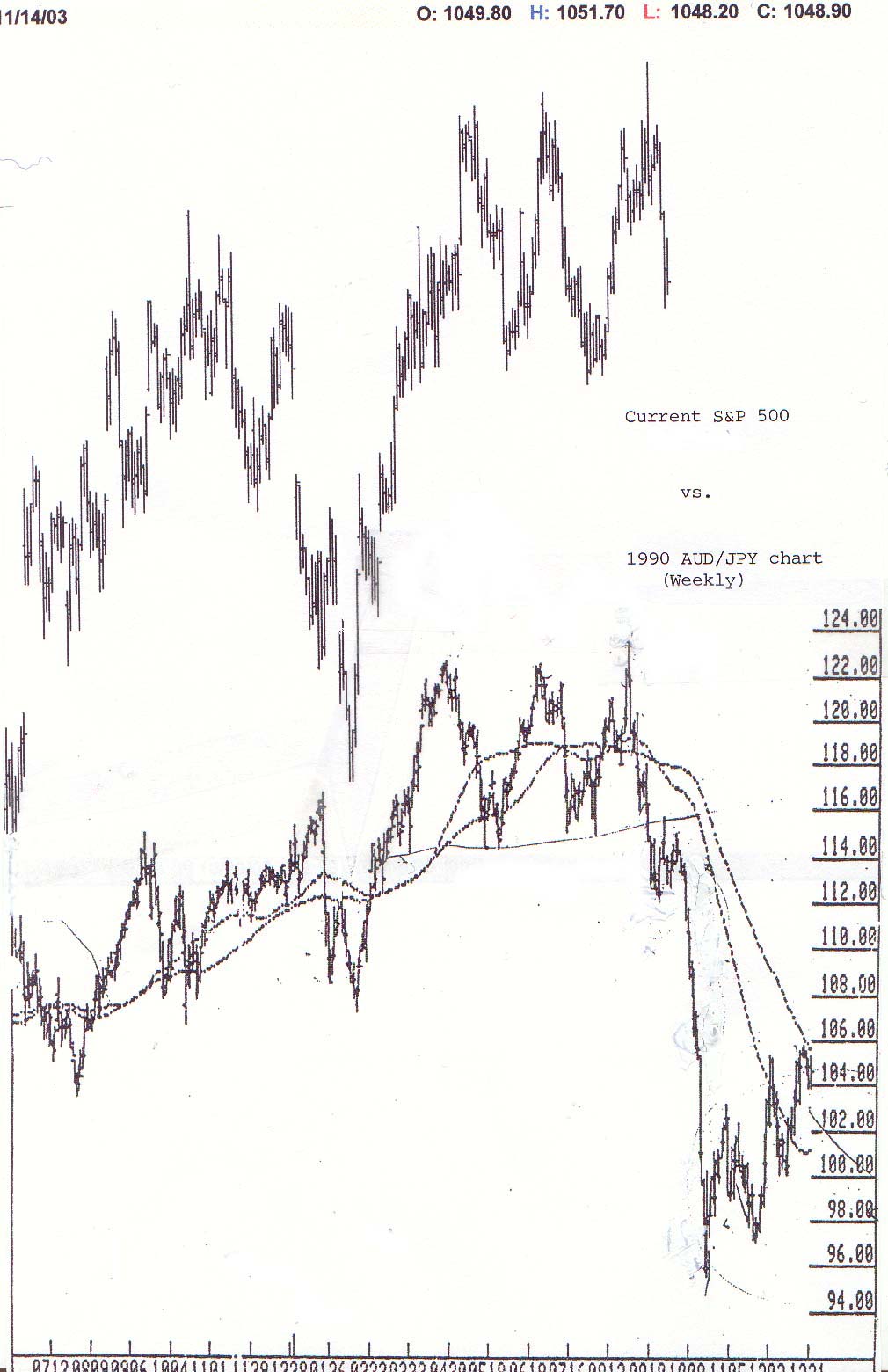 I saved this chart because while at Goldman Sachs, I spotted AUD/JPY at the time to be a classic triple top with huge downside implications. At my behest, my colleagues and I (trading as a team) went short approximately 20 million aussie near 120, and rode it most of the way down, also buying a tremendous amount of out-of-the-money put option volatility before the real nastiness began.
I present this triple top because I think that it has an uncanny resemblance to what has recently transpired on the 60-minute bar chart of the S&P 500 -- right down to the last faux spike higher. No one expects an equity market crash right now. Most expect a continuation of a "standard" steady recovery into 2004. Volatility is low and sentiment complacent.
Here at Sand Spring, however, we are already short the S&P and watching this potential "pattern match" carefully, and anticipating how it might fit in with the possible daily-bar "pattern match" shown back on October 28th that revolves around a previous topping pattern in USD/CAD. Both pattern matches certainly imply that being short now makes sense -- at least to our eye.
Subscribers: A new subscriber-only monthly article is in the works. We think that it will be a great issue, and should be completed by next weekend at the latest -- perhaps sooner. In the meantime, those subscribers with subscriptions up for renewal will get an e-mail notifying them that they must re-sign up via the web in order to receive this latest article without interruption or delay once it is available. For security reasons, credit card processors now full "mask" credit card numbers used over the web, and thus we are no longer able to access past billing records and do this on your behalf. If an annual renewal is desired, please call our office.
---
How Your Articles Are Delivered
Upon the processing of your credit card or the receipt of a personal check, Sand Spring will e-mail you the articles requested as a Word attachment, and also provide you with a WWW address and password to view the article on the web without using Word should you so desire. Confirmation of your order will be immediate, and the actual article will follow by e-mail typically within a few hours and in all cases before the opening of NYSE trading on the following day.
Ordering by Credit Card:
Our shopping cart is designed for both physical and subscription products, so do not be confused too much when it asks you for a shipping address. A correct address is important only for credit card authorization purposes. Your e-mail information is the most important piece of information to us for proper delivery of your article(s).
Disclosure Statement
Sand Spring Advisors provides information and analysis from sources and using methods it believes reliable, but cannot accept responsibility for any trading losses that may be incurred as a result of our analysis. The opinions expressed are not intended as specific investment advice, and simply represent our personal views offered here under our right of free speech. Sand Spring Advisors is a NFA registered CTA/CPO, but is not a Registered Investment Advisor. We do not directly trade any client funds. Individuals should consult with their broker and personal financial advisors before engaging in any trading activities, and should always trade at a position size level well within their financial condition. Principals of Sand Spring Advisors may carry positions in securities or futures discussed, but as a matter of policy will always so disclose this if it is the case, and we will specifically not trade in any described security or futures for a period 5 business days prior to or subsequent to a commentary being released on a given security or futures.
---
If you order by credit card, your credit card will be billed as "Sand Spring Advisors LLC"
Should you have any ordering problems, please contact us at
973-829-1962 or by email at the address below:

information@Sandspring.com
---
Take me back to the Sand Spring Home Page
---
Comments or Problems
---
Thank you for visiting Sand Spring Advisors LLC, Inc. We hope to hear from you again soon. For more information on Sand Spring Advisors actual programs, services, or to request a copy of a Disclosure Document, please phone us at 973 829 1962, FAX your request to 973 829 1962, or e-mail us at information@Sandspring.com
Corporate Office:
10 Jenks Road,
Morristown, NJ 07960
Phone: 973 829 1962
Facsimile: 973 829 1962
Best Experienced with


Click here to start.
The material located on this website is also the copyrighted work of Sand Spring Advisors LLC. No party may copy, distribute or prepare derivative works based on this material in any manner without the expressed permission of Sand Spring Advisors LLC
This page and all contents are Copyright © 2002 by Sand Spring Advisors, LLC, Morristown, NJ