An avid follower of the PEI Cycle called on Friday and asked what we thought of the markets. Friday, December 5th was after all a minor 4.3-month PEI cycle date, and the equity market appeared to be starting yet another downside reversal. Was this turn finally real? From a 1552.87 high in 2000 to a 768.63 low in 2002, would not 1068.21 be the perfect 38.2% retracement? Maybe one should just consider the 1074.30 actual high last week as just an irritating throwover?
Such an interpretation is of course possible. In our heart, we'd love to have it turn out this way -- as we remain stubbornly short on a personal basis for the longer-term equity move down.
And yet some of our Fibonacci rhythms now point to 1089-1091 as a possible high. The daily Fib rhythm below is one of these.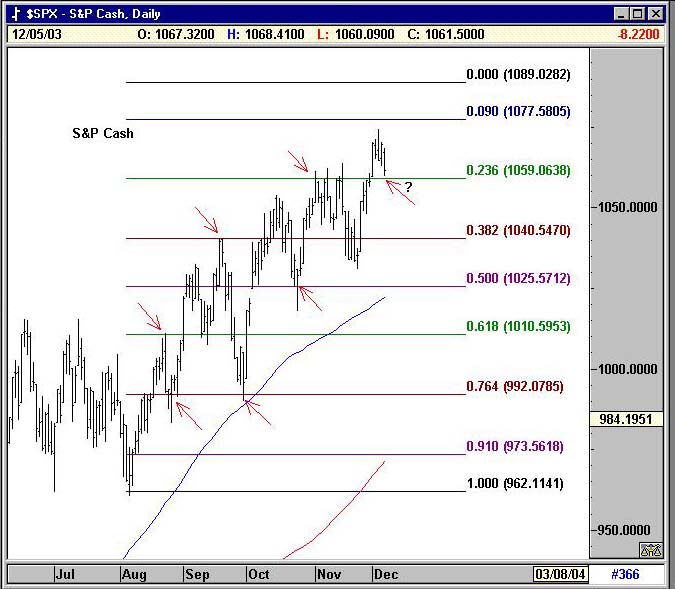 Our answer on equities is thus -- frustratingly -- that we can't be sure whether a high is in place or not. For our own account, we remain short, but almost expect that 1089 might still be seen. A turn on the exact Dec 5th PEI date would be ever so nice, but we can hardly expect such perfection. We'll give the current pattern a few more days to develop and comment on it further as it does.
Instead, we believe that it is potentially appropriate on this PEI cycle date to focus on a few other markets that appear to be reaching momentum extremes. We're sorry to gold bulls, but at current Market Vane Bullish Consensus sentiment readings of 87, and the chart construction below, we are now turning officially bearish gold -- at least for a trade. We would however suggest 12-month put options as the best way to express this view so as to avoid getting run over if we're wrong or early.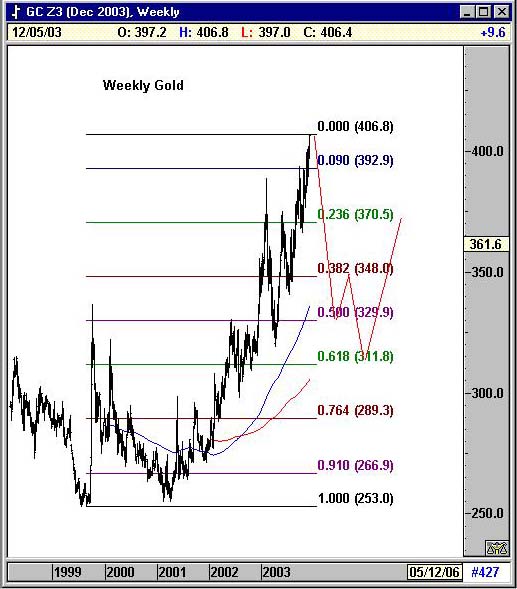 Another market that has been our worst call for 2003 has been copper. At the beginning of the year, our Fibonacci rhythms suggested that a missing low existed down toward 57 cents, and that this level beckoned. Instead, the market -- driven by strong Chinese demand -- went straight in the opposite direction. Might copper now be peaking on the PEI Dec. 5th date? We still think 57 cents will be seen at some point. This just wasn't in the cards for 2003. It will be at some point.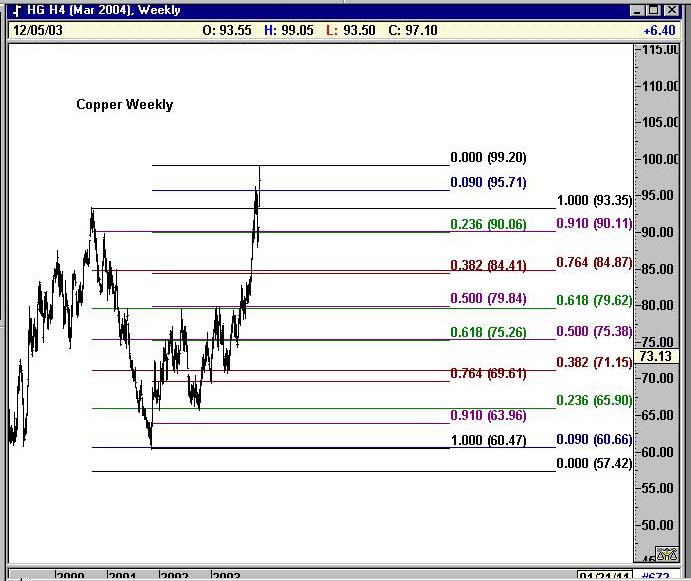 Lastly, look at the chart of the Australian dollar below. We well remember the last positive sentiment extreme in this market back in 1996 above 80 cents. I personally caught that high while running Proprietary Trading at Societe Generale. Another high around .7400 -- a 76.4% retracement of the 1996-2001 decline -- should be near.
This pattern appears: 5-years down; 2-years up; How about 1-year down now into the very important Dec. 31st, 2005 PEI cycle date?
Perhaps we will regret these ruminations and prognostications on the currently oh-so popular metals and AD$ markets, but it would appear to us that the "inflationary recovery story" is now over-subscribed. Instead, it's time again for a new whiff of deflationary wind.
Paying attention to the news, we also suddenly hear of weak toy sales -- KB Toys, BJ's, Mattel, and FAO Schwartz all having sales problems. Walmart discounting is immediately blamed. And yet, Walmart itself is starting to stumble, with a still horrific looking chart pattern.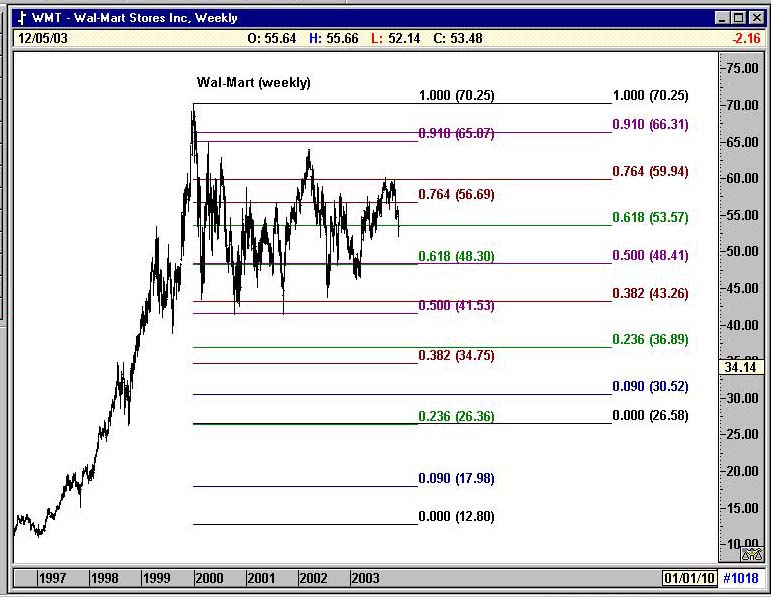 Is all of this the first sign of a tapped out consumer? Throw in a little bit of snow this past weekend, and maybe America's "shop 'till you drop" proclivities are finally on the wane.
---
How Your Articles Are Delivered
Upon the processing of your credit card or the receipt of a personal check, Sand Spring will e-mail you the articles requested as a Word attachment, and also provide you with a WWW address and password to view the article on the web without using Word should you so desire. Confirmation of your order will be immediate, and the actual article will follow by e-mail typically within a few hours and in all cases before the opening of NYSE trading on the following day.
Ordering by Credit Card:
Our shopping cart is designed for both physical and subscription products, so do not be confused too much when it asks you for a shipping address. A correct address is important only for credit card authorization purposes. Your e-mail information is the most important piece of information to us for proper delivery of your article(s).
Disclosure Statement
Sand Spring Advisors provides information and analysis from sources and using methods it believes reliable, but cannot accept responsibility for any trading losses that may be incurred as a result of our analysis. The opinions expressed are not intended as specific investment advice, and simply represent our personal views offered here under our right of free speech. Sand Spring Advisors is a NFA registered CTA/CPO, but is not a Registered Investment Advisor. We do not directly trade any client funds. Individuals should consult with their broker and personal financial advisors before engaging in any trading activities, and should always trade at a position size level well within their financial condition. Principals of Sand Spring Advisors may carry positions in securities or futures discussed, but as a matter of policy will always so disclose this if it is the case, and we will specifically not trade in any described security or futures for a period 5 business days prior to or subsequent to a commentary being released on a given security or futures.
---
If you order by credit card, your credit card will be billed as "Sand Spring Advisors LLC"
Should you have any ordering problems, please contact us at
973-829-1962 or by email at the address below:

information@Sandspring.com
---
Take me back to the Sand Spring Home Page
---
Comments or Problems
---
Thank you for visiting Sand Spring Advisors LLC, Inc. We hope to hear from you again soon. For more information on Sand Spring Advisors actual programs, services, or to request a copy of a Disclosure Document, please phone us at 973 829 1962, FAX your request to 973 829 1962, or e-mail us at information@Sandspring.com
Corporate Office:
10 Jenks Road,
Morristown, NJ 07960
Phone: 973 829 1962
Facsimile: 973 829 1962
Best Experienced with


Click here to start.
The material located on this website is also the copyrighted work of Sand Spring Advisors LLC. No party may copy, distribute or prepare derivative works based on this material in any manner without the expressed permission of Sand Spring Advisors LLC
This page and all contents are Copyright © 2002 by Sand Spring Advisors, LLC, Morristown, NJ